OLLIE Hanrahan was never supposed to end up on the rookie list at a powerhouse club like Hawthorn.
There is the AFL-approved system, or 'pathway' as it is more accurately known, and this total football immersion starts with talent identification as early as 14 years of age and ends with the TAC Cup or equivalent competition and the NAB AFL Under-18 Championships.
What it is not supposed to include is cricket, but that's what Hanrahan chose to continue with last summer rather than embark on a tough pre-season with the Sandringham Dragons, followed by a demanding season juggling school and club football with his final year at St Kevin's College.
Hanrahan had an enjoyable summer with the bat and ball, fulfilling a commitment he had made to his school. Although he was good enough to play Premier Cricket thirds for Melbourne, he approached last summer as his final fling with the summer game before football, his preferred sport, finally took over.
"I wasn't going to lose cricket for three nights a week of footy training," he explained to AFL.com.au. "I wanted to finish my cricket career without any regrets."
Indeed, he took his inspiration from 2016 Western Bulldogs premiership captain and All Australian defender Easton Wood, who bypassed the AFL pathways system while on a general sports scholarship at Geelong Grammar, where he was an outstanding cricketer.
Closer to home, he also looked to dashing Melbourne defender Jayden Hunt who, rather than bypass the pathway system, was overlooked by it entirely. But after a great season for Brighton Grammar in 2013 he was drafted by Melbourne later that year and is now on his way to stardom.
Easton Wood was also drafted despite bypassing traditional pathways. Picture: AFL Photos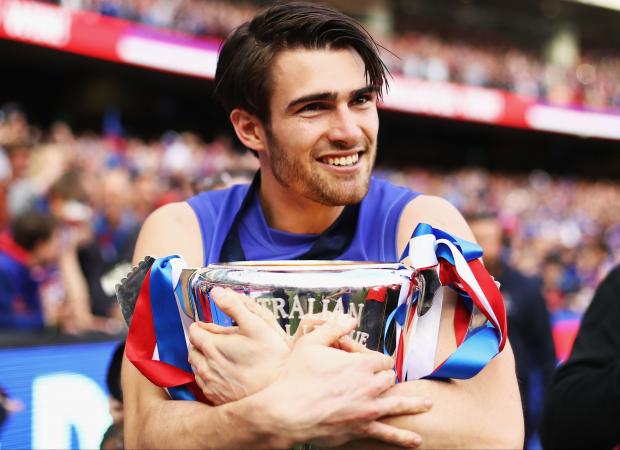 Indeed, Hanrahan has Brighton Grammar First XVIII coach Robert Shaw to partly thank for his own elevation into the AFL system. Shaw liked what he saw from Hanrahan when his team played St Kevin's this year.
He made contact with Hanrahan through some of his own players who had played with him at the East Brighton Vampires, including No.1 selection Andrew McGrath, and counselled him to employ a manager, so that he at least had someone advocating for him to those in the AFL system charged with talent identification.
In the end he chose Tim Hazell, who then worked the phones and kept him in the sights of AFL clubs. But the tick of approval from the highly respected Shaw, a longtime AFL player, coach and football manager, was a key.
"Just a very nice player," Shaw said of Hanrahan, who played school footy as a medium (181cm) forward who could push into the midfield. "He was polished, effective, efficient and smart."
Like Hunt, he improved markedly over the course of the season and he looked accomplished in two end-of-season representative games, the Associated Public Schools (APS) against the Associated Grammar Schools of Victoria (AGSV), followed by the AFL's Young Guns game on the eve of the Grand Final, his first game for a month.
Hanrahan himself thought the game that demonstrated he could play at the level came earlier in the year when St Kevin's, minus eventual No.2 draft pick Tim Taranto and Carlton draftee Pat Kerr, handed unbeaten St Patrick's College its first loss of the season in the annual challenge match between the schools.
Shaw has coached Brighton Grammar to the past three APS premierships and has become a passionate advocate for school football and, in particular, its role as a breeding ground for players who for whatever reason have missed out on the tried and true AFL pathway.
"You have to look at players in different circumstances," he said. "You have to look deeper. It's the next standard down and with different rules to the TAC Cup so you get a different perspective.
"Some boys need the maturity, growth and development that comes in Year 12."
Jayden Hunt has developed into an attacking weapon for the Demons. Picture: AFL Photos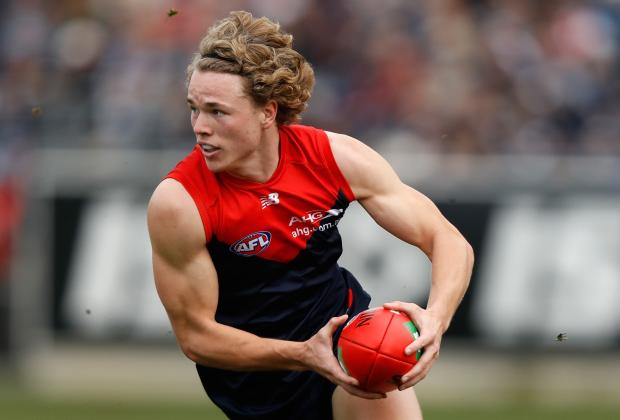 Hanrahan loved his year 12 experiences without the extra layer of the pathway programs on top of school sport and study. There was the occasional pang of regret as the national under-18 championships commenced and a few fears that he might have been off the recruiting radar entirely, but as he said of having to choose to focus on one sport so early: "I think it's too early to make a decision.
"Both sports help one another. Cricket complements footy, they're both great for hand-eye co-ordination. It helps to have some variety in sport."
By the end of the season, Hanrahan's stocks were such that he thought he was a chance for the national draft. He met with six clubs in the lead-up and as he noted, "some of my mates who did play TAC Cup didn't speak to that many".
He was passed over at the national draft and spent a long and anxious weekend – having passed up a schoolies trip to Byron Bay – waiting for the rookie draft. He didn't have to wait long this time around and with the 14th selection overall, the keen St Kilda supporter was on his way to Hawthorn.
"It was just unbelievable," he said after seeing his name called out. "I know it's a cliché, but it's really surreal."
For now, he is getting the lie of the land at the Hawks. He has no goals for 2017 other than to learn the AFL system and to get bigger and stronger. A year not spent in the pathway is a year spent without any sort of real strength training and as his coach at St Kevin's, Paul O'Brien, noted, he'll need hit the weights and do lots more running.
But O'Brien is among those who think Hanrahan can make it in the AFL.
"He just finds the ball and uses it well, and there were games where he showed fight and tenacity and tore them apart," he said.
Hanrahan is also quietly confident. He watched some elite-level under-18 football and played just enough of it to get the feeling that he belonged.
"I could have been out there if not for cricket," he said. "But I had made a commitment."
It was the same commitment Easton Wood once made and it turned out well for him. Hanrahan and the Hawks are hoping that history might repeat.