HE WILL have to manage a troublesome knee for the rest of his career, but gun Lions midfielder Dayne Beams is confident he can return to his best in 2017.
Beams only played six quarters last season as his knee tendinitis flared midway through 2016 despite surgery in November.
Forced back to the operating table, the problem was resolved as well as it could be, given the injury.
"[I'm] still going to have battles [and] still have to be very diligent with it," Beams told AFL.com.au.
"I'm going to have this problem for the rest of my career, but if managed it can be controlled."
Beams used his time on the sidelines in a productive manner, looking at ways he could improve his game and gearing his physical preparation to football.
"I've tapped into different areas and ways I can get better at game-specific stuff such as rotational power," Beams said.
"I'm yet to play much footy to see that come to fruition [but] I'm pretty confident that the work I have done is going to leave me in good stead.
"I'm confident I can get back to the best form I have showed throughout my career. That is definitely the aim."
With the frustration of last season behind him, Beams understands the critical role he can play as the club embarks on a new era in 2017.
He laughs at the thought he is the fifth oldest player on the list, however he is enjoying the level of responsibility being handed to the players and feels well equipped to accept it.
"At the stage we're at as a footy club, if you're not invested, you're really useless to us," Beams told AFL.com.au.
"I've never really felt as passionate about a footy club as I do now. I'm really keen to see us rise back up the ladder because I know what success tastes like."
The 26-year-old joined the Lions at the end of 2014 after establishing his reputation at Collingwood, where he won a best and fairest and played in a premiership in 110 games.
He was on the winning team with the Magpies in 69 per cent of his games and played in preliminary finals in each of his first four years.
Beams suspects an acceptance of losing may have crept in at the Lions, but he can sense a change in attitude early in the pre-season.
"A lot of guys are sick of it. I think it has got to the point where enough is enough, and things have got to change," Beams said.
"Guys have identified areas personally they need to work on to change what happens on the weekend."
The inclusion of Beams will be a big factor in altering what happens on the weekend with the Lions.
Beams is engaging and articulate, yet remains as driven as he was when he first arrived on the scene as a Gold Coast teenager to play 18 games in his first season with Collingwood.
He loves being a father to his daughter Ruby, and admits he has "chilled" in recent years as he has matured, marrying Kelly in November 2015.
It's helped him gain perspective on where he sits within the football club and the community.
"I'm really keen to help guide our younger guys because they're the ones that are going to take us back up the ladder," Beams said.
Dayne Beams is the fifth-oldest player on the Lions' list and he's only 26.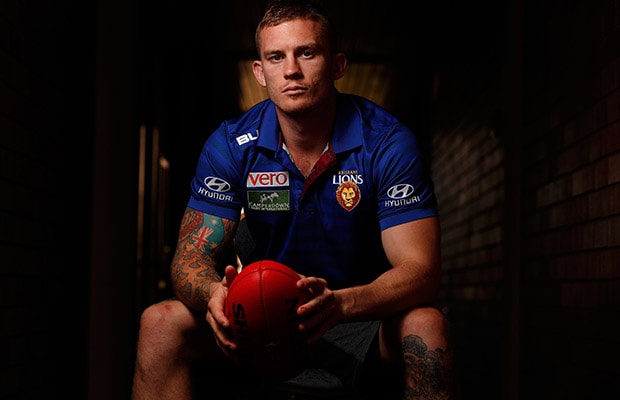 The Lions have 11 teenagers on their list and 10 players yet to debut. They also have just seven players who have played more than 100 games.
Without overstating his position, Beams knows he is one of the players that will carry a load throughout the season.
"I guess I have got to the age now where I feel like I am an important piece of the puzzle," Beams said.
"I'm starting to get to the age where I am closer to the end than the start, so you feel that sense of panic.
"I don't want to finish my career near the bottom and I don't want my teammates who haven't experienced much success to do that as well.
Beams knows the first step for the Lions is to become consistent.
And he doesn't have to say how important he will be in making that happen.
"The aim for me is to play all the games this year," Beams said.
"I've done the work and done all the prep that I can and left no stone unturned. I've given myself the best possible chance."