GUN GOLD Coast midfielder Dion Prestia will wait until the bye in mid-June before thinking about his next contract with the Suns.
After a frustrating 2015 where he was restricted to just eight games due to a lateral meniscus tear in his left knee, the vice captain is very positive about the club's direction.
But time will give him a chance to make an informed decision about the Suns' future prospects before he comes out of contract at the end of 2016.
"We'll see how I'm going personally and see how the club is going and then consider it after that," Prestia told AFL.com.au.
From a personal perspective his knee is good, with the surgeon telling the 23-year-old last month he was happy with the finished result.
He has been back training with the group since January 1 and is rapt with his progress under new high performance coach Justin Cordy, a person who has had an immediate impact on all the players' outlook.
Suns lock in emerging star to new deal
After a frustrating 2015, Prestia said the changes made around the club last year were necessary and beneficial.
The Suns had recognised the need for change before the season started under new coach Rodney Eade and this has led to 11 new staff among the 33-strong football department in 2016.
There is also a new high performance centre under construction and the team is united.
With the new personnel now in place, Prestia gives off the right vibe about the Suns.
"I have been really impressed with the new high performance staff. I have done a lot of work with them trying to get the program right but now obviously performance is a big factor in anything," Prestia said.
Suns confirm new deal for two-metre Peter
Prestia, who finished top three in the Suns' best and fairest in 2013 and 2014 (and polled 13 Brownlow votes in 2014), is only motivated by on-field success.
After 21 wins in 81 games, he craves it at the Suns.
He feels they might be on the cusp of something special, provided their talent is harnessed properly.
"It's all there. We have to all put it together [and] have done a lot of work in the last year to get it right," Prestia said.
He knows what surrounds him, seeing it daily in leadership meetings, at training, and, when everyone is fit, on the ground.
And he has seen what they can deliver.
"When we are playing and winning, it is so exciting," Prestia said.
He has experienced that winning feeling consistently only once in his 82-game career, when the Suns won seven of the first nine games in 2014.
At that time Prestia, David Swallow, Gary Ablett and Jaeger O'Meara were a super midfield.
The quartet has not played together since Ablett hurt his shoulder in round 17, 2014.
That's the gloomy part of the tale but the positive side is strong.
Their absence in that time has given others opportunities, and Prestia noticed the effect that experience had on them when he re-joined the main group in January.
He noted the improvement of young players Jesse Lonergan, Jack Martin, Aaron Hall, Kade Kolodjashnij and Touk Miller.
"It's just how much they have grown since I was last playing against them," Prestia said.
Dion Prestia in action during pre-season training. Picture: AFL Media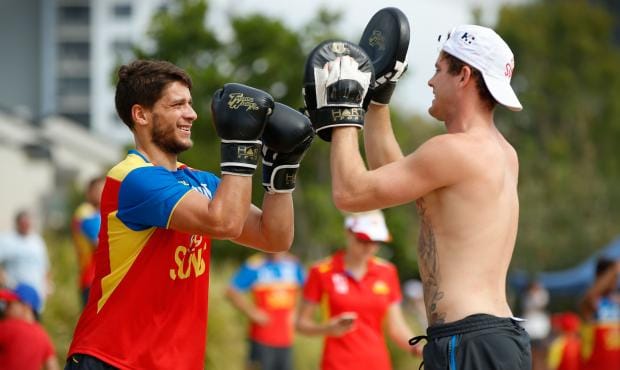 He has also seen enough of Tom Lynch, Steven May, Rory Thompson, Peter Wright and Sam Day to have great confidence in the future.
So now he sets his focus on 2016 with fresh eyes, not worrying about anything except the next session.
And he is going for it, impressing everyone at the club with his approach.
"I'm not looking at it like I am leaving. I am looking at it as if I am going to be here for 10 years. I am the vice captain so I am not just sitting here taking a back seat thinking I might not be here, I might be here," Prestia said.
"If I see something I want to change at the club I will speak up."
The club is changing and he knows that everyone is now driving that change.
What that means will become more evident in round one, the date Prestia has in mind to return although even he knows that remains a touch-and-go proposition.
"That is the goal at the moment. If I don't make it, I'll play the week after or whenever it is ready," Prestia said.
He is excited about what lies ahead and can't imagine the bad luck that befell the team being repeated.
"It was really unbelievable last year what happened with us."