BRISBANE Lions midfielder Tom Rockliff fell out of love with football in 2016.
After a horror year of unwanted headlines for the skipper of an AFL club, the 26-year-old enters the final year of his contract with a fresh outlook.
He intends to approach the game with the same sense of wonder he once had as a kid in the Victorian country town of Benalla.
"If you can walk into your job and you love your job you can perform better," Rockliff told AFL.com.au.
"For me it's about finding that and probably recreating [the same feeling as when] you're a six-year-old and what that felt like to be playing footy."
The reasons he stopped enjoying football are obvious to anyone with a passing interest in Rockliff.
His team was being thrashed, his coach was under the pump and his reputation took a hammering.
Rockliff became well aware of how he was being perceived.
"I understand that I polarise people. People either love me or hate me. There is no in between and that is just who I am," Rockliff said.
Most of his public protestations to criticism fell flat and there weren't too many going into bat for him when fierce bouncers came his way.
His post-season tweet denigrating a female seemed to be the final straw for a club that had endured many questions about his commitment and trade talk reached fever pitch.
Rockliff has contributed strongly to team discussions during the pre-season. Picture: AFL Photos
Eventually however, after a frank meeting with incoming coach Chris Fagan and football manager David Noble, and little interest from other clubs, the decision was made for him to stay.
Now, as he sits down to chat as another pre-season with the Lions gets up and running, he understands the ball is in his court to re-establish his standing.
"It's all chips in. It's not half-in, half-out," Rockliff said.
"The best thing for the football club was that we sat down and had a conversation and I think growing out of that we have gained a lot of respect for each other."
All parties involved in that conversation only have positive things to say about his actions in the time that has elapsed since that meeting wiped the slate clean.
He has been training hard and contributing strongly in team discussions.
While 'Rocky' carries a body that's more Bullwinkle than Balboa because of his skinny legs, he's fit and his effort on the track is strong.
'Rocky' is keen to let his actions do the talking in season 2017. Picture: AFL Photos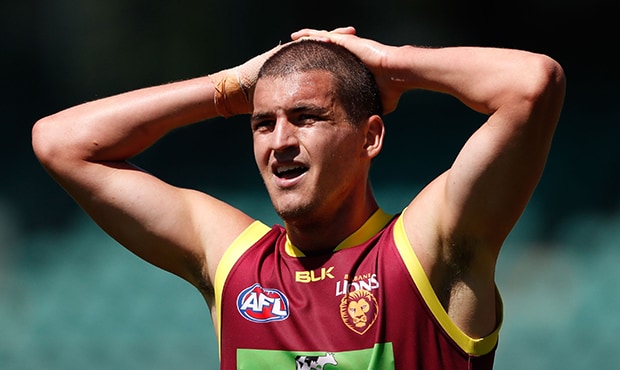 Rockliff understands, if he didn't before, that only actions will count when future determinations are made about him.
"I think the talking and that side of it is done," Rockliff said.
His ability to find the football has never been in question, until midway through last season when the team started to struggle.
"On reflection I got disheartened very quickly in games. I could feel the game was slipping away and there was nothing I could do to change that," Rockliff said.
"There was a period of six or seven weeks in the season where I let myself down in that area."
He admits the pressure of leading a team on the receiving end of constant thrashings affected him.
"I felt the pressure probably got to me at times and I felt like I could not switch off when I got home," Rockliff said.
"I was a different person. I changed into someone who was on edge all the time, someone that was angry all the time."
He then made what can be a fatal mistake for any leader under pressure and withdrew into self-protection mode.
"There is no doubt I definitely did," Rockliff said.
"[That is] not a healthy thing for a footballer and especially a leader of a football club.
"When the defeats come you start to go in self-survival mode and everyone starts to point the finger and look elsewhere when you probably should look inside yourself. That is probably the starting point."
In some ways you can't blame him for indulging in self-protection.
Coached by two Lions legends during his time, he had been asked to lead a club in a period of instability that is never conducive to good performance.
Fagan and Noble's arrival might become a circuit breaker for him.
That experienced pair understand that great clubmen don't blame others for their circumstances nor do they line up critics.
They just get on with the job, always looking at what needs to be done next.
Rockliff has accepted change is necessary.
"I also have to look at the way I act," Rockliff said.
He concedes the inappropriate tweet was a wake-up call.
"On reflection, you can see how stupid it looks and how ridiculous and insensitive it was," Rockliff said.
Rockliff will be hoping for an improved Lions outfit next season. Picture: AFL Photos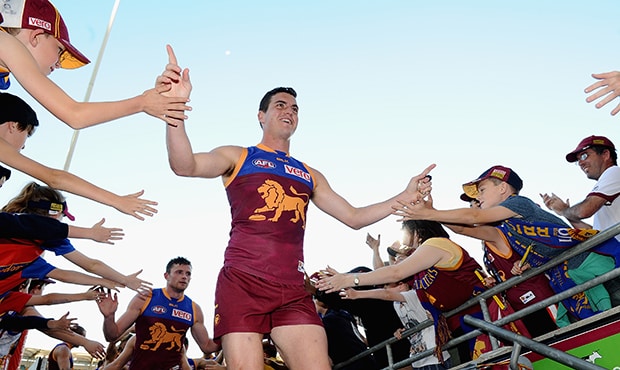 He knows there is a chance he may not continue as captain in 2017 but he doesn't intend dropping the ball for one second.
"Whether I'm captain or not in 2017, it's not going to change the way that I lead and encourage the boys," Rockliff said.
It won't be just this season that is crucial but whether he gives an indication that he can back it up again and again after showing what he was capable of in 2013-14 when he was sixth in a Brownlow Medal, All Australian and won his second club best and fairest.
Individual statistics won't matter either.
The main measure will be whether the midfield, which played like solo men in 2016, can gel as a unit.
Rockliff knows that is where his attention needs to go in the immediate future as he only aims to impress those who need him most.
"For me I have to find what it is that made me fall in love with the game," Rockliff said.
"[There is] fresh excitement around a new coach but challenges are going to come and I look forward to being the one that stands up during the year and says, 'Enough is enough'."
Enough is definitely enough when it comes to Rockliff.
"I've probably taken AFL footy for granted a little bit. You probably lose focus a little bit throughout your career at different stages," Rockliff said.
"I'll still got so much more to give and so much more to gain out of AFL football."