THE AFL's average player salary exceeded $300,000 for the first time last season as total player payments across the competition reached a record $200.2 million.
The League released the competition's 2015 TPP figures on Friday, which showed that senior listed players and rookies nominated for senior elevation before round one earned an average wage of $302,104.
The number of players earning more than $1 million rose from two in 2014 to four last season, but was short of 2012's record of eight millionaires and 2013's five.
For the first time, the AFL figures included pay brackets above $1 million, with two of 2015's millionaires earning $1.2 million or more.

The money in Australian sport is in the AFL
AFL.com.au believes Gold Coast captain Gary Ablett and West Coast ruckman Nic Naitanui were among the top four best-paid players in the AFL last season.
It is harder to identify 2015's remaining millionaires.
Industry sources nominated Scott Pendlebury, Jobe Watson, Marc Murphy and Dayne Beams as possible candidates, but said the 2015 component of their contracts would have to have been heavily loaded to take their salary into seven figures.
Money earned via additional services agreements (ASAs) – but not third-party agreements independent of the player's club – were included in the AFL's figures.
Last year's average wage represented a 6.7 per cent increase on the $283,029 players earned in 2014.
As recently as 1995, no player earned more than $300,000.
The average wage topped $100,000 in 1998 ($101,957) and $200,000 in 2007 ($203,280).
The clubs' $200.2 million player wage bill last year represented a 5.96 per cent increase from the 2014 figure of $188.9 million.
Three players last season earned between $600,000 and $700,000 without playing a senior game, with injured trio Tom Liberatore, Eric Mackenzie (both ruptured anterior cruciate ligaments) and Jaeger O'Meara (ruptured patella tendon) believed to be the players involved.
One player earned less than $60,000 in 2015. It is likely to have been Carlton's Ciaran Sheehan, who was named as a nominated rookie ahead of round one but did not play a senior game all season.
The base wage for a rookie last season was $55,440.
Naitanui and Ablett were almost universally nominated as 2015 million-dollar men by the list and player managers AFL.com.au contacted.
Gary Ablett is believed to have been one of four million-dollar men in 2015. Picture: AFL Media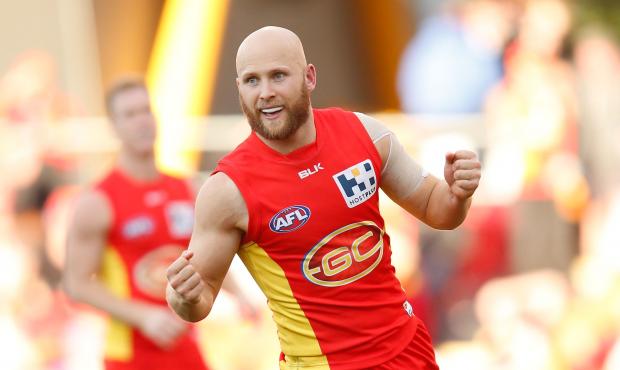 Naitanui entered the first season of a lucrative five-year deal in 2015, while Ablett completed the final season of the five-year contract the Suns put together to entice him from Geelong.
As two of the game's highest-profile players, Ablett and Naitanui would also have been among the biggest earners from ASAs.
Pendlebury, Watson, Murphy and Beams are all understood to be on contracts with an average season wage of less than $1 million, but their deals could have been structured so they received more than a $1 million in 2015 and less in other years.
In Murphy's case, it was suggested the Blues could have heavily front-ended the four-year deal he signed in March 2014 so they have more salary cap space to pay their emerging youngsters in, say, 2017 and 2018.
It seems a matter of time before Nat Fyfe joins the AFL millionaires club, but it's believed the Fremantle star fell just short in 2015.
Sydney Swans spearhead Lance Franklin and Western Bulldog Tom Boyd will earn more than $1 million this season, but Franklin's back-ended deal with the Swans saw him earn about $700,000 in 2015, while Boyd received about $140,000 under standardised second-year player base wages and match payments.