TUCKED away in a North Melbourne industrial precinct isn't where you would expect to find the start-up Australian Rules Football College.
But just a few booming torpedo punts from the Kangaroos' famous Arden Street training ground is the hand-picked location where Hawthorn premiership players Brad Sewell and Michael Osborne are charting new territory on the football landscape.
Based on a US college model, the ARFC is a cutting-edge one-stop shop that offers students access to elite football knowledge and a tertiary education.
"What we've created is a simulated AFL club environment," ARFC head coach Osborne told AFL.com.au.
"It's a holistic and elite program but it caters for any talent level. Everything is based around being a better footballer."
The idea that became the ARFC blossomed when retired 200-game Hawks star Sewell was approached about tackling a new career path.
Not known for backing away from a challenge, he got to work tracking down the ideal location among Melbourne's tightly-packed urban areas – which turned out to be a disused warehouse that had to be fitted out with a weights area, office and classroom.
To Sewell and Osborne's satisfaction, the college kicked off a month ago with a diverse first intake that studies certificates in health, personal training, massage, leadership, management and diplomas in business.
"There are similar football programs around, but given we've got our private facility, that's what sets us apart from anything else," said Sewell, the ARFC's director of football.
"Each day they spend time in the classroom doing their education, but for the most part they're out in the gym, with a football in hand and developing strength and conditioning.
"There's a whole cultural and leadership aspect we're creating as well. The dynamic between the group and what we've been able to build in a short period of time is fantastic."
The ARFC's small team includes teacher and physiotherapist Tiffany Toombs running the educational program targeted at year 12 graduates, and fitness guru Jay Ellis, who is involved with TAC Cup club Western Jets and Vic Metro.
Premiership teammates Osborne and Sewell look after the football side of things, honing skills and tactics but also stressing the importance of time management, recovery, diet and sleep to success.
"We mimic the development that AFL players get when they get to a club," Osborne said.
"Parents love the education side of things and getting some qualifications … whereas the students that are heavily involved in footy, they love that part of it."
A quick glance across the ARFC's first intake in the midst of a strength session shows a mix of young adults drawn to the college from a range of backgrounds.
Among his classmates, it's impossible to miss hulking Auckland native Giovanni Mountain-Silbery, the ex-rugby player who completed an international scholarship at St Kilda and wants a deeper understanding of the foreign game.
Former Saints rookie Giovanni Mountain-Silbery. Picture: Sean Garnsworthy, AFL Media

But not everyone learning at ARFC is there to become a better footballer.
Jimmy Dawe's playing days came to an abrupt and unfortunate halt when he was punched while playing for Dandenong last year.
Since being told he should never play football again, the 21-year-old has turned his talents to assistant coaching at Lyndhurst in Melbourne's Southern Football League.
"At the moment I'm learning from the coaches and these blokes as much as I can, and then hopefully down the track I'll get a senior coaching job," Dawe said.
"Everything I learn here I'll pass on to the players. I'm also trying to get a gig in the AFL or sporting industry."
Suburban assistant coach Jimmy Dawe at the college. Picture: Sean Garnsworthy, AFL Media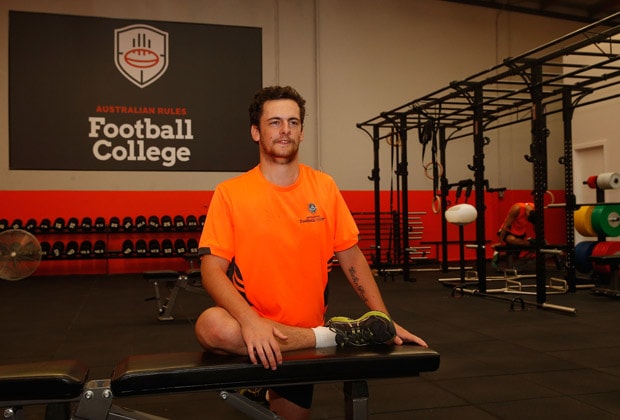 Melbourne Uni netballer Hannah Kuhar stumbled upon the ARFC through her love of the Hawks.
She saw Sewell promote the college on Twitter and, after struggling to train by herself following a bike accident last year, the 19-year-old jumped at the chance to learn from two of her idols.
"I'm a bit in awe working with these guys but they don't know it," Kuhar confided.
"It's hard training by yourself in the gym, so I thought if I get in here it's a good environment and I'll be able to get back to netball really strongly."
With women's football set to explode across Australia, the ARFC could hardly have opened its doors at a better time, and Osborne said the college – which is still taking enrolments – is already looking at expanding and starting a new course mid-year.
"I suppose the infrastructure supporting women's football isn't as great as it has been over 150 years for males," Osborne said.
"We see the college as a great opportunity for that and we welcome females down.
"It's a great opportunity for males and females to develop their footy."
For more information visit arfcollege.com.au or the ARFC Facebook page.
Netballer Hannah Kuhar during a session at the ARFC. Picture: Sean Garnsworthy, AFL Media