GARY Ablett has stepped down as Gold Coast captain and is contemplating quitting football at the end of next season.
The bombshell revelation comes after a tumultuous period since the end of the home and away season in which the 32-year-old asked to be traded back to Geelong and received heavy criticism about a perceived lack of commitment to the Suns.
The two-time Brownlow medallist did not want to delve into the issues which have thrown his future into doubt, but spoke of wanting to find balance in his life and "invest" in his marriage.
Suns denied Ablett's shock trade request
"In the back of my mind I want to play two years, but I can't guarantee that and that's because of everything that's going on in my personal life," he said.
"I'm contracted for another two years and I'll sit down with the club at the end of this year and chat.
"Trying to juggle football life and life outside football, I need to see where things are at at the end of this year and I'll make a decision then."
Ablett says he has contemplated retirement, but the former Cats great said he had not thought about requesting another trade in 12 months time.
He told Suns teammates on Tuesday morning he would not be skipper next season, citing personal issues and a belief the club is in "good hands" as his primary reasons.
He came to the decision with coach Rodney Eade in September, but said with the controversy surrounding his trade request, now was the right time to make the announcement.
It's been a tough stretch for Ablett, playing just 20 of Gold Coast's past 50 games, after undergoing three rounds of surgery – two on his left shoulder and one on his knee.
He said with the development of young leaders Tom Lynch and Steven May last season in his absence, the time was right for a change.
Relinquishing the captaincy would allow him to spend more time with wife Jordan – who he married in January – and more time getting his body back to 100 per cent.
Injuries and poor form have taken their toll on the former Suns captain. Picture: AFL Photos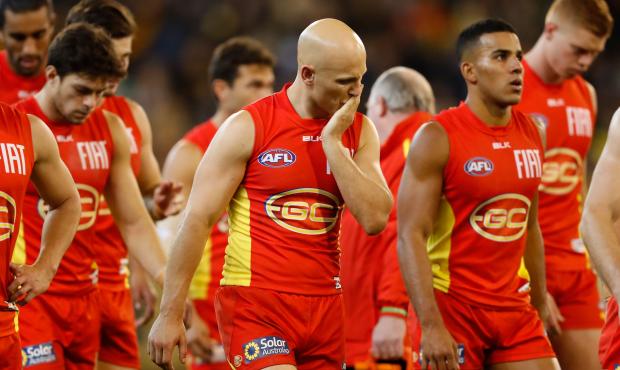 "I just think it will give me a better balance between footy life and life outside of football," he said.
"Jordan's made the move up and I want to be able to invest in our marriage a little bit more and also give me more time to focus on getting my body right."
Ablett said he wasn't comfortable talking about the personal issues that led to his trade request, but reaffirmed his commitment to the Suns.
He said he loved the club.
Once news of his request was released, Ablett – who was holidaying in the US – sent a lengthy text message to his teammates explaining his reasons.
He said the responses were encouraging.
Twitter feud: Ex-Sun fires barb at absent Ablett
"I needed to explore all the options," Ablett said.
"There's a lot going on in my life at the moment and I thought there's no harm in putting the question to the club.
"If the club was interested in looking at that and it was in their best interests, I was open to that, but it was shut down pretty quickly.
"I've been completely honest with everyone about how it all played out."
Gold Coast's on-field progress will also play a "big part" in whether he decides to play on in 2018.
After six seasons at Gold Coast, Ablett said he missed playing finals and believed the Suns could make the top eight for the first time next season.
Ablett wants to spend more time with his wife Jordan. Picture: AFL Photos