READ PART TWO: 'I felt like a piece of meat': Clubs put the draft's biggest mystery under the microscope

WEDNESDAY, JANUARY 14, 2015
RYAN Burton ran at the ball and jumped like he had thousands of times before. In the pack of players, he collided with an opponent, the incidental hit from behind lifting Burton momentarily.
The elevation caused Burton to misjudge how far he was from the ground, so he stuck out his left leg and planted it. The leg immediately hyperextended and Burton was flipped forward like a rubber band being flicked from a thumb.
It was a graphic injury; one of Burton's friends almost vomited on the sidelines. Burton had heard a loud crack, and his kneecap was clearly dislocated, pointing to the side. The collision happened in August last year, but the confident and talented teenager knows it is set to have a significant impact on his draft year.
"The first thing I thought about when I was lying on the ground in pain was my draft chances. I thought they were gone. I thought it was all over," Burton says.
In the middle of the 2014 season, Burton shaped as a very early pick for the 2015 NAB AFL Draft. Some recruiters had him pegged as the early No. 1. You can watch his highlights from that season below.
He's been off the scene for 15 months, but he can play. Ryan Burton's 2014 highlights -- https://t.co/MiKR2jhohz

— Callum Twomey (@AFL_CalTwomey) November 3, 2015
He had already made his senior SANFL debut, for North Adelaide, as a 17-year-old. He had been picked for South Australia's under-18 team and kicked five goals in the opening game. He was a nice size for a forward, about 191cm, and he had footy instincts. He pinned his shoulders back, would occasionally strut and knew he could play.
"I thought if I kept going I might make the All Australian team as a bottom-ager, and the guys who do that generally end up pretty high draft picks the next year," he says.

The first major challenge came midway through the 2014 under-18s carnival, when Burton was diagnosed with a bad case of glandular fever and was ruled out of the rest of the championships. He still went to Melbourne for the final round and watched his team beat Vic Metro to claim the division one title.
Once back to feeling his best, Burton returned to his school footy for Sacred Heart College. The standard wasn't as good as the SANFL, but he was enjoying playing with his mates. That was until August 24, when he realised every injury he'd previously sustained was nothing on the one he had just suffered.
His parents, Craig and Leanne, were in the crowd when he suffered the injury, but Craig, a dual premiership player for North Adelaide (1987 and 1991), followed the ball after the contest. Leanne's gaze was fixed on her middle child, and she knew something was wrong when she saw him rolling on the ground, punching the turf and swearing. She stopped herself from running out and helping as trainers carried him off on a stretcher.
Burton's knee hours after the injury. Picture: Supplied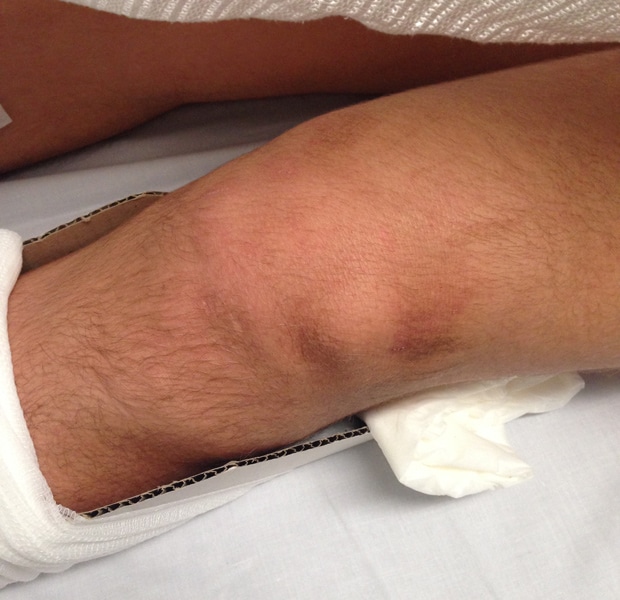 Burton was taken into the tiny rooms with a group of trainers around him. He heard his dad speaking to the doctors. "It looks like he's done the anterior cruciate ligament (ACL) in his knee," Craig said.
"It was painful, but that changed once I realised what I'd done could have been the end of everything. The pain turned to sadness and anger," Burton says.
"The ambulance came and I was sucking one of those green whistles (used for pain relief). I asked the 'ambo' if I could stay and watch the end of the game, and as they were rolling me away I was yelling to my teammates, 'Keep going boys! Get the win!'"
By the time he made it to the emergency ward in hospital, doctors had confirmed Burton hadn't torn his ACL but had shattered his tibia, to go with the dislocated kneecap. Doctors wouldn't know any more until they operated on him, but because his leg was so swollen, they couldn't do that straight away.
That's when Burton's parents said they'd like to have Matthew Liptak, the former Adelaide midfielder and now renowned orthopaedic surgeon, assess their 17-year-old son's injury. Craig knew Liptak from the Crows, for whom he had worked in the 1990s and early 2000s. They managed to get hold of Liptak, but he was on holiday for a week. Burton spent that night in agony in the hospital's paediatric ward.
Burton went home the next morning, and had four days lying down in the family's living room in Glenelg. Then it was back to hospital for surgery, but that didn't go well.
Burton comes to terms with the magnitude of his injury. Picture: Supplied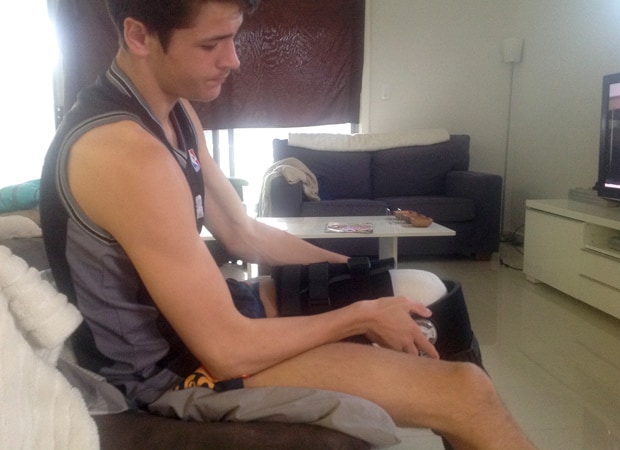 Delicate surgery like a 'jigsaw'
The operation took about three hours, much longer than Liptak had anticipated, with surgeons discovering significant damage.
Burton's tibia had jammed up into his knee cartilage, damaging both the bone and cartilage badly. The operation was described as a jigsaw puzzle; slowly, surgeons placed the pieces of his leg back together.
"It's the type of injury you get in a motorbike accident," Liptak later said. Burton had 10 screws and a plate inserted to piece everything back together, but the drama continued.
Burton was shifted into the critical care unit of Flinders Private hospital when he couldn't be woken from the anaesthetic. Once awake, he spent several nights in the unit, with staff trying to get his pain under control.
It was a worrying time for Burton and his family, the unfamiliar chaos of the ward adding to their stress. When his pain gradually dissipated, Burton was moved to a normal recovery room upstairs at the hospital, but Liptak had some sobering news after reviewing the surgery.
"You might never be able to run again," he told Burton. "There's a chance you'll never play footy again."
Five months after the injury, Burton is on track to prove him wrong. Countless hours in gyms and swimming pools has Burton in a good frame of mind and on the way to recovery. He sees his surgeon once every six or so weeks, and each time he is given a new target to reach (crouching down, walking a specific distance, etc). He also sees his own physiotherapist twice a week.
Burton on the Alter-G treadmill as his long road back to fitness begins. Picture: Supplied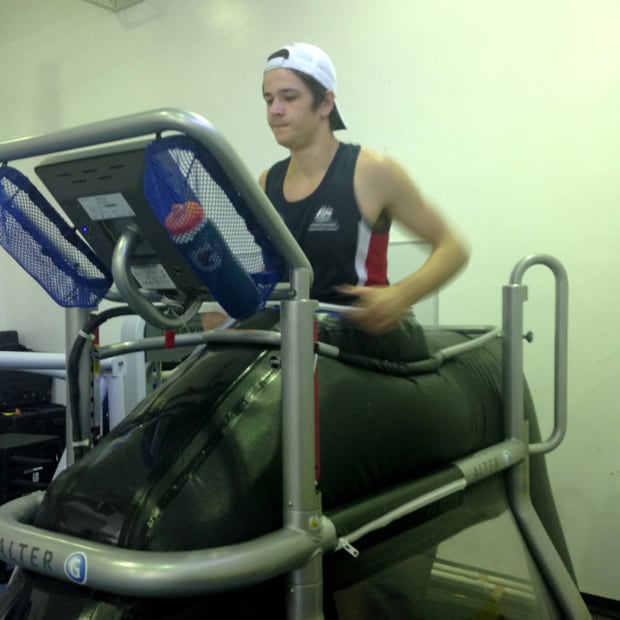 Keep it moving
This week, he is in Florida in the US, with the NAB AFL Academy squad on its training camp, but so far he has been restricted to some one-on-one boxing to keep active.
Plenty of walking around the IMG Academy grounds has left his leg a bit sore. He knows the pain will remain for some time, and knows there is a long way to go in his recovery. But he won't let his injury get in the way of being drafted.
"The joint itself has some bone missing, so over time I need to grow that back. But I've always thought it will end up OK," Burton says.
"There have been some bad times along the way, but as soon as I got injured mum and dad said it would be a test of my resilience. So far, I've handled it as well as I could.
"I get a couple of screws out at the end of February and once that happens, I'll hopefully be progressing quicker and I'll know more about when I'll be ready to come back.
"I definitely want to play in the under-18 championships, and they start in May. But just playing at all this year would be a massive thing for me. I'm going to play. I can't think otherwise."
Burton and fellow draft prospect Charlie Curnow at an Academy training session. Picture: AFL Media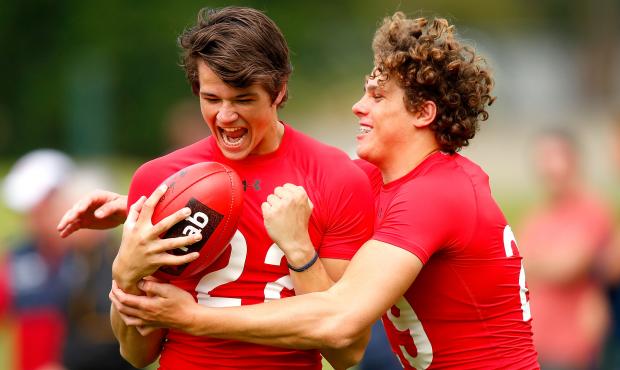 FRIDAY, APRIL 10, 2015
BRENTON Sanderson stands at the front of the meeting room at the Mercure Hotel in Melbourne. The former Adelaide coach was recently appointed head coach of the NAB AFL Academy. Tomorrow, the team will play the Northern Blues, a VFL club.
Sitting in the second back row of the meeting room, Ryan Burton looks out the window. He won't be playing against the Blues, and still doesn't know when he will be ready to return to the field. He's still in rehabilitation mode after his serious leg injury.
He used to love team meetings like these. But today, he's finding it hard to concentrate, knowing he won't be on the field.

"I started thinking about what I should be doing tomorrow at the start of the meeting and then I thought 'Hang on, I'm not even playing'," he says.
"For a couple of minutes I zoned out and at one stage I was staring at the board and not seeing anything. It's difficult, but you've got to learn how to handle these things."
Burton is learning plenty while sidelined. The three screws he had removed from his tibia in February have left his knee feeling "like normal" again. He feels the leg is 'lighter' and getting stronger. He is gradually working the muscles more, pushing himself but not overdoing it.
Handball drills at the Academy camp were about as exciting as it got. Picture: AFL Media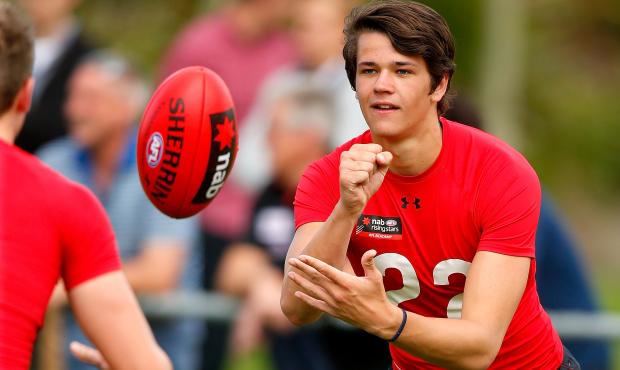 This week during the Academy's camp he has done some jogging at training, albeit with a noticeable limp. He's nervous about having a setback. His program has been steadily increased, but nothing tests the leg like a decent run, and he's anxious about it.
"When I run, I feel like I'm going to do my ACL," Burton says.
Most people are telling him not to rush his comeback. Every club has said it, his dad, all of his coaches. Yesterday he chatted with Sanderson and he too warned the youngster against hurrying for the under-18 championships.
"Mate, do you understand I really want to get back and play for South Australia and help us win three championships in a row?" Burton replied.
He sometimes finds it hard to bite his tongue when people offer their opinions.
"You can't say, 'Shut up, you don't understand, you haven't broken your leg like this'," Burton says.
"Mick Ablett (the AFL's national talent football manager) said to me today, 'Look mate, you're not going to play in championships'. I got angry and I wanted to say, 'You're not me'. He can say it as much as he wants and if I don't play, then he's right."
He knows he will miss the start of the championships in May, but is hoping to be back by the end of the carnival, which closes on July 3.
This week has been extremely challenging for him mentally, and although he mucks around with teammates, away from the group he gives himself time to let out his frustrations.
"The type of character I am, my mates aren't going to think I'm a bit down. I'm a bubbly, energetic sort of guy. I've looked forward to seeing them again, but it does leave me thinking about what I'm missing out on," Burton says.
Not lacking in confidence
Recruiters have noted Burton's self-belief. "He has confidence, and that's a good thing. For the role he's going to play in the forward line, he's going to have to be the player who wants to draw the ball and be in the contest," one scout says.
"If you're inhibited and introverted, it's hard to play that role. You want that person to have a bit of strut."
Another recruiter says Burton needs to be careful his approach doesn't impact his attention to detail in recovery.
"I like him, but he can be a bit too cool for school," he says. "He's really interesting because he's got plans that he'll be ahead of schedule with his injury, but it'll purely be up to the surgeons and fitness staff if he plays this year.
"If he's going to swagger through the first half of the year thinking he'll be good to go by the end, it won't happen."
Burton's patience has surprised many so far, given he was a kid in a hurry and never did what he was told. As a toddler he would bite and belt his brother Tom (who is two years older), and he climbed on everything. Leanne hated taking him to her friends' houses because she had to pull him off chairs, tables, stairs, couches and everything else.
"He was hyper," she says. "He also had to be the best."
At primary school he struggled to fit in with the other boys because, generally, he was the best at sport. He could kick the football further and bowl faster than anyone, and when he started surf lifesaving at the nearby Glenelg Surf Lifesaving Club, he was good at that too.
His father's involvement in football meant Burton grew up with the game. Craig made his debut for West Adelaide in 1982, and after four years there he left to join North Adelaide, where he played in its 1987 and 1991 flags. He attracted interest from only one VFL/AFL club, Footscray, but the Dogs ended up drafting another SANFL player, Simon Tregenza. Craig retired when he was 28 after hamstring injuries, and went travelling with Leanne.
Craig's parents had split when he was young. He wishes his father had encouraged him to try a move to Victoria.
"Back then, all the SANFL boys wanted to do was play in the SANFL," he says. "If a VFL club had wanted me to go over for a pre-season and have a crack, I probably would've."
Footy in the family: Burton as a youngster with his brother and his dad. Picture: Supplied

He stayed and started working for Adelaide in the mid-1990s as an 'observer', watching SANFL games and reporting back to coaches on how Adelaide's players had gone.
In 1997 he moved into a fitness role under coach Malcolm Blight, and sat in the box on Grand Final day in '98 when the Crows claimed back-to-back premierships. The next season he was a runner under Blight, and he did that until 2003 when Gary Ayres was coach. "You're the angry coach!" a five-year-old Ryan once said to Ayres.
During those years, Craig would take his son into the rooms, where he played kick-to-kick with the players' sons. Craig left the Crows in 2003, which saw five-year-old Ryan rip off his Adelaide jumper and become a Port Adelaide supporter. Craig returned to the club in 2005 and stayed until 2013 in various HR and marketing roles.
Ryan Burton is desperate to experience club life on a full-time basis, but that will depend on his leg. He can sense some recruiters have doubts he will get back to full fitness, but he sees ways to prove his progress off the field.
At the start of his rehab period, he set a goal to put on 10kg. He did that, and now weighs in at 91kg.
"I can see myself getting back to being better than I was previously," he says.
"Before the injury, I thought I could have been the best in the draft. Now, I've put on weight, and I've soaked up so much information about the game.
"All I have to do is put it into action. I think I can be the best here."
READ PART TWO: 'I felt like a piece of meat': Clubs put the draft's biggest mystery under the microscope
Read more Going Places
• More Going Places: Footy nut Darcy Tucker feels the heat
• Bombers ask Tucker: How's your maths?

Catch up with these draft essentials
• Which hot prospects set the pace at this year's NAB AFL Draft Combine?
• Cal Twomey's latest Phantom Form Guide
• Your club's indicative draft picks