• Brownlow tracker: Every vote, every club
• Gallery: All the glamour of the Swisse red carpet
• Vote for your Brownlow best dressed
HAVING become his club's first Brownlow Medallist aged just 24, Fremantle superstar Nat Fyfe is "hungry" to take his game to another level next season.
Fyfe became the youngest Brownlow winner since ex-Western Bulldog Adam Cooney in 2008 when he polled 31 votes on Monday night at Melbourne's Crown Palladium.

He edged out last year's winner, West Coast midfielder Matt Priddis, who polled 28 votes to finish in second place, while Hawthorn champion Sam Mitchell collected 26 votes in third place.
The moment Nat Fyfe took Charlie home #Brownlow http://t.co/rD32h7aJR2

— The Brownlow Medal (@AFLBrownlow) September 28, 2015
But after capping a career-best season, Fyfe, who will have leg surgery this week on the injury he sustained in last week's preliminary final loss, says he is determined to improve again in 2016.

"I'm hungry to get better. Half a year doesn't fulfill me and not playing in a Grand Final or a premiership team doesn't fulfill me," Fyfe said.
10 talking points from the 2015 Brownlow Medal

"I'll have surgery this week and have a couple of weeks off and dissect the season and reload at the right time and come back and keep striving until we get what we want to achieve as a team. I do think I've got improvement [left] in my game.

"The number one thing for me clearly is getting my body to a position where I can play a full season of footy."

Fyfe missed four games in 2015, making his Brownlow Medal triumph all the more remarkable, and he was judged best-afield in nine of his 18 games.

But he admitted there were several times throughout the season where he feared he might have lost the Brownlow after being under scrutiny from the Match Review Panel on three separate occasions.
How the Brownlow Medal was won

He received two financial sanctions earlier in the season and appeared set to be ruled ineligible for the Brownlow when he was reported for forceful conduct for his front-on bump against North Melbourne's Ben Jacobs in round 21.

However, the MRP ruled he had made "incidental" high contact to Jacobs' face with his arm and threw out the match-day report, paving the way for him to clinch the medal.
2013 Brownlow medallist Gary Ablett congratulates Nat Fyfe on his win. Picture: AFL Media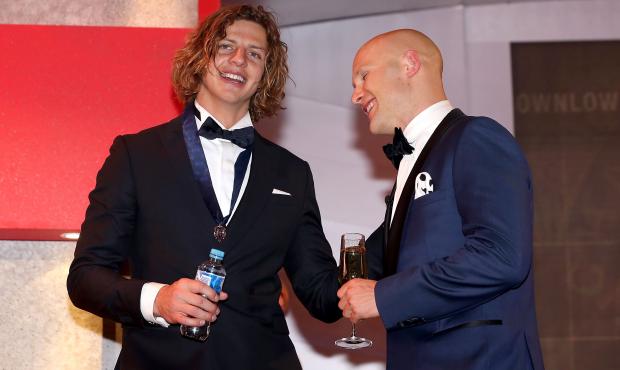 He said it was difficult to ignore the hype that surrounded his Brownlow chances throughout 2015.

"When you've got 10 blokes running up to you telling you you're handing the Brownlow to other people, it's hard not to be at the forefront of your mind. And then you get booed for the rest of the game," he said.
Infographic: Nat Fyfe's Brownlow-winning season, broken down
"All the players are aware of it and, as they should, use every little bit of information as they can as a taunt or to try and put you off your game. That's certainly something that's been hurled at me the last two-and-a-half years."

But after being suspended and ruled out of last year's Brownlow – when he came second behind Priddis by a vote – Fyfe says he won't be altering his physical and combative style to suit the rules.
"Unfortunately or fortunately, the game's going in the direction of player welfare and safety, and the consequence of that is more guys are getting rubbed out or suspended for things that would otherwise be seen as incidental contact," he said.

"I won't change the way I play. Unfortunately that's probably going to cost me games down the track, but it's my greatest strength."

Dockers coach Ross Lyon backed Fyfe to continue to lift his standing in the competition.
All the best selfies from our Twitter mirror on the red carpet

"He's hungry to be the very best he can be, and still Nathan doesn't know exactly what that is but he knows where he wants to drive himself," Lyon said.

"In football terms he's still relatively young. He's had some significant injuries that he's overcome as a young player. I feel a bit embarrassed even talking about Nathan – he doesn't need anyone to describe what he's capable of and what he does.

"We've all seen it. It's his moment and the club's moment."
Fremantle coach Ross Lyon with the club's first Brownlow medallist. Picture: AFL Media.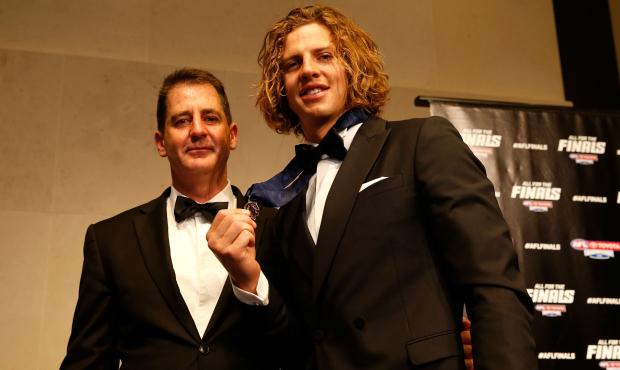 Fyfe played almost all of Friday night's preliminary final with a fractured fibula, which would have ruled him out of the Grand Final had the Dockers progressed to the premiership decider.

Lyon said the club did not want to wear Fyfe's courage as a "badge of honour" but acknowledged his resilience in pushing through the pain barrier last week.

"Nathan showed me the scan and it's a significant displacement. I'm a bit uncomfortable with it. When I spoke to Nathan on Saturday to check in he was really not in a great way, but he didn't let on," Lyon said.

"We've got a real genuine care for all our players, and he's obviously an elite player for us.

"We're not wearing it as a badge of honour as a club, we're a bit uncomfortable with it. But clearly mental toughness is how you respond to situations and under pressure, and … Nathan was still a significant contributor and didn't say one word."