AFTER 14 months on the sidelines, eight months straight in a moonboot and 27 weeks on crutches, second-year defender Cameron Giles is set to return to Carlton's main training group at the end of next week.
If his right navicular continues to stand up as his training loads are increased, Giles is on track to return to the field with the Northern Blues by the end of July.
This week Giles took AFL.com.au through the odyssey he has endured since being diagnosed with a navicular stress fracture in May last year.
At the time the 195cm defender had played seven games in the VFL and was "starting to track pretty well".
He did not realise how serious his injury was when it was first diagnosed, but quickly became intimately familiar with the perils of navicular stress fractures.
Giles had one bit of early good fortune. He was diagnosed with a stress fracture in his left navicular in May last year but while he required surgery on his right navicular his left one settled down and healed naturally.
The South Australian had been off crutches for a month and was two weeks away from getting out of his moonboot when he was told last November that he would need a second operation on his right navicular.
Although the original fracture had healed, a bone cyst had developed to the side of it, which required a bone graft from Giles' heel.
When he received the news, Giles had just returned for the start of his second pre-season and thought he was almost ready to start running on a weight-controlled Alter-G treadmill.
It was an incredibly frustrating and stressful time for Giles – frustrating because after so long in the rehab room he wanted the chance to get out on the field and earn the respect of his teammates, and stressful because he knew he was due to come out of contract at the end of the 2015 season and wondered if he would have enough time to prove his worth to the Blues.
"When I found out I had to have surgery again it was the lowest point," Giles said.
"I asked the doc, 'What's the (recovery) time frame going to be like, how far is this going to put me back?'
"I had contract stuff and all sorts of things going through my head. I was pretty stressed out.
"It's been pretty frustrating that I haven't been able to show people what I can do, but now I've just accepted it.
"All I can do is get my foot right and hopefully just get back and play the last five or six games, show a bit and see what happens."
'I haven't walked for seven months': Giles staying upbeat
Giles' rehabilitation from his second operation has gone much more smoothly.
He finally got out of his moonboot in February and soon started walking and doing some light skills work, including kicking.
Giles had a minor hiccup when he broke his little finger during a skills session and had to have another operation.
But by April he was running on an Alter-G treadmill and last month he progressed to straight-line tempo running on the grass at Ikon Park.
"I am doing some pretty big loading at the moment. I'm running about 15 seconds hard, 15 off, 15 hard. It's a good little blowout," he said.
The 20-year-old has started agility work recently ahead of his imminent return to the main training group.
As encouraging as his progress has been, Giles knows he has to be careful not to do too much too soon.
He still has "a little bit of awareness" in his right foot and knows with navicular injuries it can be hard to tell the difference between "good" and "bad" pain.
Fortunately he has had some good sounding boards during his rehabilitation, including former Melbourne captain Jack Trengove.
Trengove is also recovering from a second navicular operation and, like Giles, attended Adelaide's Prince Alfred College, although he finished Year 12 a year before the Blue started at the prestigious private school.
In the past year the two have regularly caught up for coffees and via text message to compare notes on their recoveries.
"One of the main things Jack has told me is that with the navicular it's hard to gauge what's normal pain and what's pain that you have to be concerned about," Giles said.
"Around the navicular there's a lot of stuff going on with ligaments and ankle tightness and ankle range so it's hard to tell whether it's your navicular hurting or whether it's your ankle.
"So that's been hard but you've just got to fight your way through a little bit of pain because it is going to be sore, but that will go in time hopefully.
"Jack's been really good for me talking through these things."
Cameron Giles (l) with Patrick Cripps and Nick Holman (r) soon after he was drafted. Picture: AFL Media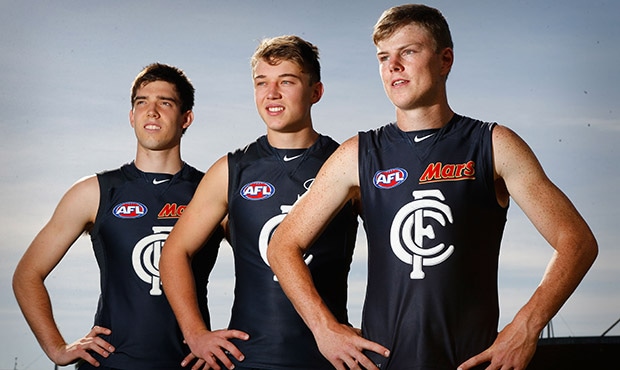 Giles has also had Matthew Kreuzer for company for much of his time in the Blues' rehab group, with 2007's No.1 NAB AFL Draft pick only recently returning from a string of foot injuries.
The defender said Kreuzer has made his time on the sidelines much easier, as have Blues development coaches Matthew Capuano, Luke Webster and Michael Osborne.
Giles is also confident the past 14 months have not been "a complete waste".
He pointed out he has spent some quality time in the gym, having added 8kg to the skinny 90kg frame that first walked into Ikon Park after Carlton took him at pick No.39 in the 2013 NAB AFL Draft.
He has worked closely with Simon White and Michael Jamison, watching their opposition analysis and game-review videos to fast-track his understanding of what is required to make it as a key defender in the AFL.
If Giles can get through the next month of training unscathed, he can start to put some of those lessons into practice.
"First I was just learning to walk again and then learning how to run, now I've got to learn how to play footy again," he says.
"Late next week I should train. The boys are counting down a little bit there so that will be a bit of fun.
"I haven't got a locked-in date for my first game yet, but if I keep going the way I'm going I'll definitely play footy in July.
"Hopefully a couple of weeks out, we'll be able to lock in a game and I'll be able to run around and hopefully get a touch and see where I'm at.
"That will be good. I'm looking forward to it."