• Meet the 2015 Hall of Fame inductees: Full profiles and videos
• Gallery: check out all the best photos from Thursday night's gala ceremony
TONY Lockett has been elevated to Legend status in the Australian Football Hall of Fame.
The greatest goalkicker in VFL/AFL history, 'Plugger' was unveiled as the 26th official Legend of the game on Thursday night.
Sydney Swans premiership star Michael O'Loughlin, North Melbourne and Fremantle champion Peter Bell and Brownlow medallist Neil Roberts from St Kilda were among six new Hall of Fame members inducted at a gala function at Melbourne's Crown Casino.
They have joined triple-premiership player Jason Akermanis, South Australian football great Bob Hammond and the WAFL's all-time leading goalkicker Austin Robertson in the illustrious club.
2015's Hall of Fame inductees plus official AFL Legend Tony Lockett. Picture: AFL Media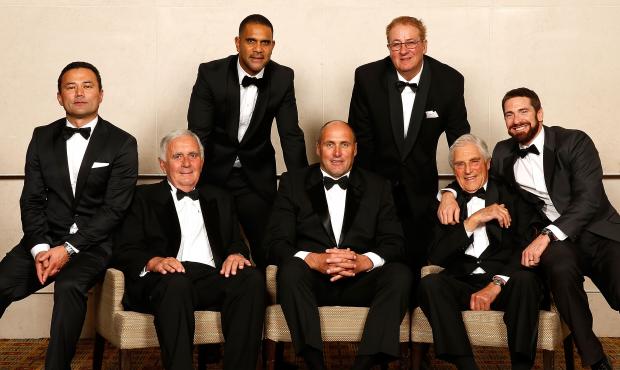 Tony Lockett (elevated to AFL Legend)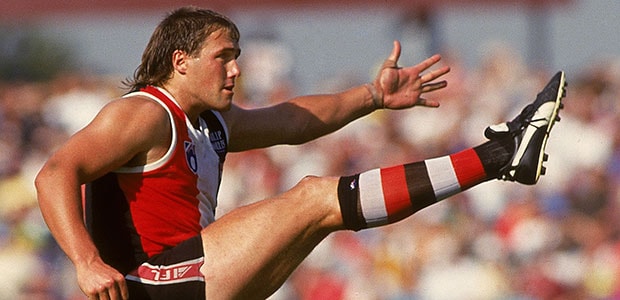 A colossus of the game, Lockett booted an AFL-record 1360 goals in a 281-game career at St Kilda and the Sydney Swans.
"It (the record) does mean something (to me). You look back on it and I'm very proud of it, but nights like tonight, this means more tonight, it's fantastic," Lockett said at Thursday night's Hall of Fame ceremony.
Hailing from Ballarat in country Victoria, the physically imposing 'Plugger' was a beacon of hope at both clubs during some tough times.
• Tony Lockett profile: The record-breaking colossus they flocked to see
On six occasions he topped the goalkicking ton in a season – in 1987, '91 and '92 for the Saints and '95, '96 and '98 for the Swans.
The first year he recorded the century, Lockett also became the first and only full-forward to win the Brownlow Medal.
His best haul in a season was 132 goals in 1992, highlighted by a bag of 15 against the Sydney Swans.
Three years he was playing for the Swans, and in 1996 he kicked a famous point after the siren in a preliminary final against Essendon to propel the side to their first Grand Final in 51 years.
"I had done nothing all night. I'd had a pretty ordinary game, but the boys were terrific all night and just as fate has it sometimes with 20 seconds to go you get a mark and you make a difference," Lockett said.
• Eight moments that defined Tony Lockett's record-breaking footy career
In round 10, 1999 a wobbly set shot against Collingwood for his 1300th career goal saw Lockett break Gordon Coventry's long-standing record as the VFL/AFL's greatest goalkicker.
"There had been a lot of talk about it, it was good to just get it over and done with. It was a mongrel punt, but it went straight," Lockett said.
"It (the record) certainly wasn't something I was aiming at at all. It was really only the last couple of years when I was in reach of it that I gave it a second thought, really."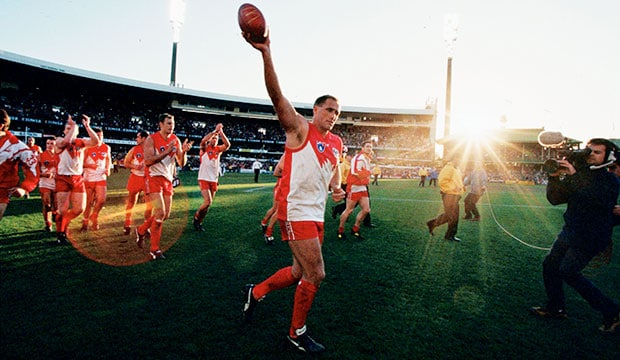 He retired at the end of that season, before a brief three-game, three-goal comeback in 2002.
Lockett finished his career as a six-time All Australian, four-time Coleman medallist, triple club best and fairest (two at St Kilda), and Team of the Century member at the Saints and the Swans.
Michael O'Loughlin (inducted into AFL Hall of Fame)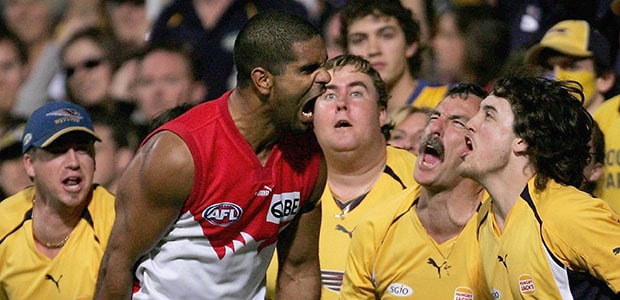 O'Loughlin, now 38, was the only member of the Sydney Swans' losing Grand Final side in 1996 and triumphant team in 2005.
He played a then-record 303 games and booted 521 goals in a career that included selection in the Indigenous Team of the Century, the 1997 All Australian side and a club best and fairest.
• Michael O'Loughlin profile: 303 games and one embarrassed coach
Despite battling tendinitis in his knees and hardly being able to train late in his career, O'Loughlin reinvented himself as a stay-at-home forward who won the club's goalkicking in 2000 and '01.
"I got cut down in terms of injuries and soft-tissue stuff, and pretty much had to change my body," O'Loughlin said.
"If it wasn't for (coach) Paul Roos, I probably would've ended my career pretty early."
Peter Bell (inducted into AFL Hall of Fame)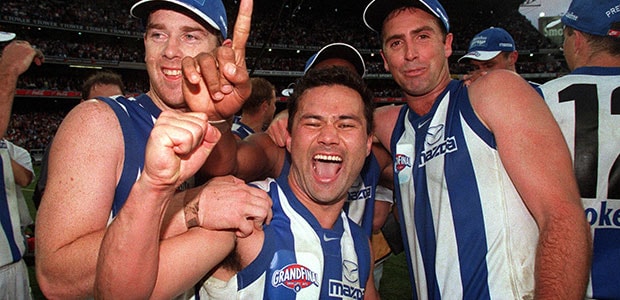 A champion of two clubs, Bell forged his named at North Melbourne (123 games, 120 goals) before returning to his home state and captaining Fremantle (163 goals, 130 goals).
Bell, now 39, played two games for the Dockers in 1995 before he was cut, but took a chance to trial with the Kangaroos the next year and excelled.
He played in the 1996 and '99 premierships, but after winning the Roos' best and fairest in 2000, he returned west.
• Peter Bell profile: You've come a long way, Belly
Bell became a Dockers great by winning three best and fairests, receiving his second All Australian jumper and leading the club from 2002-06.
"It was a very difficult decision to come back to Western Australia. Certainly it's not lost on me the impact and the importance of being Fremantle's first player in the Hall of Fame," Bell said.
"I had a great time at Fremantle. I'd like to think in a small way that some of the players you see taking all before them now were in some way influenced in those years that I played there.
"We played finals for the first time, we won finals for the first time. But to coin a phrase used by their current coach, 'They've got to write their own story'."
Jason Akermanis (inducted into AFL Hall of Fame)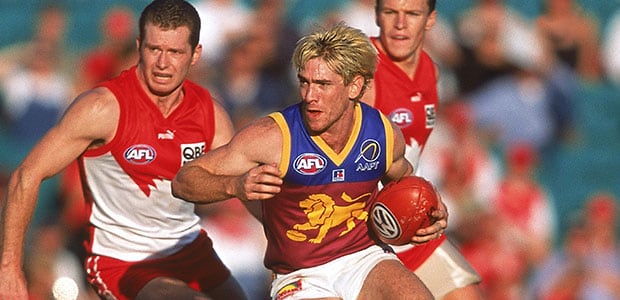 Never far from the headlines during a colourful career, Akermanis played 325 games and booted 421 goals over 16 seasons in the AFL.
Now 38, he was a key member of the dominant Brisbane Lions midfield during the club's premiership three-peat from 2001-03.
He won the 2001 Brownlow Medal, was a four-time All Australian, dual best and fairest winner and the leading goalkicker at the Lions in '04.
• Aker the AFL coach? 'I'm miles ahead' of most assistants
Akermanis said coach Leigh Matthews turned him into a star by forcing him to compete against the likes of skipper Michael Voss, Simon Black and the hard-nut Scott twins – Brad and Chris – at training.
"We all know Leigh, and Leigh is probably one to say that he could be a bit mean occasionally," Akermanis said at Thursday night's induction ceremony.
"I knew if I could match those guys, that it would be OK. I was never fearful (of an opponent) after that.
"Leigh would always make sure I was ready to take those opponents on and, maybe it was just fun for him, it made me a better player."
• Jason Akermanis profile: The forces that produced a complex footy genius
Akermanis' career at the Lions ended in acrimonious circumstances in 2006, and he finished his playing days at the Western Bulldogs where he booted 114 goals from 77 games.
Neil Roberts (inducted into AFL Hall of Fame)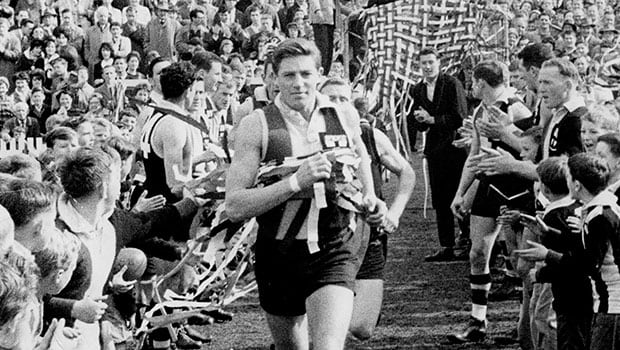 The St Kilda Hall of Fame member was the 1958 Brownlow medallist and was named at centre half-back in the Saints' Team of the Century.
Roberts played 169 games in a decade-long career starting in 1952, winning All-Australian honours and his second club best and fairest in his Brownlow year.
The now 81-year-old captained the club from 1958-62 and represented Victoria 11 times. Roberts tasted little team success, but grew up across the road from Melbourne's East Brighton recruiting zone – with the Demons winning five flags during his career.
• Neil Roberts profile: The champion Sainter born for stardom
Roberts took the chance upon his induction to thank his family for their support over his life in football.
"I suppose when you look at it, it's a selfish thing. You spend most of your time away from home.
"I still feel quite selfish about it, but I suppose if you want to do some of the things you have to do, you've just got to bite the bullet and do it."
Bob Hammond (inducted into AFL Hall of Fame)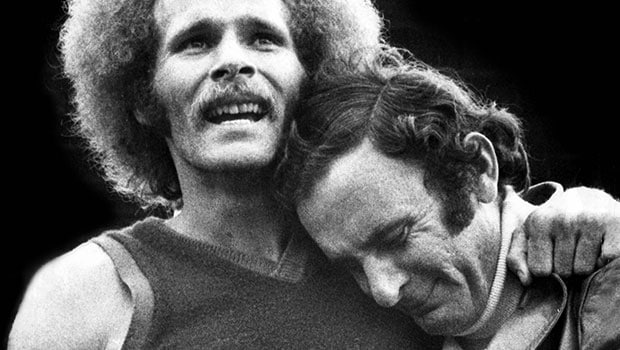 There is little South Australian great Bob Hammond has not achieved in football.
He played in three North Adelaide premiership sides and was named a Team of the Century member following a career spanning 234 games from 1960-73.
In 1974, the seven-time state representative joined Norwood, and a year later coached the Redlegs to a drought-breaking flag, following up with another in 1978.
Hammond became the first chairman of the fledgling Adelaide Crows and was at the helm during the 1997 and '98 flags, and later served on the AFL Commission from 2000-11.
• Bob Hammond profile: Pick a great SA footy moment and chances are Hammond was involved
Hammond had 135 days to set up the Crows before their first game: "It didn't even seem that long to be honest because you were going from crisis to crisis to crisis.
"But ultimately we got our act together. History says we played Hawthorn in the first game and it was a fantastic win."
Among the problems at the Crows was that the club forgot to buy footballs for its first training session.
"So we borrowed some from the umpires," he said.
Now 73, Hammond is an SA Football and Adelaide Crows Hall of Fame member, plus SANFL and AFL life member.
Austin Robertson (inducted into AFL Hall of Fame)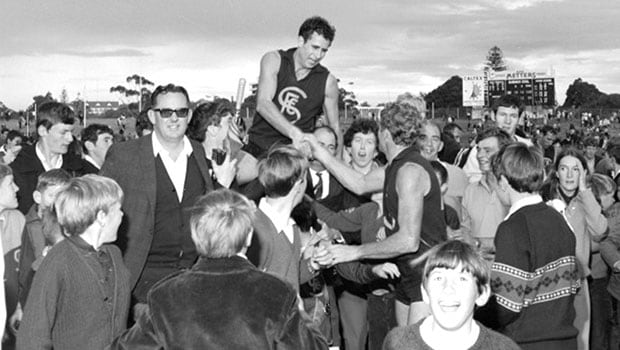 The WAFL's greatest goalkicker, Robertson dominated from full-forward during a 251-game and 1211-goal career for Subiaco.
The Subiaco champion won the League goalkicking eight times, led his club's goalkicking in 12 seasons, represented WA in 10 matches, won two club best-and-fairests and was a premiership player in 1973.
• Austin Robertson profile: The Subiaco superstar at the heart of World Series Cricket
He recalled being belted behind the play by fellow inductee Bob Hammond at Subiaco Oval.
"I think I had six kicks in the first half and kicked 5.1. I'm not quite sure when Bob snotted me, but it was behind the play. He would have got at least eight weeks," Robertson said.
Now 72, Robertson played for Subiaco from 1962-74, except from the 1966 season where he followed in his father's footsteps at South Melbourne and was the VFL's goalkicking runner-up with 60 majors.
Post his playing career, Robertson managed some of the biggest stars in Australian cricket history - including Dennis Lillee, Rod Marsh and Shane Warne – and was instrumental in setting up World Series Cricket after he moved to Sydney.
"I've got a feeling that if I hadn't of come to Sydney when I came, World Series would have happened, but not then, and probably not with Kerry Packer," Robertson said.
Warne, Allan Border and the late Richie Benaud's wife, Daphne, were invited guests of Robertson on Thursday night
Click here for full profiles and videos of the 2015 AFL Hall of Fame inductees