ADELAIDE'S veteran forward James Podsiadly has called time on an incredible career that personified the value of persistence and self-belief.
The 34-year-old bowed out with 104 senior games to his name – including the 2011 premiership with Geelong – and 195 goals.
It took Podsiadly until he was 28 to make his AFL debut in 2010, having been rejected by both Essendon and Collingwood before joining the Cats as a rookie at the end of 2009.
He was working as one of the club's fitness coaches and was playing for the Cats' VFL side at the time.
His first two years at the Cattery were phenomenal; he booted 49 goals in his opening 19 games and another 52 in 2011, culminating with a flag.
Podsiadly joined the Crows ahead of the 2014 season, in which he played 21 games – reaching his 100-game milestone towards the end of the year.
He wasn't able to break into the senior line-up this season, although a haul of 20 goals from his final two SANFL appearances meant he finished his career in brilliant form.
"The Adelaide and Geelong supporters, I can't tell you how much they've embraced me and my story," Podsiadly said.
"I just want to thank them for their support, and all the people who made the decision to take a risk on me, whether it was at Geelong or here at Adelaide.
"To achieve what I have from a team perspective, I'm very grateful and thankful for.
"I'm proud of those achievements, but I'm more proud of the people that I've met who have helped me get here."
Podsiadly celebrates the 2011 flag with Geelong teammate Mitch Duncan. Picture: AFL Media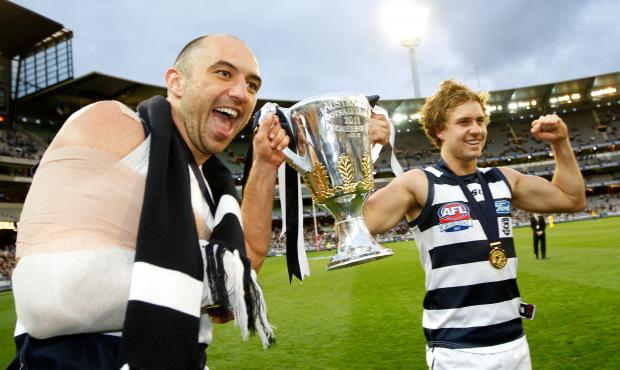 Adelaide head of football David Noble said Podsiadly's life experience had been invaluable during what has been the toughest season in the club's history.
Noble described the key forward as a "selfless" player who had worked wonders in developing the club's other key position prospects.
"His influence extends beyond the football field. His experience and leadership have been invaluable, particularly, in what has been a difficult season for our club," Noble said.
"James has played a really selfless role this year.
"He knew it was going to be his last season, but he's continued to help our developing key-position players to improve even though they were potentially taking his spot in the AFL team."