THE COUNTRY'S most talented draft hopefuls are in Florida for 10 days for a high-performance training camp with the NAB AFL Academy.
While on the tour, Victorian Josh Dunkley, who is eligible to join the Sydney Swans as a father-son prospect, will write a diary for AFL.com.au detailing the team's activities.
Every day Dunkley will also shine the spotlight on a teammate, including some lighter moments. This is the second of three diary updates.
Click here to read Josh Dunkley's first diary instalment

DAY FOUR
January 13
Tampa

One of the reasons we headed to America and the IMG Academy was the Gatorade Sports Science Institute, and today was my opportunity to complete the VO2 max test under the guidance of the guys here.

It involves putting on a mask and headpiece where you breathe through your mouth and are unable to breathe through the nose, which they clip. It's done to measure the maximum volume of oxygen an athlete can use.

You start walking on a treadmill for three minutes and increase the intensity every three minutes thereafter. My test went for 22 minutes and it was uncomfortable because it was so different to normal running.

You don't realise how much you breathe through your nose until you can't, and by the end I was pretty exhausted. Doing that meant I missed the first part of training with the squad, which was one of our main training sessions for the trip.

I came in with half an hour to go and straight away I noticed Darcy Parish was back out on the track and training the house down after missing a couple of months of the pre-season with a stress fracture in his leg. But given the way Darcy trains you wouldn't have even known.

Earlier we had a stint in the gym and I was paired with Aaron Francis, who quietly goes about his business but showed he has some serious strength. He's obviously looking to get the most out of himself this tour and will be an exciting player to watch this year.

Each day use the IMG Academy's pool for a swimming session, and today was one of the hardest we've had.

It's easy to see that Greg Clark spends a bit of time at the beach being a West Australian, as he was a standout in the pool. I also think he secretly likes heading to the pool as it allows him to take his shirt off.
An Academy player undergoes the VO2 max test at the Gatorade Sports Science Institute.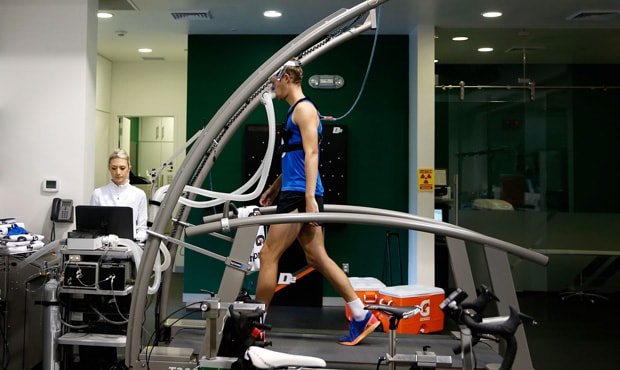 Today was our first opportunity to speak to a variety of clubs during a four-hour interview session. Our interviews are split into 15-minute blocks and over today and tomorrow night each of us will speak with every club in attendance on the trip.

Pretty much everyone I spoke to wanted to know what my plans were with the Swans and the father-son situation, and my answer was always the same.

I've still got to play good footy this year for them to consider me, and I'll continue to work on my weaknesses and strengths. I think I'll make my decision when the time comes.

Spotlight on: Callum Ah Chee. I've gotten to know Cal through the Academy program and I get along with him really well. On Monday our coaches Brad Johnson and Glen Jakovich told him to run with me during the game-specific running part of the session, and he really pushed me.

DAY FIVE
January 14
Tampa

As much as this camp has a focus on fitness and pre-season training because our games are a fair way off starting, it's still always great when the footy comes out for a skills session at high intensity, which was the case this morning.

We'd already set the bar pretty high with our training so far on tour, and our coaches wanted us to continue to keep at that level. Although it still January, with the recruiters watching everything on the trip it's fair to say all of us want to impress as much as possible.

The session was really competitive and full of tackling, contested-ball winning drills and some transition work from one end of the ground to the other.

While training, a selected group had our sweat tested by the Gatorade scientists. They put a band-aid type of equipment on your arm, which gathers all of your sweat throughout training and then they take it back to the lab, where they suck out the fluid and measure our sweat rate.

Sam Skinner, my Gippsland Power teammate, was a bit stressed about this test as we think he might have a sweat issue.

Marvin Baynham has been training with us the last few days. He's from Miami and attended last year's NAB AFL Draft Combine hoping to be drafted by an AFL club. It's good to see he's still interested in the game and sticking at it, and he's been pretty popular among the group.

In the kicking drill, Darcy Tucker's foot skills were terrific. We've played together since the under-16 championships and he's always been an elite kick and a super guy to have around. It's always nice to see him with the footy in hand.

Unfortunately I watched the end of training from the sidelines as I'd felt a pinch in my lower back. It was a bit annoying, as I really enjoy those type of drills and see it as a big part of my game.

Later in the day, when we finished up our interviews with clubs, I was asking a few recruiters what they look for in players and they said competitiveness, and I think that is one of my strengths. Hopefully I'll be fine to train for the rest of the camp.

During dinner we found out about the Academy's new head coach, Brenton Sanderson, being appointed to fill the role. There was a huge buzz around the group now that we know our senior coach for the future.

Spotlight on: Ben Keays. After losing his Gatorade drink bottle, Ben thought he'd pick up the next one he saw that was unattended. It's fair to say that later in the day, when Callum Ah Chee realised his missing bottle was in Ben's possession, that he wasn't too happy.
Geelong captain Joel Selwood chats with Academy member Tom Cole during the warm-up for training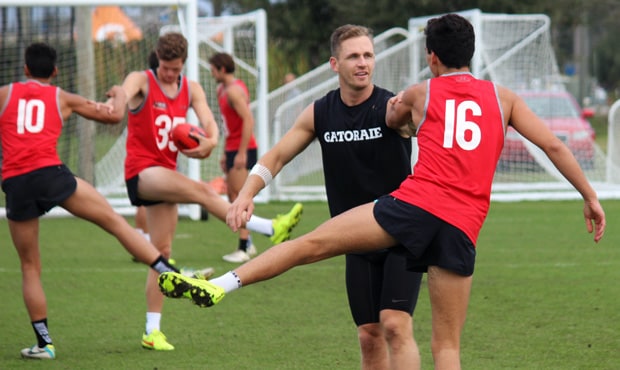 DAY SIX
January 15
Tampa

After a few boys vomited during our last big fitness session, there was a hint to eat our breakfast early today to avoid a repeat during our hit-out in the gym.

The session was at a new part the IMG Academy we hadn't visited before – a massive outdoor area covered by a roof and where draft hopefuls for the NFL were also training.

The session was tough, particularly the chin-ups. Cal Mills recorded the most in our group, benefiting from Sam Skinner's encouragement after being chosen as our team captain. A pilates session later on, with a stench in the room, capped off most of our work for the day.

We had a quieter afternoon and night, with some basketball games to occupy our time. Rhys Mathieson and Harley Balic teamed up to take on Marvin Baynham and Gach Nyuon on the court nearby, with Rhys and Harley coming out winners with a big crowd in attendance.

Because our schedule has been so busy, we haven't managed to get too much spare time and when we do everyone chooses to rest, check up on some news from home and recover for the next session.

Spotlight on: Ryan Burton and Sam Weideman. These guys have been the core of the rehab group during the trip as they recover from injury, but are still working just as hard during training and getting as sore as us as well. It must be hard to watch on as we train but they're certainly not taking it for granted.

DAY SEVEN
January 16
Tampa

The group was pumped to train with some special guests today, as star AFL players arrived at the IMG Academy with their Gatorade commitments.

Geelong captain Joel Selwood and Tom Hawkins and Sydney Swans midfielders Dan Hannebery and Luke Parker were introduced to us before training and went on to spend the whole session training alongside us.

It was noticeable during training why Selwood is such a great leader at the top level, as a couple of times he took it on himself to point out what we could do better and how to go about it.

Hawkins played in the forward line during the match simulation work and showed why he's one of the best power forwards in the competition. Although at one stage Sam Skinner tried to match him and did really well bringing him down in a tackle.

He was a little worried he went too hard and after the session asked me if I thought Hawkins might hate him for it.

I saw how hard Hannebery and Parker trained during my week at the Swans in December and there was no let down today, with their relentless running and elite skills.
Josh Dunkley watches training with Sydney Swans star Luke Parker at training.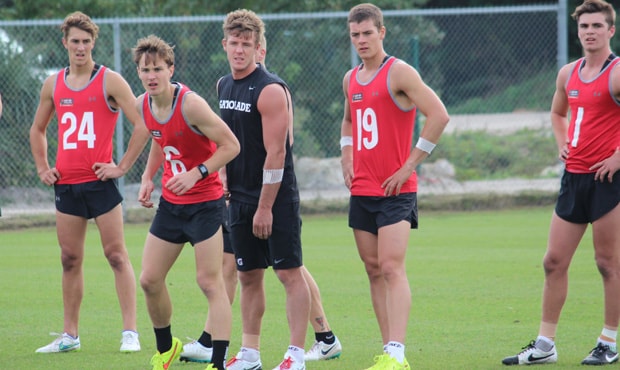 Afterwards we had a chance to ask them a few questions and one of the main things that stood out to me was that all of them focused on earning respect from senior players when you arrive at an AFL club.

Last year I was lucky enough to get an opportunity to film a Gatorade commercial up on the Gold Coast with Scott Pendlebury and Gary Ablett. Cal Mills was also involved, and the ad screened last year – every time I watched a game of footy it came up so I used to get reminded of it a bit.

This afternoon we were again part of filming for this year's commercial, which was another unbelievable and fun experience.

It's our last day in the IMG Academy and Sarasota before we head off to Orlando tomorrow, which the group is very excited about. I'm sure everyone will sleep well tonight knowing the bulk of our training has been completed.

Spotlight on: Jordan Snadden. Jordan emerged at training whilst displaying his run and carry skills in the game simulation drill. 'Snadds has had some bad luck with injury over the past few weeks so it was good to see him out there and still having a key impact in the session.