• Fantasy form watch: Round 13's Pig, Presti and Junior Swine
• Who starred for your club in this weekend's state leagues?

IT TOOK one quarter of football on Saturday afternoon for Hawthorn to get past Essendon and move into the top four for the first time since round five.
But the biggest win for the Hawks came the night before when Richmond upset the Sydney Swans at the SCG.
It was one of the Tigers' finest wins for years, perhaps even their best since the famous 1995 semi-final, because it was based on nothing other than grunt, resolve and putting their heads over the ball.
How did Cotchin kick this?! #AFLSwansTigers #ohwhatafeeling http://t.co/hw2kmOsEeX

— AFL (@AFL) June 26, 2015
The net effect of the SCG and MCG results leaves the Hawks just a game out of the top two. West Coast and the Swans are now within real striking distance of the Hawks, who play them both before the end of the season.
Having to win a final outside Victoria would make the path to a fourth straight Grand Final more difficult for a side, which as brilliant as it has been, is battle scarred and ageing.
But a top two finish changes matters entirely. If the Hawks don't need to leave the MCG in order to win through to the Grand Final, then who would bet against them winning through once again?
• Forecast this season's final standings with the AFL Ladder Predictor
Against the Bombers, the great flexibility of the Hawks shone through once more. Cyril Rioli withdrew from the game for personal reasons, so in stepped Paul Puopolo with four goals. James Frawley went down with a shoulder injury, so Josh Gibson played taller in defence, Luke Hodge played deeper and they barely missed a beat.
The Hawks are relentless! #ohwhatafeeling! http://t.co/C7LD5jyWfK

— AFL (@AFL) June 27, 2015
Jarryd Roughead has had a scratchy few weeks, so Alastair Clarkson deployed him largely as an on-baller and with 29 possessions (16 of them contested) plus a game-high seven tackles, he was best afield.
• Six things we learned: Hawks' forward-line an embarrassment of riches
The competition for spots in the side has become ridiculously fierce. Will Langford was the replacement for Rioli and played his best game for the year, having rediscovered the ferocity that marked his unbelievable finals series last year. The oft-maligned Matt Suckling was better defensively and his kicking was back to its penetrating best.
Clarkson does have selection issues. Matt Spangher was injured in the VFL once again, so he likely won't be ready to step in for Frawley any time soon. It might need to be Ryan Schoenmakers, who has looked better as a forward than a back in recent times. And in any event, someone makes way for Rioli on Friday night.
We have previously lamented the dearth of great Friday night matches this year, although Swans-Tigers last Friday didn't lack for entertainment value. But this Friday night against Collingwood shapes as a beauty. The winner goes a game clear in the top four. That sells it as appointment viewing.
Beveridge's blueprint
Luke Beveridge arrived at the Whitten Oval with the well-deserved reputation as a defensive specialist.
When Hawthorn won the 2013 premiership, it was noted within the industry that the best and fairest winner (Josh Gibson) and Norm Smith medalist (Brian Lake) both hailed from the back half of the ground. He just gets how it should work behind the ball.
The Western Bulldogs are now reaping the rewards of Beveridge's expertise. Arguably it was the part of the ground where the club faced its biggest deficiency heading into the season, but the weakness is becoming a strength, as witnessed on Saturday night in the six-point win over St Kilda at Etihad Stadium.
With 56 inside 50s and a 21-17 edge in scoring shots, the Saints probably should have won. But as Beveridge noted afterwards, "I just thought our defenders were incredible. They intercepted, they cut them off and for the number of entries that (St Kilda) had they probably should have scored more goals, but on open plays our defenders really held it together."
The poster boy for that was Easton Wood, with 13 marks, three of which were contested.
Easton Wood's disposals against the Saints on Saturday night. Source: AFL Live Official App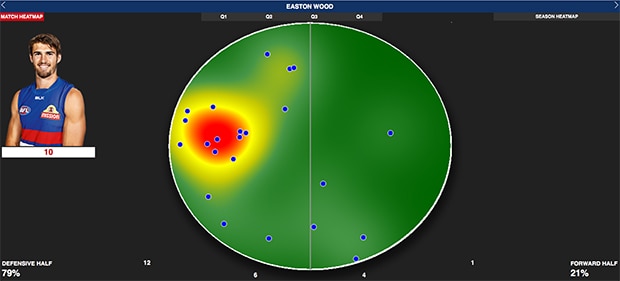 Sign up for a free two-week trial of AFL Live Pass and fire up the AFL Live App to watch every match live and gain access to Coach features, including club and player heat maps.
Wood is among a raft of Bulldogs who have improved markedly under Beveridge's coaching and he is now squarely in the mix for All-Australian selection.
• Match-winning Wood's form 'off the charts', says Beveridge
The Dogs are now in the eight and their draw from here looks generous enough for them to remain there through to the finals. Their backline has played a massive part in getting them to this stage and will likely determine if they do make the finals, how much damage they can do once there.
Why the wait?
There is much to like about Thursday night football. From a TV point of view, they are a major hit, with Channel Seven reporting that the national combined peak audience for the Fremantle-Collingwood clash was 1.115 million. Add another 275,000 tuning into the Fox Footy live telecast and it means a significant number of people were watching the game.
From this perspective, watching a game of football on a Thursday night is a far more rewarding experience than, say, watching a bunch of people talking about footy.
It is working at the box office as well, with sell-out crowds at Adelaide Oval and Domain Stadium for the Crows-Hawks and Dockers-Pies clash, although many in Perth missed the start of the game, because of peak-hour traffic in Perth, which can be crippling even without 37,000 fans making their way through the city towards Subiaco.
Satisfactory crowds and TV figures should ensure more Thursday night footy next year and more significantly from 2017 when the new TV deal takes place.
And they might be of particular interest to Channel Nine, which is looking to get back into the AFL space, but probably not at the expense of its massive commitment to the NRL.
Nine already has a major involvement with the game with The Footy Show on Thursday nights, but one approach it might consider from 2017 is a suite of, say eight or so big-ticket, marquee Thursday night games, timed around school holidays and the like, to either replace The Footy Show in those weeks or more likely use that vehicle as an extended post-game show.
But if Thursday night games are to become an expanded part of the AFL season, head office needs to make some adjustments. By a quirk of the draw, the Swans played Richmond on Friday night and then back up six nights later against Port Adelaide, also at the SCG.
By the time this column goes online, nearly as much time would have elapsed since the end of the Richmond game as there will be to the start of the Port Adelaide game. Yet the Swans are still to learn from the Match Review Panel what penalties Lance Franklin and Kurt Tippett may face from their incidents on Thursday night.
Buddy was put into the umpire's book during Q2 for this hit on Edwards #AFLSwansTigers http://t.co/9GlRLb6Q1z

— AFL (@AFL) June 26, 2015
Tippett has been reported for this late hit on Grimes #AFLSwansTigers http://t.co/onLadKuAm9

— AFL (@AFL) June 26, 2015
In all probability, both will be suspended for at least one match, and Swans coach John Longmire is surely planning for that contingency. But what if both clashes were more borderline and the lines between a fine and suspension more blurred? Is it satisfactory that the Swans wouldn't learn the outcome of the MRP findings until barely 72 hours before the opening bounce?
Taking things the other way, if Franklin's case is referred directly to the tribunal, which some believe it may be, then it is hardly ideal for player and club to be in Melbourne appearing at the Tribunal only two days before the next match.
If Thursday night matches are to become more a feature of the AFL schedule the MRP needs to swing into action more swiftly. Clubs preparing for Thursday night games should be able to know within 48 hours whether their players might be unavailable through suspension.
Right now, the Swans are twisting in the wind a bit. Hopefully a slice of the extra cash that will come the AFL's way through the creation of more Thursday night matches will create a more nimble MRP process that can work on weekends and deliver more immediate outcomes that don't leave players and clubs stewing for days at a time.
QUESTION TIME
@afl_hashbrowne will there be more Victorians or interstate teams in the top 8 come September? #afterthesiren

— DockerDJay (@DockerDeej) June 28, 2015
Ashley Browne: We call them non-Victorian teams around here and there are three certainties – Fremantle, Sydney Swans and West Coast. Get ready for plenty of finals in Western Australia this September. Adelaide remains a chance and Sunday's Adelaide Oval clash with Geelong is a genuine eight-point game. Win that and the Crows are right in the mix. Greater Western Sydney is on the slide while Port's finals hopes are on life support. But the Power would think that the Swans – most likely without Franklin and Tippett – are gettable at the SCG on Thursday night and that a win could be the start of a barnstorming run to the finals.
@afl_hashbrowne Will Ablett's return to the Suns make any difference? I'm sure the Suns don't want to be a 1 man team. #afterthesiren

— Kastor Mener (@ThomasBennetts) June 28, 2015
AB: Who would have thought a Saturday twilight clash between Gold Coast and North Melbourne would be so interesting? All eyes will be on Ablett and I'm sure North will be keen to test out his shoulder, with Michael Firrito the early favourite to be the first to have a crack. If he gets a few early touches and appears untroubled by the shoulder then I have no doubts the Suns will be a transformed side. He makes them walk a foot taller. It's not the effort that has been lacking the last few weeks with the Suns, just some polish, a lack of experience and the odd brain-fade. What Ablett won't be able to do is run the game out on the ball, at least this week, but even in the forward line he will spell danger. It should be a fascinating game and very illustrative in many respects and the Kangas will head north with some trepidation. It's the type of game they have dropped too often in the past.


@afl_hashbrowne #afterthesiren Freemantle have lowest goals for of teams in top 8 does that impact ability to win 1st Sat Oct

— Joy Hooker (@JoySC01) June 28, 2015


AB: History would suggest yes, but Fremantle's defensive systems are so good that it can kick 80 points a game and almost always get the win. Once Michael Johnson returns later in the year, the Fremantle defence will be really hard to break down. The clash with the Hawks in a fortnight, however, will be intriguing. Hawthorn is the one team that has been able to post some decent scores against Ross Lyon-coached teams, even going back to his time at St Kilda. If the Hawks can do so again at Aurora Stadium, it will shed a new light on the premiership race.


• Think you've been paying attention? Prove it by taking our mid-season quiz
• Watch and vote on the season's best speccies