NORTH Melbourne coach Brad Scott has leapt to the defence of Lindsay Thomas, saying the small forward plays within the rules relating to high tackles.
Thomas won at least two free kicks for being tackled high in North's 11-point win over Essendon on Friday night.
Not only did Thomas' free kicks draw boos from Essendon fans at Etihad Stadium, but Channel Seven commentator Luke Darcy said the Roo's ability to draw head-high contact might not be within the spirit of the game.
When Scott was asked about the comments in his post-match press conference, he said the rules governing tackles were clear-cut.
Click here to watch Brad Scott's full press conference
"You see a lot of players in the competition who are experts at the technique and the umpires have made it crystal clear that that's the way they're going to umpire the game and the onus is on the tackler," Scott said.
"Anyone who wants to question Lindsay Thomas is kidding themselves and they should question the rule-makers and question the umpires before they question any of our players.
"He is playing to the rule. There's no spirit, there's no asterisks that says this is the rule, except we'd prefer you did this.
"Those free kicks have gone against us, we've questioned the umpires and they have made it crystal clear the way they're going to umpire it and the way they're adjudicating it at the moment is exactly what they've told us."
Five talking points: Essendon v North Melbourne
North key forward Ben Brown was substituted out of Friday night's game in the third quarter after hyper-extending his left knee.
Scott said the North medical team's preliminary diagnosis was that Brown had not damaged his anterior cruciate ligament, but the extent of the forward's injury would not be known until he had scans.
"It's always heart-in-your-mouth sort of stuff when a guy goes down clutching his knee but [our doctors] have cleared him of ACL damage, with an asterisk," Scott said.
"So we've got to be positive, but usually they can tell straight away and they're not concerned about his ACL, but they'll double check it.
"It could be anything. He feels really good, the knee is structurally sound as far as we can tell without scanning it and we'll be sure once we've scanned it."
Fellow Roos spearhead Jarrad Waite was reported in the third quarter for striking Essendon's Zach Merrett after he collected the Bomber high with a late spoiling attempt.
Just as he did after Waite was reported for a clumsy late spoil on Hawthorn defender Ben Stratton in this year's NAB Challenge, Scott said the spearhead got himself in trouble with his tendency to jump early when he went to spoil.
Bomber Zach Merrett falls after contact from North forward Jarrad Waite. Picture: AFL Media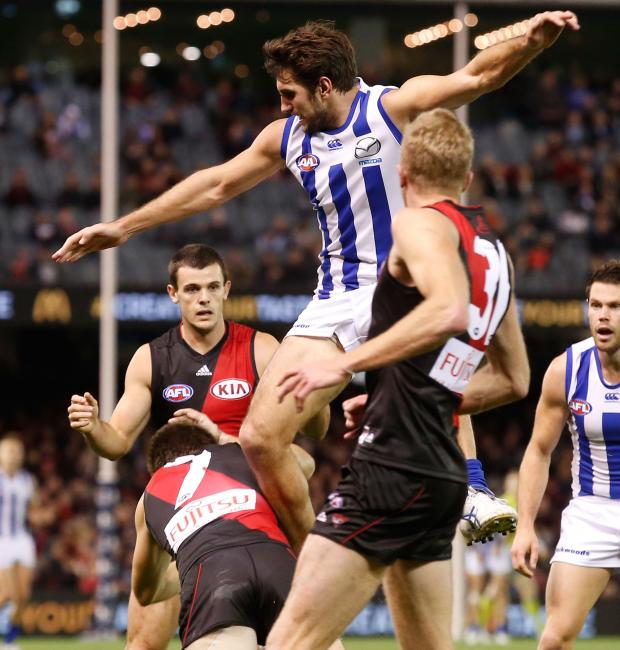 "He jumped early again so when you're in the air it's hard to stop and pull out," Scott said.
"I obviously can't say too much about it but he jumps early so he gets himself into compromising positions at times but we'll let the powers that be handle that."
Scott said skipper Andrew Swallow and key defender Lachlan Hansen had emerged from Friday night's game without any serious injuries.
Scott said Swallow had got a couple of knocks to his thumb but had escaped with bruising.
Hansen got up gingerly after a marking contest in the second quarter and came to the interchange for treatment before playing out the game.
Scott said Hansen had been cleared of a recurrence of the groin and hip problems that kept him out of the finals last year and saw him undergo surgery on both hips in the off-season.
"The guys assessed him on the bench, we assessed him at half-time again and he's fine," Scott said.