ST KILDA'S ambition to host the first pride game in a home-and-away season is building momentum, with a member of the club's executive attending Sunday's Sydney Swans-Fremantle clash at Drummoyne Oval on a research mission.
The NAB Challenge match between the Swans and the Dockers is the AFL's first match dedicated to celebrating sexual diversity and equality.
The Saints have been working for the past six months on a proposal to host the first pride match for premiership points.
The club is intent on ensuring the concept is not seen as a novelty and has the potential to be a long-term commitment to celebrating sexual diversity.
"We've heard about some of the difficulties that young people who are still working through their sexuality face, and the role that sport can play in making people feel comfortable and accepted," Saints CEO Matt Finnis told AFL.com.au.
"We're looking at a range of different ways we can play our small part in that, whether that's at a community level or on a bigger stage, these are things we're interested in exploring.
"It's something we're talking with the AFL about and also talking with the community about.
"It's certainly in the early stages."
Sunday's sold-out match at Drummoyne Oval features rainbow 50m arcs, goal post pads and umpires' flags.
A Fremantle player walks across the freshly painted turf at Drummoyne Oval. Picture: AFL Media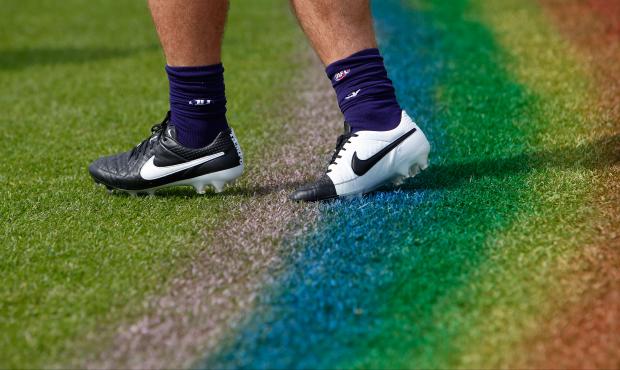 The Saints' general manager of customer and community Lisa Laing is attending on a scouting mission.
Sunday's game, which is a NAB initiative, follows on from the Pride Cup that was staged in the Yarra Valley Mountain District Football League last year between Yarra Glen and Yarra Junction.
That match was instigated by Yarra Glen coach Dean de Munk and assistant coach Sam Hills, who wanted to show support for local gay footballer Jason Ball.
Ball has spoken to the St Kilda players, and some of them recently took part in the annual St Kilda Pride March wearing club colours.
Some bright yellow Sherrins lie across the rainbow 50m arcs on Sunday. Picture: AFL Media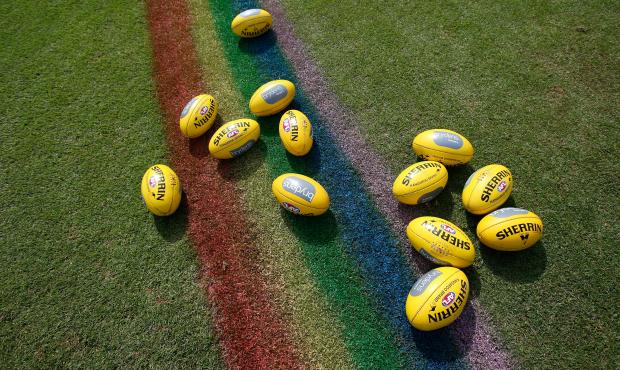 The AFL's football operations manager Mark Evans said there had been "great progression" from the match staged at community level to talks about bringing the concept to the bigger stage.
"From there, we've had discussions with other clubs about the potential of having a pride game in an AFL season," Evans said.
"St Kilda has been fantastic in trying to lead the way on this.
"There's certainly been great progression from having a community match in Yarra Glen to having a NAB Challenge match in Drummoyne.
"The next obvious step is whether an AFL club like St Kilda can progress this in the home-and-away season."
A potential opponent is yet to be decided, but informal talks were held with Essendon late last year about the Bombers being involved.
Ball said last year the staging of the Pride Cup and possibility of it being replicated at AFL level would send a clear message "that being gay is OK".
While no AFL player has publicly come out, Evans said any who did would be supported.
"There will always be this question about why hasn't a player come out," Evans said.
"We've paved the way and had the discussions we think that will go pretty well for that player, but it's still ultimately their decision to make.
"We're just here to support that when that happens."