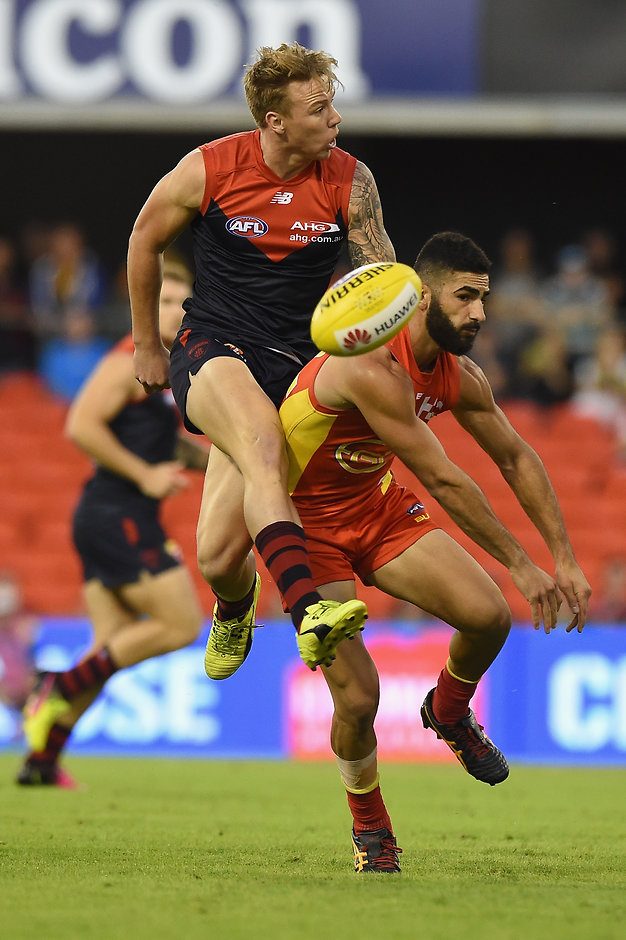 When it was really close with me staying on the list it really hit home I needed to lift my professionalism by doing the extras and working harder
James Harmes
TWO YEARS ago Melbourne told James Harmes to lift his professionalism or else he would find himself looking for other employment opportunities.
In a stark career-turnaround, the more mature 20-year-old is now the round seven nominee for the 2016 NAB AFL Rising Star award.
Harmes, originally pick No.2 in the 2014 Rookie Draft, gathered a career-high 26 disposals and kicked three goals as the Demons thrashed Gold Coast by 73 points at Metricon Stadium on Saturday evening.
"When I got to the club I was still living as an ordinary 18-year-old kid," Harmes told AFL.com.au.
"I didn't really understand how professional I had to be as an AFL footballer."
Vote for 2016's winner at the NAB AFL Rising Star hub
Harmes' career at Melbourne was in the balance following a brutally honest meeting with the club's match committee halfway through 2014.
Coach Paul Roos and football manager Josh Mahoney and co. essentially told Harmes to shape up or ship out.
"When it was really close with me staying on the list it really hit home I needed to lift my professionalism by doing the extras and working harder," Harmes said.
"It was really good to have that pressure on me because it's turned me into a better footballer and now I'm reaping the rewards of hard work."
Harmes said he was "naïve" when he first arrived at Melbourne at the end of 2013 and did not comprehend what it took to be a professional footballer.
"It was my organisation when it came to the little things around the club – getting to meetings on time, getting my physio done, seeking information off coaches," Harmes said.
"I was probably a little bit shy and didn't go and speak to the coaches as much as I should have.
"I made myself do extra weights and made sure I was asking more questions."
After a series of strong performances in the VFL throughout 2015, Harmes made his debut against Essendon in round 15 last season and played eight games to end the year.
Harmes, who was elevated to the club's senior list prior to 2016, has played every game this season, for a career total of 15, and has won admirers for his toughness and ability to harass the opposition.
Harmes, who grew up a Melbourne supporter hailing from the Devon Meadows Junior Football Club, credits teammate and close friend Jesse Hogan for helping him improve his work habits around the club.
Both Harmes and Hogan and skipper Nathan Jones enjoy road tripping down the Victorian coast to Torquay or to the Mornington Peninsula to catch a wave or two whenever they have some spare time away from training.
"I hadn't been surfing at all this year until last week then I came out and had my best game for the year, so it might be a bit of an omen," Harmes said.
"Surfing's good for your body and your mind to take a little break from footy."
Want more?
• Find 2016's nominees and vote for the winner at the NAB AFL Rising Star hub
• How does the Rising Star Award work and who is eligible?