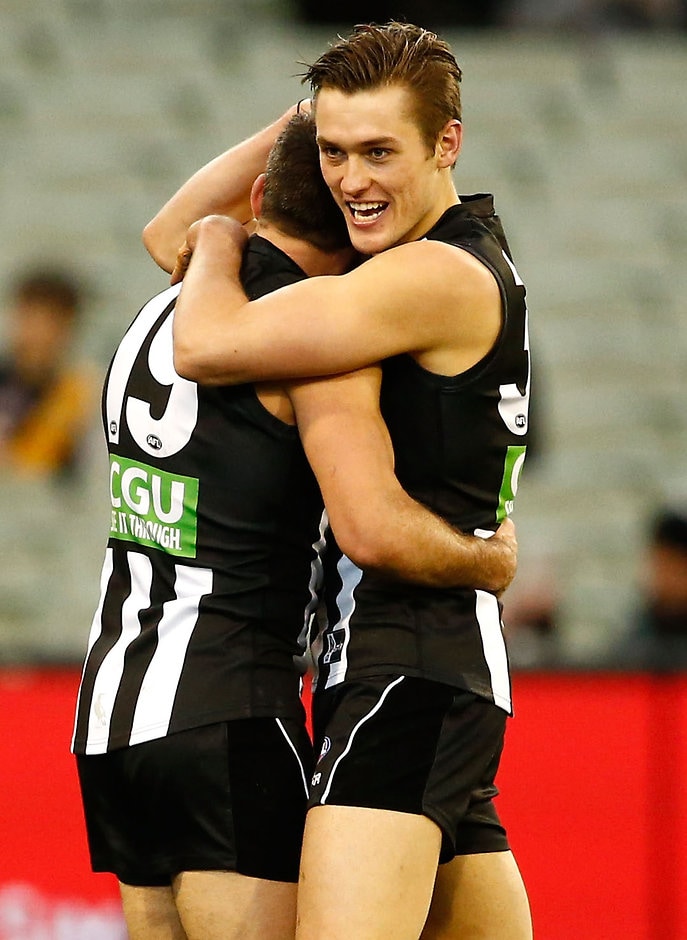 Darcy's one of those young blokes who wants to take ownership of our future
Nathan Buckley
DARCY Moore played just 34 per cent of the game against West Coast to earn this week's nomination for the NAB AFL Rising Star award.
Equating to a quarter-and-a-half of football, the young Collingwood star kicked 3.2, took six marks (five contested) and contributed one goal assist before hurting his hamstring in the second term.
Melbourne's Clayton Oliver played just 58 per cent game time when he was nominated for the award in round one.
The second-year forward said he felt as if his confidence was sky high, but was quick to deflect the attention to his teammates.

Match preview: Richmond v Collingwood
"The zone is a very elusive thing to talk about for an athlete," Moore told AFL.com.au.
"I don't think it was anything really different from what I have been doing. The main difference was the way our midfield was performing and they made it pretty easy for the forwards."
Moore, pick No.9 in the 2014 NAB AFL Draft, faces a fitness test to prove his fitness ahead of Friday night's clash against Richmond.
To be told he would not be going back on to the field against the Eagles was frustrating, but he knew if he had, he might have done more damage to his hamstring.
"It was frustrating but I work with the medical team every day so I know they've got my best interests at the forefront of their minds," Moore said.
"I didn't have an issue when they made that call and you get pretty used to it when you're a 20-year-old, 200cm footballer. You get wrapped in cotton wool and get treated like a baby giraffe a lot of the time."
Moore was unlucky not to be nominated for the award last season when he bagged five goals against the Western Bulldogs in round 17.
Nonetheless, coach Nathan Buckley said Moore's growth had been impressive.
"Darcy's one of those young blokes who wants to take ownership of our future," Buckley said.
"The first 45 minutes tonight was an indication of what he wants to bring to the table."
Moore, who hails from the Kew Comets Junior Football Club, has kicked 21 goals from 15 games this season and looms as a key part of Collingwood's future.
"Improvement is not always linear and it's not always simple," Moore said.
"A lot of people like to say it takes key forwards a while to develop and give them three or four years.
"But that's not always particularly useful for me and that's not something I buy into a lot because I want to be the best I can be."