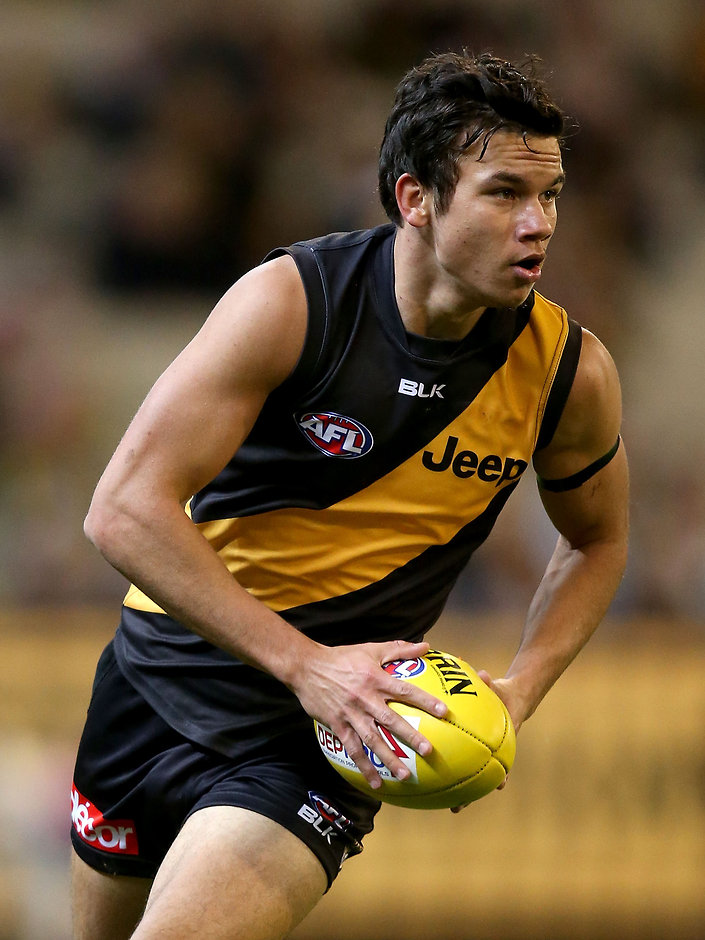 • Vote for 2016's winner at the NAB AFL Rising Star hub
RICHMOND's Daniel Rioli does not need to look far when searching for a star player to model his game around.
In fact he doesn't need to look outside his family, with uncle Cyril – the reigning Norm Smith medallist from Hawthorn –only too happy to act as a sounding board whenever Daniel needs to run something by him.
"I watched him a lot as a kid. Going to school at St Patrick's College in Ballarat, I'd usually catch the train and stay at his place on the weekends and watch him play," Rioli told AFL.com.au.
"I try to model my game on him. He's a small forward and I'm a small forward now so we play a similar role.
"He's given me a lot of advice and tells me to treat each game like just another game of footy and that's helped a lot."
Daniel Rioli has demonstrated this season that there are aspects of Cyril's game that have transferred down the family line to him.
Rioli's exploits were on show for the Tigers at the MCG on Saturday, as the 19-year-old kicked two goals from 16 touches and chased and pressured relentlessly to earn himself the round 22 nomination for the NAB AFL Rising Star.
Tackling is a facet of his game that Rioli prides himself on.
"With my tackling and my pressure, I practice it at training a lot. As a kid I went to school in Darwin and I played a bit of muck around rugby," he said.
"I love tackling and I try to bring that into my footy now. As a small forward, we're paid to kick goals and provide pressure up forward as well.
"Cyril tackles really well and I'm trying to take that next step like him."
Another mentor of Rioli's is coach Damien Hardwick, whom he also happens to live with as the Hardwicks act as the youngster's host family.
"I get on with his family really well," Rioli said.
"Staying with 'Dimma' is pretty good actually. He's not all footy at home which is good."
Rioli moved to Victoria from the Tiwi Islands in the Northern Territory five years ago.
He played his junior football for St Mary's Football Club but moved to Ballarat's St Patrick's College in year nine as a boarder.
"I moved away from home at a young age and it's pretty much the same now that I've moved to Melbourne, so I've had that experience before," he said.
Rioli has played 17 games and kicked 13 goals for the Tigers and has been a definitive bright spot out of a disappointing season.
He has his sights set on being more versatile as his career goes on with more midfield time in the offing.
"In the future I'd love to move into the midfield but I'm still working on getting stronger. I'm not too fussed where I'm playing right now and moving into the midfield over the next few years is another step forward," he said.