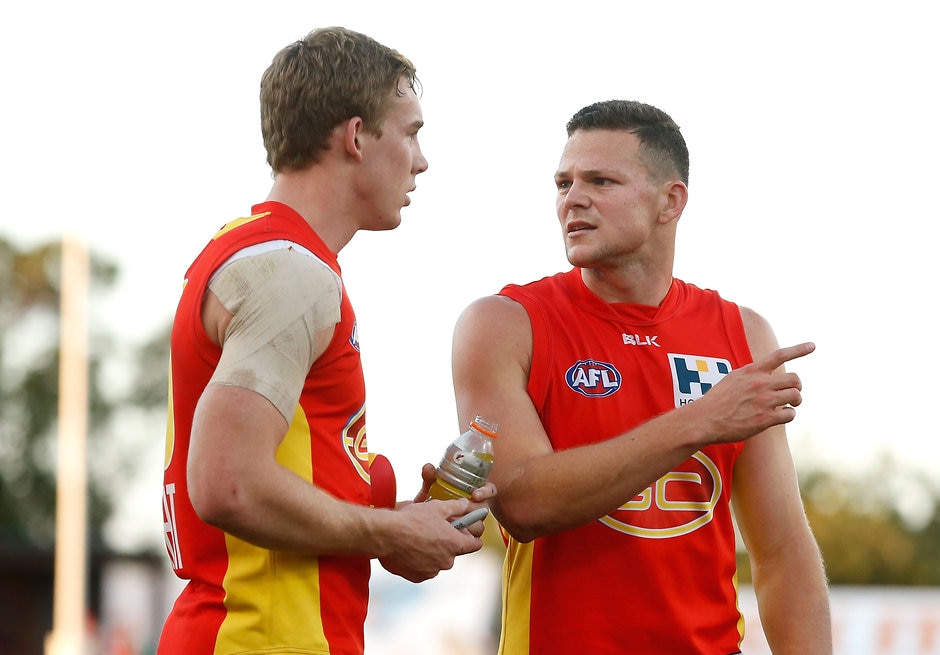 GOLD Coast has appointed Tom Lynch and Steven May as co-captains for next season.
The pair replaces Gary Ablett, who recently stepped down as skipper after six seasons at the helm, having unsuccessfully requested a trade back to Geelong at the end of this season.
Lynch and May, both 24, shared the captaincy duties at the tail end of 2016 after Ablett required shoulder surgery and missed the final seven matches.
Coach Rodney Eade said the Suns had spent a lot of time in the past two years identifying and developing the next generation of leaders.
He said there was no official voting process, but after consultation with club hierarchy and senior players, Lynch and May were the obvious choices.
"The one outstanding thing is the respect they've got of their teammates, so when they speak, the players listen," Eade said.
"They've got a great ability to not only demand standards and challenge their teammates, but they've got good empathy. That's really stood out.
"I think it's a big job to be a captain of a footy club and there's a lot more demands than there's ever been … so I think to be able to share that will take some pressure off them."
Lynch has been a member of the player leadership group since 2014, claiming back-to-back club champion awards and earning All Australian selection last season.
May joined the leadership group in 2015 and has developed into one of the best full-backs in the game.
Lynch said having Ablett on the field alongside him in 2017 would be a huge help to both he and May.
"Gary's been fantastic for us and I know we'll have to lean on him at certain stages," Lynch said.
May went a step further, saying he couldn't imagine taking over the role without Ablett as a teammate.
"Having Gaz still around to help us with the transition is great. If he were to retire or leave, we wouldn't have that captain around," May said.
"His endorsement and the words he said to us in the last week or so has given us a lot of confidence, and he's here to help us.
"He's been a super leader while he's been here."
A message from our new captains: Take 1. pic.twitter.com/AUQ5f1OjxJ

— GC SUNS (@GoldCoastSUNS) December 8, 2016