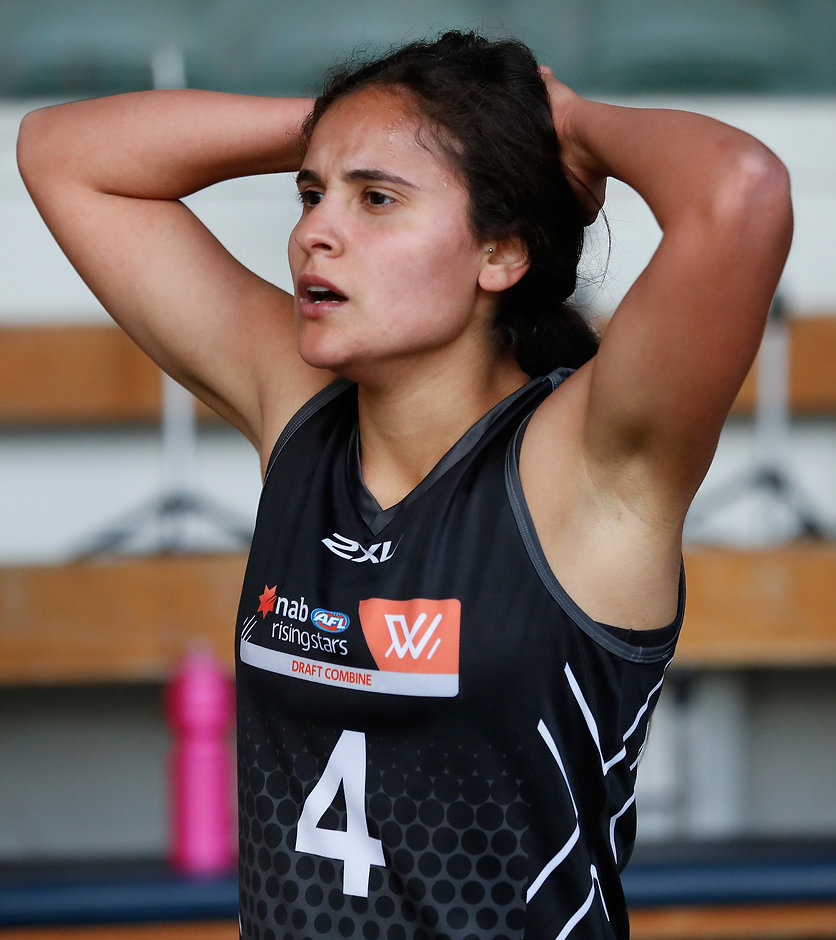 HANEEN Zreika headlines the list of 19 rookie selections in the NAB AFL Women's Rookie Draft.
The Giants took Zreika, from the Auburn Giants, with their first selection, after overlooking the highly-rated 18-year-old midfielder in Wednesday's main draft.
Players qualify for the rookie draft if they are under the age of 21 or are crossing from another sport.
They can only play an AFLW match if they are promoted to the senior list due to a long-term injury to another player.
Other under-18 stars to get an AFLW lifeline include Gabby Collingwood (Brisbane Lions), Calista Boyd and Brianna Walling (both Adelaide).
Former basketballer Anna Teague played her first season of football for Geelong this year in the VFLW, and will join fellow Cats Lily Mithen and Richelle Cranston at Melbourne in the AFLW.
Fremantle re-signed midfielder Beatrice Devlyn, who was delisted at the conclusion of the 2017 AFLW season.
Three players – Tait Mackril (Adelaide University, now GWS), Katie-Jayne Grieve (South Bunbury, now Carlton) and Maddie Shevlin (Gungahlin Jets, now Melbourne) – will move interstate after their rookie selections.
Fremantle midfielder Kirby Bentley has been moved to the long-term injury list, giving the Dockers an extra rookie selection. They picked tall Tayla McAuliffe with that selection.
Bentley had to undergo surgery on the meniscus in her right knee following September's NAB AFL Women's State of Origin match.
The rookie draft order was in reverse ladder order. Playing lists are now set at 27 on the primary list and three rookies.
Pre-season is due to start in mid-November, with the 2018 AFLW fixture expected to be announced in the next two weeks.
2017 NAB AFL Women's Rookie Draft
1. GWS – Haneen Zreika, Auburn Giants, u21
2. Fremantle – Lisa Webb, Coastal Titans, other sport
3. Western Bulldogs – Naomi Ferris, VU Western Spurs, u21
4. Collingwood – Holly Whitfort, Cranbourne, u21
5. Carlton – Tiahna Cochrane, Bendigo Thunder, u21
6. Melbourne – Anna Teague, Geelong, other sport
7. Brisbane – Gabby Collingwood, University of Queensland, u21
8. Adelaide – Calista Boyd, Wanderers, u21
9. GWS – Tait Mackril, Adelaide University, u21
10. Fremantle – Jade De Melo, East Fremantle, other sport
11. Western Bulldogs – Bonnie Toogood, Mornington, other/u21
12. Carlton – Katie-Jayne Grieve, South Bunbury, other/u21
13. Melbourne – Maddie Shevlin, Gungahlin Jets, u21
14. Brisbane – Molly Ritson, Bond University, u21
15. Adelaide – Brianna Walling, Morphettville Park, u21
16. Fremantle – Beatrice Devlyn, South Fremantle, u21
17. Carlton – Courtney Webb, Launceston, u21
18. Brisbane – Krystal Scott, Bond University, other sport
19. Fremantle – Tayla McAuliffe, Swan Districts, u21 – Kirby Bentley long-term injury replacement