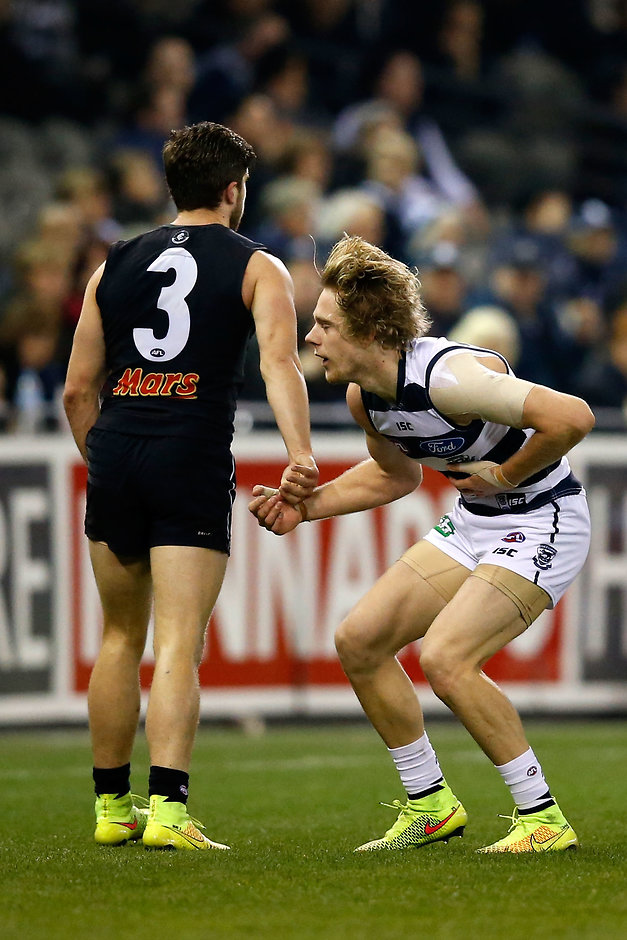 If you try and do it and it doesn't get to low impact, we're still going to get you
Michael Christian on gut punches
THE AFL will use a loophole in its judicial system to make sure players are fined for tummy taps regardless of their impact in 2018, with the League determined to rid the game of punches.
Match review officer Michael Christian has begun visiting clubs to warn players of the new approach.
He and football operations boss Steve Hocking are set on eliminating all punches and improving sportsmanship in the AFL as an example for younger players at grassroots level.
Stomach punches are a key focus and Christian will caution players that they risk paying a price for all strikes, with the misconduct provision set to be utilised for blows that don't reach the low-impact threshold.
"When we go round to see the clubs, we'll say don't do it. Because if you try and do it and it doesn't get to low impact, we're still going to get you," Christian said in a media briefing on Thursday.
"What we'll be telling the players is if you punch and it doesn't quite get to that low impact, then potentially you'll be fined for misconduct.
"It's been an area of contention, because of course the original downgrading to a fine was because too many players were being suspended for a week.
"So we introduced a fine system, but it's got to a point where … for grassroots football and for a whole range of reasons, we want to get rid of punching in the game."
A recent example of the AFL using misconduct to punish a player when their offence didn't fit into its table of offences was Toby Greene's boot to the face of Luke Dahlhaus in round 21 last season.
Both Hocking – who will tick off all decisions – and Christian have made a commitment to be transparent and will answer questions from the media each week after findings have been released.
Hocking said the decision to scrap any appearance that the MRP was an independent body – and not subject to influence by the AFL – was about "calling out what's been going on".
"I actually think that's been the case for a period of time," he said.
"Anyone that's been sitting out there thinking there hasn't been some involvement, some comment at some stage … I'm just calling it out.
"When you're sitting in this chair, that's part of leadership, owning those decisions.
"It's a big role as far as Michael goes, and I've been very mindful that the responsibility doesn't just sit with Michael. It actually needs to be shared between two key people."
Christian said he was a firm believer that more Tribunal hearings would be healthy for the game as clubs exercised their right to challenge his verdicts without the risk of an extra game suspension.
The AFL is comfortable, however, the $10,000 fine for unsuccessful challenges – which will crucially fall under the football department soft cap – will deter frivolous challenges.
Hocking said MRP results from Thursday and Friday night games would be released between 4pm and 5pm the following day in 2018. If that system works, the League will look to announced Saturday results on a Sunday in future seasons.
The Tribunal will sit on Tuesday nights, but Hocking was also keen to explore whether that could be brought forward beyond 2018.
"I think a lot of the stuff we're looking at doing is really about stages. Are we ready to jump that far forward? I think what we've done is far enough," Hocking said.