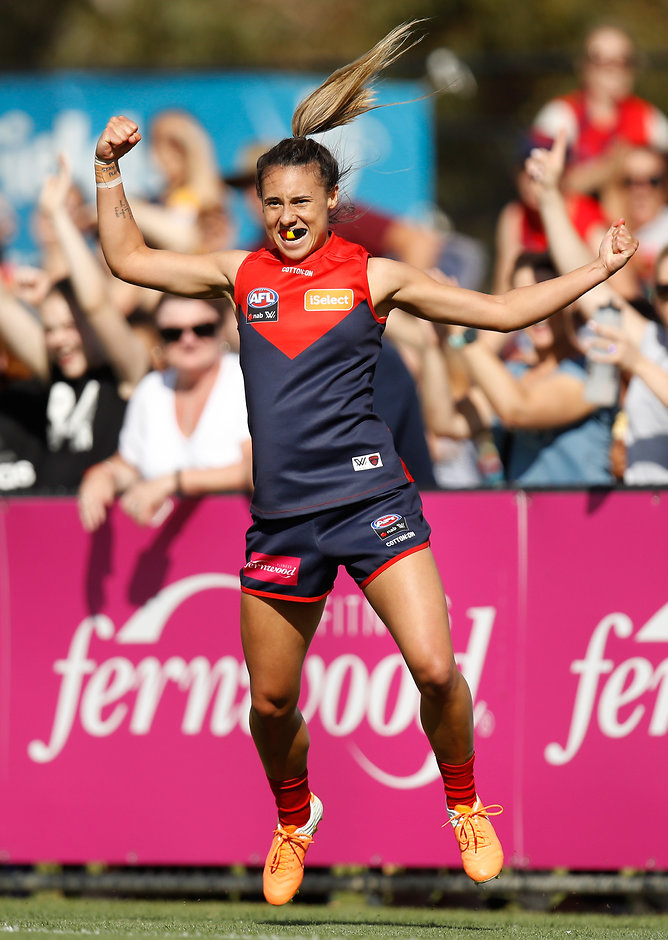 A DOMINANT second quarter into a strong wind set up Melbourne's 32-point win against premier Adelaide in the second round of the NAB AFL Women's competition at Casey Fields on Saturday.

The Demons made an emphatic response after scrounging only one goal and leading by a precarious one point after first use of the significant wind advantage.

With midfield aces Daisy Pearce, Karen Paxman and Elise O'Dea controlling the contests in the absence of injured Crows' co-captain Erin Phillips, the home team booted four critical goals against the wind to break open the contest.

Click here for full match details and stats

Adelaide coach Bec Goddard said it was far too simplistic to simply blame Phillips' absence for the loss.

"Erin is a terrific player and it would have been great to see Erin and Daisy go head-to-head as the best mids in the comp, but we expect our other players to step up and it's a great opportunity to show why they should be playing," Goddard said.

"But it got a bit 'under 12s' with us today and we should have done better."

The Crows coach even showed video of Paxman's work rate and influence at half-time in a bid to devise a plan to try to limit her match-winning influence.

Paxman, forced off the field with back spasms late in the first quarter of the opening round, made a brilliant return with her ability to read the play and find the ball in the close contests.

Melbourne's scoreboard buffer was so pronounced that it could afford to rest Paxman on the interchange bench for most of the last quarter.

The Demons' start was a classic repeat of the opening round a week earlier - a hit-out by ruck Erin Pearce to release Paxman to burst out of the middle.

Forward Alyssa Mifsud, back into the team this round after a training mishap delayed her season start, ran on to Paxman's clearance to mark on the lead 25m out, but she was offline for the first score after just 20 seconds.

Despite the missed shot, it was to be a precursor of Melbourne's absolute dominance to never release its iron grip on the match.

The Demons had first use of the strong northerly wind after Daisy Pearce won the toss, but the seemingly automatic goals certainly didn't flow against a dogged and well-organised Adelaide defence led by Chelsea Randall.

Strangely, Melbourne players had more system with the wind in their faces and it produced telling results on the scoreboard.
Mel Hickey nails one from long range! #AFLW #AFLWDeesCrows pic.twitter.com/0Cu22EtpQj

— AFL Women's (@aflwomens) February 10, 2018
 
With dominant midfielders O'Dea, Pearce and Paxman winning the ball almost at will, the Demons slammed on four goals against the wind to open up a 20-point half-time lead.

The buffer proved to be more formidable than it appeared at the main break. Simply, Adelaide had no answers for Melbourne's midfield trio who racked up 54 possessions between them.

Paxman certainly made up for lost time and her strength and skills were always on show.

For instance, not wanting to roost a high ball into the wind late in the second quarter, she baulked the Crows defender on the mark and fired a low pass to Tegan Cunningham on the lead for the last goal of the productive term.

When Mel Hickey's snapshot from near the 50m arc bounced through the unguarded goal in the opening minute after half-time, there was no coming back for the depleted Crows, also missing crucial rebounding half-back Courtney Cramey from their premiership line-up.

There was no lack of attack
Neither Melbourne nor Adelaide were fazed by the AFL request to coaches to try to limit congestion around the ball.

"For us it helped by opening up a stoppage, opening up an area. Those adjustments helped our game style and it sits comfortably with us," Demons coach Mick Stinear said.

Facing such a telling wind, it would have been understandable for either coach to drop back at least one player as an extra in defence. But Stinear and Adelaide counterpart Bec Goddard resisted the temptation.

"It's not how we play. We won a premiership on a 5-6-5 (set-up), but what we didn't do was when it transitioned, we didn't defend. We attacked fine, but we didn't defend," Goddard said.
Tex with the assist, Holmes with the goal! The big names have started well for the Crows. #AFLW #AFLWDeesCrows pic.twitter.com/QDJfNIfac5

— AFL Women's (@aflwomens) February 10, 2018
Newman does her best 'Buddy' impression
Everyone loves to see a player take on a contest and Demon midfielder Aleisha Newman displayed pace and courage to post the opening goal of the game.

Hemmed in near the boundary line, Newman backed her speed to evade her Crows' opponent, took three bounces and threaded through a shot off the outside of the right boot.

Newman's crumbing ability and pace always posed a threat and she nailed a second goal in the last quarter to put the finishing touches to a fine performance.
This might be one of the best goals you'll see this year! Aliesha Newman take a bow 🌟#AFLW #AFLWDeesCrows pic.twitter.com/57PnJ8EVaT

— AFL Women's (@aflwomens) February 10, 2018
Andy would still be handy on the ground
Hard to miss the familiar look of one of Adelaide's assistant coaches. Yes, Andrew McLeod looked fit enough to still be chasing a footy.

The dual Norm Smith Medalist is fitter than when he ended his grand career, as the enforced rest has allowed him to recover from knee problems.
Tex's drought not all her own fault
No-one could lay blame on the Crows' top goalkicker Sarah Perkins for failing to get on the scoresheet.

She was bereft of opportunities with Melbourne's midfield control and the Demons' ability to intercept across half-back.

Just the same, the home team would be delighted with the disciplined display by Laura Duryea on such a dangerous foe.
Say What?
"It took our girls a quarter to adjust and I thought they responded really well in the second quarter with their intensity around the ball. That second quarter set us up for the day." Melbourne coach Mick Stinear.

"Melbourne has the most superior midfield in the AFLW. We had some good patches, especially in the first quarter where we were responsible with our structure and what we wanted to do. But we couldn't stay with them." Adelaide coach Bec Goddard.
What's next
Melbourne has an extra day to fly west to play Fremantle at Fremantle Oval next Sunday afternoon. Adelaide is back home again to host the Western Bulldogs at Norwood Oval on Saturday afternoon

MELBOURNE 1.1 5.2 7.4 8.8 (56)
ADELAIDE 1.0 2.0 3.0 4.0 (24)
GOALS
Melbourne: Cunningham 2, Newman 2, Scott, L.Pearce, Hickey, Cranston
Adelaide: Holmes, Hewett, Wallace, McCormick
BEST
Melbourne: Paxman, O'Dea, Jakobsson, Hore, Mithen, D.Pearce,
Adelaide: Marinoff, Cox, Randall, Varnhagen, Cox
Injuries: TBC

Umpires: Gibson, McGinness, Heffernan
Official crowd: 3800 at Casey Fields