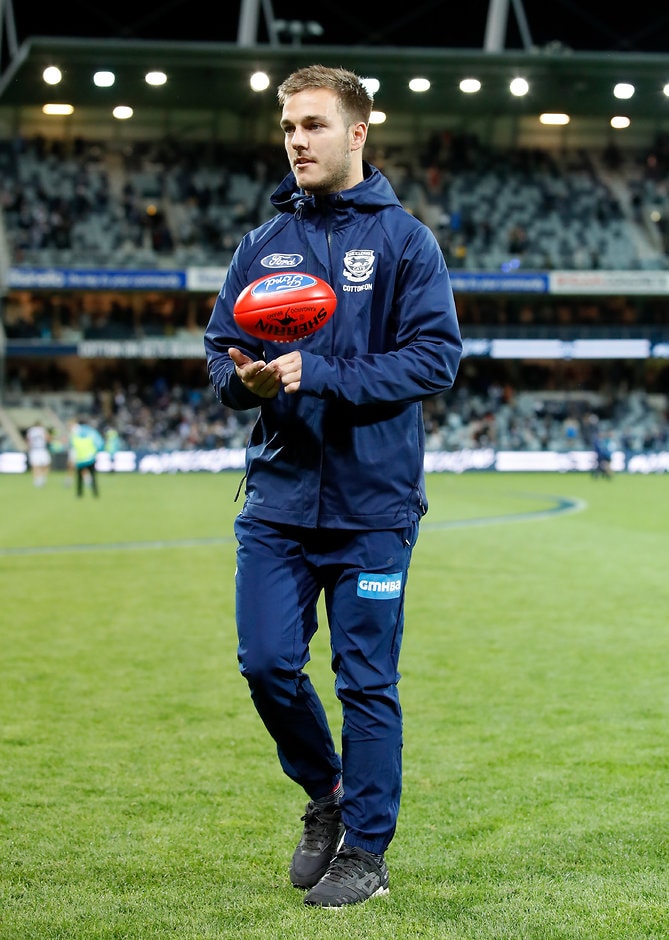 GEELONG faces an anxious wait for medical tests on forward Cory Gregson's troublesome left foot.
Coach Chris Scott said he was unsure whether Gregson has suffered the same injury that kept him out of the game for 18 months before his comeback this season.
Gregson, in just his fourth AFL game after returning from a stress fracture, limped off early in the second quarter of the 47-point win against St Kilda at GMHBA Stadium.
CATS IN CRUISE CONTROL: Full match coverage and stats
"As soon as we all heard he had a sore foot, we were always going to be conservative even if the game was on the line," Scott said.
"The short answer is the medical staff aren't quite sure and they're certainly not going to risk putting him in further jeopardy by having him play on.
"He's a bit sore now, but he doesn't know (what's wrong), they (medical staff) don't know, so we'll just have to wait on that one.
"Sorry to be so vague on it, but I'm not sure that just because it's the same foot it's better or worse.
"He should know what it feels like when he has this sort of injury, but even he's a bit unsure. Except for the fact he's sore, he doesn't have much more information."
FIVE-STAR MENZEL: Five talking points
Gregson's fresh injury was the only negative in the Cats' slick performance to capitalise on 62 inside 50 entries that provided five goals for Daniel Menzel and three from Brandan Parfitt.
"That was important. But we needed to be aware also that we were really effective going inside 50. Sometimes if you give up too much in that respect and start banging it forward to where they're set up, you can almost get the same thing in reverse," the Cats coach said.
"We didn't want lots of inside 50s but look impotent. I didn't think that was the case today. I thought we looked dangerous going in."
WATCH: Chris Scott's full post-match press conference
Menzel is another smaller forward on the way back from serious knee injuries and he constantly created havoc for the Saints defenders when the ball hit the turf.
"It's fantastic to see him able to train with an eye to perform as compared to all the hours and hours of work he has done just to get out on, not only the field for AFL games, but training itself," Scott said.
"So the challenge for all of us is that he's managed to a point where he can continue to do enough work that facilitated performances like that. He looked really sharp and he was at times leading the pressure in our forward half. I think the training background he has now has really helped. We're all thrilled for him.
"There were times tonight when you could see him thinking there were eight or nine (goals) coming. That's what you want from your mercurial forwards."
Scott was content the way his inexperienced backline contained St Kilda to only seven goals, with Mark Blicavs solid in his role as the tall in the last line.
"We liked the way they looked back there. It always a combination as how they perform as a unit when the ball is coming in and how the midfields and forwards contribute to it coming in a little rough. So, Blicavs stabilised us a little bit. It wasn't a night for big marking forwards, but he looked solid and he's a different type of key defender. He's a ruckman size and can run as well as anyone," the winning coach said.
"I don't think we've started the season in great form. We've certainly had some challenges with personnel and had a few things go wrong. But we're right in the hunt.
"You could say the next three or four weeks look really tough. But you look a couple of weeks after that and that doesn't look any easier either. The reality for us in 2018 is that every week is going to be tough, every round is going to throw up surprises and, if you don't perform one week, you've got to hang in because there's going to be five or six teams that leap away from you."