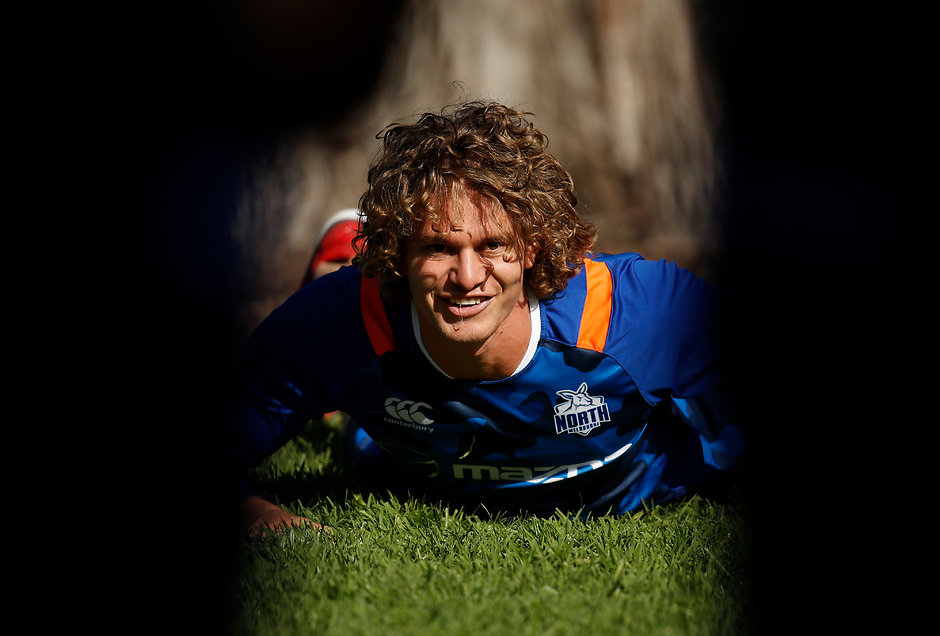 Dad pretty much died in Jed's arms
Joe Anderson
NO ONE can relate to where Jed Anderson's been quite like his big brother Joe.
They both grew up in Darwin and scaled the heights of AFL football: Joe for 17 games and four seasons at Carlton, and Jed at Hawthorn and still at North Melbourne.
That's partly why Joe admires how Jed has overcome repeated setbacks – off and on the field – to save an AFL career even his family thought might be on its last legs this season.
The 29-year-old, who is back playing for NT Thunder in the NEAFL this year, knows how much needs to go right to remain at the elite level, but also how much has gone wrong for Jed, 24.
Jed's wretched injury history is well known, but not so much the extent of his personal devastation in the years leading up to joining the Hawks, as well as a serious case of pneumonia in 2013.
Their father, David, died of a sudden heart attack a year earlier in front of Anderson at the family home, only three weeks after the teenager captained the Northern Territory's under-18 team.
It came two years after a close family friend committed suicide in 2010.
"Dad pretty much died in Jed's arms," Joe told AFL.com.au.
"Jed had to go through that ordeal and I think he even tried to resuscitate dad as well. That would have been a big shock to him and ever since then it's pretty much hardened him.
"It will be six years this year (since dad's death) and for him to go through that … no one should have to.
"He's had a lot to deal with as a young person – probably more than most would come across in their life – so hopefully a few people realise he has gone through a lot of hardship."
Jed Anderson during the NAB AFL U18 Championships. Picture: AFL Photos

FAMILY IS EVERYTHING
The Anderson boys are two of eight siblings, including Jacob, 31, former Adelaide AFLW-listed footballer Jasmine, 27, Jimmy, 23, Javadd, 20, Jacinta, 16, and J'Nomei, 13.
As if that wasn't enough to create a rowdy atmosphere at home, their parents – David and Libby – regularly hosted all their friends.
It was common for about 30 children to be at the Anderson household on a weekend, when they'd play every sport under the sun, but most often football, rugby league and soccer.
If they weren't playing sport, they'd be out fishing or hunting.
"Mum's got a heart of gold. Her and dad looked after pretty much every one of their friends' kids and there'd be about 20 or 30 at our house on weekends," Joe said.
"When Dad passed, mum pretty much took it upon herself (to keep that going). She'd rather see other people happy than herself."
Joe identified Jed as a future sports star before his brother turned 10.
Jed would always play up an age group in whichever sport he turned his hand to, and on one occasion was playing soccer against Joe in an under-15s fixture as a nine-year-old.
Joe's team won 11-2, but Jed scored the losing side's two goals.
That enthusiasm extended to when Joe, who also skippered the NT at under-18 level, joined the Blues in the 2006 AFL Draft.
Jed and another brother, Jimmy, would visit Joe in Melbourne on school holidays and spend their time there attempting to kick miraculous goals in the backyard with Joe's former housemate Eddie Betts.
But Joe's favourite Jed memory from his days at Ikon Park involves Brendan Fevola.
"A few times Jed and Jimmy came to the Carlton footy club and Brendan Fevola actually gave them boxing gloves and told them to go in the ring," Joe recalled with a laugh.
"They started a big blue against each other. I think Fev wanted some entertainment."
Joe Anderson and Brendan Fevola celebate a Blues win together. Picture: AFL Photos

The fact Joe, Jed and Jasmine have all featured on an AFL or AFLW list is a source of pride at the Anderson dinner table, although you won't hear them trumpeting their success.
After all, the family's football journey began long before they were born.
"The Darwin Buffaloes Football Club has always been the family's club," Joe said.
"Our grandfather Jimmy was a legend there (and made the AFLNT Team of the Century) and our dad played as well, but then he crossed codes to rugby league.
"When you hear the stories of my grandfather playing, it gives you that belief in yourself and your footy ability and you realise he might have been one of the pioneers for our family to head in the direction of AFL."
THE FORM OF HIS LIFE
Jed made the trip west with the Kangaroos for Sunday's clash with Fremantle on the back of easily the best month of his football career.
He took until his 29th match across six seasons to win at least 20 disposals, but has now managed the feat five times in his past six outings and in four straight.
This is the player North thought it was getting when it swapped picks 15 and 54 to Hawthorn for Anderson, picks 38 and 40 in the 2015 trade period.
Anderson underwent pre-Christmas surgery on a broken thumb in what seemed a continuation of his horrid injury fortune.
Shoulder operations three years apart – one which cost him basically the entire 2014 season – three separate hamstring injuries and pneumonia had already marred his career.
Anderson's major organs were "shutting down" in a Darwin hospital during the pneumonia scare and he lost significant weight, after he was wading in a nearby swamp while out hunting geese.
"It's so good to see him out on the park doing what he does best, which he could have done in previous years if he hadn't been so unfortunate with those injuries," Joe said.
"It probably (owes to) the Kangaroos as well for persisting with him, and he speaks highly of everyone at North Melbourne footy club.
"He's made good relationships with some of the senior players (and) him and Ben Cunnington are pretty much side by side all the time and Jed tries to absorb everything from him.
"They go fishing together on their off days and are spending a lot of time together … and you see the way Ben Cunnington goes about his footy."
Anderson's lead-in to this season was different, including volunteering and paying his own way to attend North's annual high-altitude camp in Utah, a trip typically reserved for younger players.
It was his way of letting the Roos know he wanted to fight for his spot at Arden St.
Anderson returned from his thumb injury in time to play a starring role in a VFL practice match on season eve – and North, in a major show of faith, picked him in round one in a mild surprise.
The rest is history, even if there's still a whole lot more to write.
His manager Tom Petroro told AFL.com.au there were "no concerns" in contract negotiations, with Jed on track to secure his long-term future in blue and white.
"His commitment is there and hopefully his form continues throughout the year and into the next years," Joe said of his brother.
"I've always told him he can't come back to Darwin until he's played 100 to 150 games."