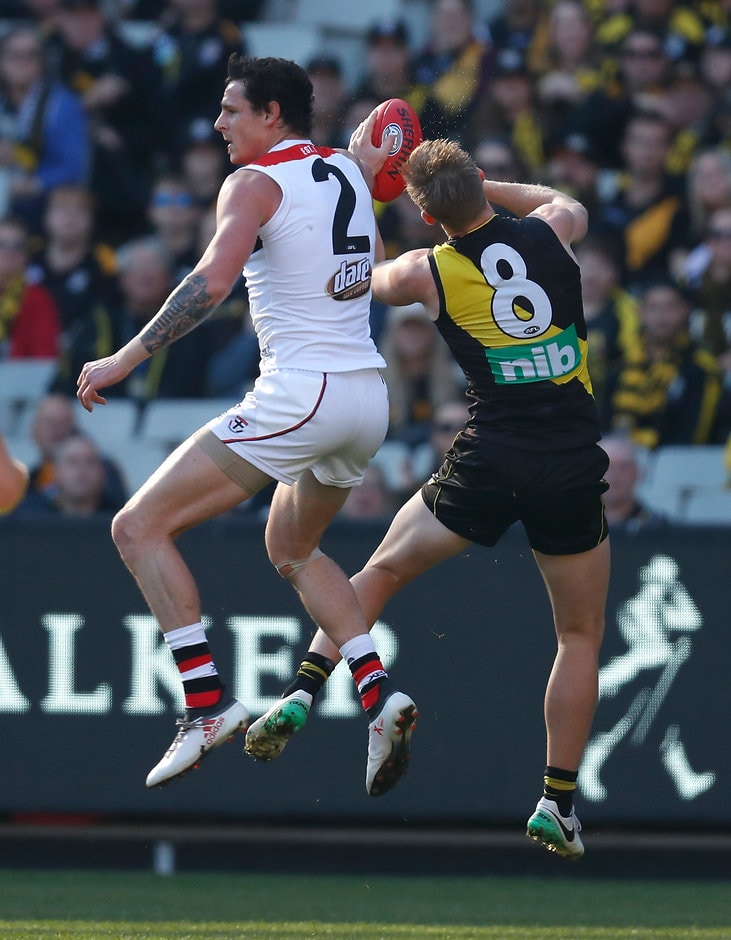 ST KILDA defender Jake Carlisle's challenge against a two-match suspension for striking Richmond spearhead Jack Riewoldt has been dismissed by the Tribunal on Tuesday night.
Carlisle challenged the grading of his strike as high impact, arguing it should be classified as medium.
If the Tribunal had accepted that argument, Carlisle's ban would have been cut to one week.
However, the Tribunal's jury members, Shane Wakelin, Richard Loveridge and Wayne Henwood, took just eight minutes to reach their decision after an hour-long hearing.
Carlisle, who will now miss the Saints' upcoming games against West Coast and Sydney, told reporters he was disappointed with the Tribunal decision, but would not be launching an appeal.
"I spoke to Jack after the game and resolved everything. (I'm) just disappointed I won't be able to play the next couple of games with the guys," Carlisle said.
A medical report by Richmond doctor Greg Hickey was tabled at Tuesday night's hearing, which revealed Riewoldt had been treated for concussion after the first-quarter incident and was unable to take any further part in the game.
Hickey also said Riewoldt had not required any ongoing treatment and was not expected to miss any training or Richmond's match against Essendon on Saturday night.
GET TRIBUNAL ALERTS Subscribe for free with the AFL on Messenger
Field umpire Rob O'Gorman, who reported Carlisle immediately after the incident, gave evidence via conference call that he had seen Carlisle strike Riewoldt forcefully to the head in a marking contest and, despite standing 20 metres away at the time, had heard "quite a loud impact" that suggested the contact was "very high and forceful".
O'Gorman conceded on cross-examination Carlisle had an open hand at the point of contact and had hit Riewoldt's head with the inside of his forearm.
AFL legal counsel Jeff Gleeson said Carlisle had approached the contest at "a fair sprint" and had swung his arm in a careless attempt to spoil, but conceded it was "not a full roundhouse action by any measure".
Gleeson said Carlisle hit Riewoldt "flush", noting the Tiger was unconscious before he hit the ground and had "collapsed like a rag doll".
Carlisle's player advocate, Dermot Dann, played vision of three past cases where the impact had been judged to be medium – strikes by Nick Holman on Luke Breust, Jack Ziebell on Jack Newnes and Kurt Tippett on Dylan Grimes – and a striking charge against Tim Membrey involving high impact on Grimes.
Dann argued Membrey had used a raised elbow, had not been attempting to spoil Grimes and had struck the Tiger more forcefully than Carlisle had Riewoldt.
Dann said the Holman, Ziebell and Tippett cases had also involved greater impact, but reiterated his client's preparedness to plead guilty to medium impact.