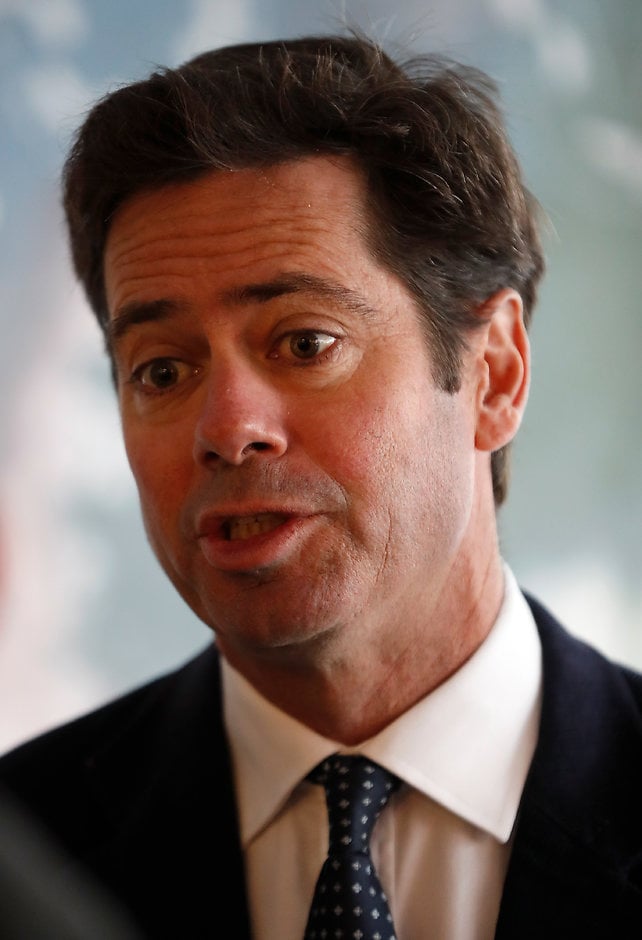 THE AFL is unlikely to trial rule changes in games this season following intense public backlash and questions about the integrity of the game, CEO Gillon McLachlan says.
On Wednesday, the League boss floated the possibility of introducing major rule changes for up to three games for premiership points in the final five rounds of the season.
However, after McLachlan made those comments on radio station SEN, the reaction from those in the game and from the general public has largely been negative.
Asked whether in-game trials were a feasible thing for this season, McLachlan said it was looking more doubtful by the day.
"I think it's unlikely," McLachlan told 3AW on Friday morning.
"The way it's running is that two-thirds of people think it's a bad idea and a one-third think it's good, that's my assessment after a couple of days."
Would you be in favour of the @AFL trialling new rules, in games without finalists, before the end of the season?

— AFL.com.au (@AFLcomau) July 25, 2018
The core issue is the integrity of the game, according to McLachlan, with prominent AFL greats Leigh Matthews, Matthew Lloyd and Cameron Ling expressing their strong opposition to the idea.
"Clearly some questioned whether it was an integrity issue and that's what I think the majority think, so I don't think you can do it," McLachlan said.
McLachlan hinted that his personal view was that in-game trials this season should be explored further, but was happy to accept the prevailing consensus from knowledgeable people in the game.
NO THANKS Clubs won't support rules trial
Possible rule changes include introducing starting positions, a bigger goal square and reducing interchange rotations.
The AFL Commission must sign off any proposed rule changes made by Steve Hocking and the competition committee should they be raised.
The competition committee met on Wednesday, where the state of the game was discussed in detail.