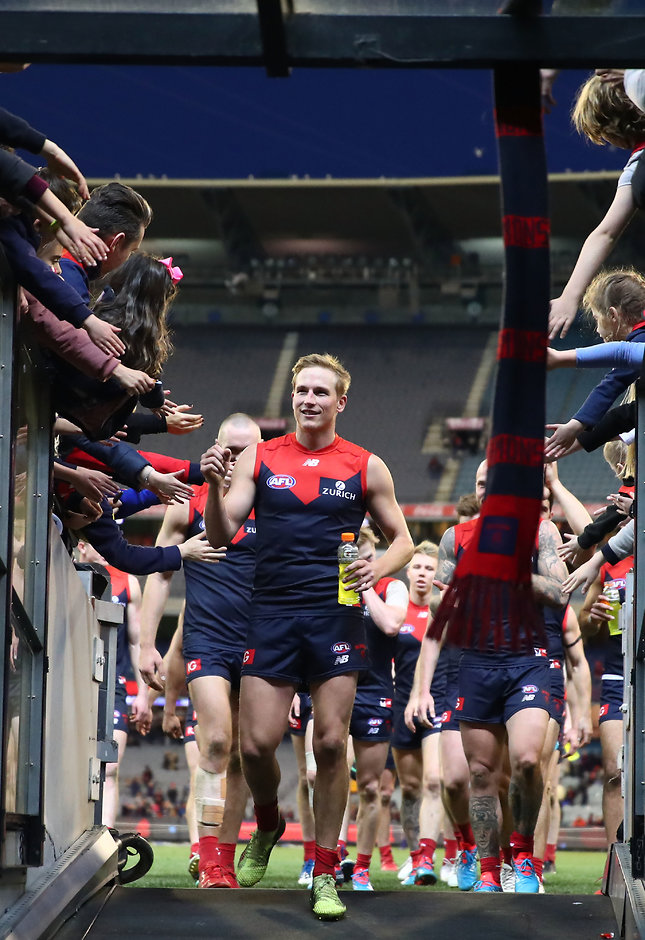 MELBOURNE veteran Bernie Vince will retire at season's end.
He will leave football as one of just six players in history to have played 100 matches at two clubs and won a club champion award at each, joining Chris Judd, Peter Bell, Gary Ablett jnr, Gary Dempsey and Tony McGuinness.
GET TO THE GAME All your finals ticketing info
The 32-year-old hasn't played in the senior side since round 20, after which he was dropped for the second time this season.
In a VFL game the following week against Sandringham, Vince suffered a shoulder injury in the first quarter that required surgery.
He still faces up to a month on the sidelines but could yet return depending on how far either Melbourne or Casey progress during their respective finals campaigns.
Vince arrived at the Demons at the end of 2013 in a trade for No.23 in that year's NAB AFL Draft.
He played 100 games for Melbourne to take his career tally to 229, after being originally recruited at No.32 in 2005 by the Crows.
Vince won two best and fairests, his first at Adelaide in 2009, and then in 2015 at Melbourne.
Football manager Josh Mahoney detailed Vince's importance to setting up the club's culture, with the Dees having come off a two-win season and having a percentage of just 54.1 when Vince arrived.
"Today (Thursday) Bernie told his teammates that he's going to retire at the end of the year," Mahoney told melbournefc.com.au.
"He has been a significant contributor to the Melbourne Football Club in the five years he's been at the club.
"When we first discussed bringing him over from Adelaide, we knew parts of what we were getting. (He's) a very talented footballer, but we've got more than we thought we would. What he has brought is his competitiveness. He's competitive with everything he does, and people would see that on the field.
"The balance that he brings with his competitiveness is his off-field (traits) and that's probably the reason why he's not only been embraced by his teammates, but by all Melbourne fans.
"Bernie's so humble and caring and he gets it, in terms of his responsibilities as an AFL footballer. He has brought a balance between being super competitive and giving everything on the field, and appreciating the role that he plays as a player off the field."
He signed a one-year deal at the end of last season and was prepared to feature in the reserves.
"We spoke to Bernie at the end of last year about what 2018 may look like. We asked him if he was prepared to play on, without the guarantee of a game every week, and that he may have to play some games in the VFL, and he'd be picked on form," Mahoney said.
"He told us that he'd be prepared to do that and we've already seen the way he's attacked this year. The two times that he was omitted from the side, he went to Casey with a great attitude and gave everything he had, which was true to his word.
"He is attacking rehab from an AC injury the same way now, he is ahead of schedule and giving himself every opportunity to be available if required, which again sums up his attitude."