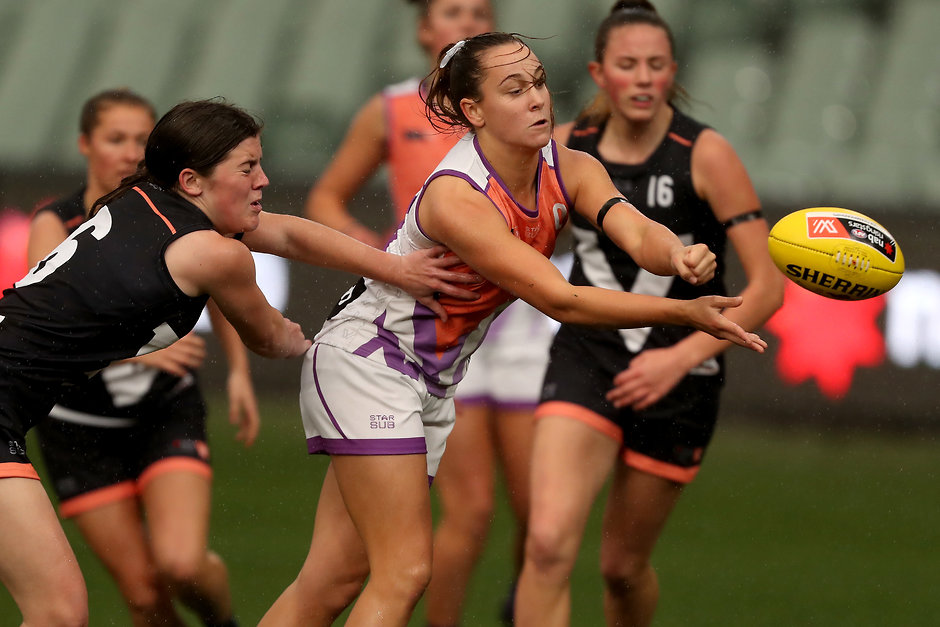 VIC COUNTRY and Queensland have dominated the AFLW under-18 All Australian side, with 13 of the 22 coming from the two sides.
Country had seven representatives, including midfielders Nina Morrison, Tyla Hanks Olivia Purcell, who are all tipped to go early in October's NAB AFLW Draft.
Queensland had six representatives, the most the state has ever had, with top-agers Lauren Bella (ruck), state captain Natalie Grider (defender) and Jacqui Yorston (forward) all earning a jumper.
Vic Metro had five representatives, with Western Australia (two) and South Australia and NSW/ACT (one apiece) also featuring.
In promising signs for the future, nine of the 22 – including full-back Lucinda Cripps, centre-half forward Gabbi Newton and full-forward Lucy McEvoy – still have another year of under-18 footy before they will be eligible to be drafted.
Star NSW/ACT on-baller Alyce Parker was named All Australian captain.
The team was announced following the under-18 All Stars match on Friday night, which featured the All Australian squad split into Victoria and Allies sides.
Victoria, coached by Geelong ruck and the AFL's AFLW talent manager Aasta O'Connor, won relatively comfortably, overcoming Alicia Eva's Allies by 16 points at Adelaide Oval.
Small forward Daisy Bateman top-scored for Victoria with two goals, while teammates and top-ranked midfielders Madison Prespakis (21 disposals, five clearances, four inside-50s) and Morrison (19, five inside-50s, four clearances and a goal) starred. Mikayla Cann laid 14 tackles.
Morrison and Prespakis, who were named co-players of the under-18 championships in July, capped off excellent years by coming equal first in the TAC Cup under-18 best-and-fairest award on Sunday night.
For the Allies, Western Australia's McKenzie Dowrick was dominant with 18 touches and four rebound-50s, while her state teammates Matilda Sergeant (15) and Mikayla Bowen (13 and six tackles) joined her at the top of the stats sheet.
Queenslander Bella comfortably won the ruck dual against Vic Metro's Rene Caris, 25 hitouts to 12.
ALLIES 0.1 1.2 1.3 2.6 (18)
VICTORIA 1.0 3.2 4.3 5.4 (34)
GOALS
Allies: Dowrick, Bartlett
Victoria: Bateman 2, Morrison, Cann, Lynch
2018 AFLW UNDER-18 ALL AUSTRALIAN TEAM
B: Serene Watson (Qld), Lucinda Cripps (Vic C), Natalie Grider (Qld)
HB: Jordyn Allen (Vic C), McKenzie Dowrick (WA), Sabreena Duffy (WA)
C: Georgia Patrikios (Vic M), Madison Prespakis (Vic M), Nina Morrison (Vic C)
HF: Sophie Van De Hueval (Vic C), Gabbi Newton (Vic M), Belle Dawes (Qld)
F: Daisy Bateman (Vic M), Lucy McEvoy (Vic C), Montana McKinnon (SA)
Foll: Lauren Bella (Qld), Alyce Parker (C) (NSW/ACT), Tyla Hanks (Vic C)
I/C: Jacqueline Yorston (Qld), Lily Postlethwaite (Qld), Olivia Purcell (Vic C), Eleanor Brown (Vic M)
Top-age (draft eligible): Alyce Parker (NSW/ACT), Lauren Bella, Natalie Grider, Jacqueline Yorston (Qld), Jordyn Allen, Tyla Hanks, Nina Morrison, Olivia Purcell, Sophie Van De Hueval (Vic Country), Daisy Bateman, Madison Prespakis (Vic Metro), McKenzie Dowrick, Sabreena Duffy (WA)