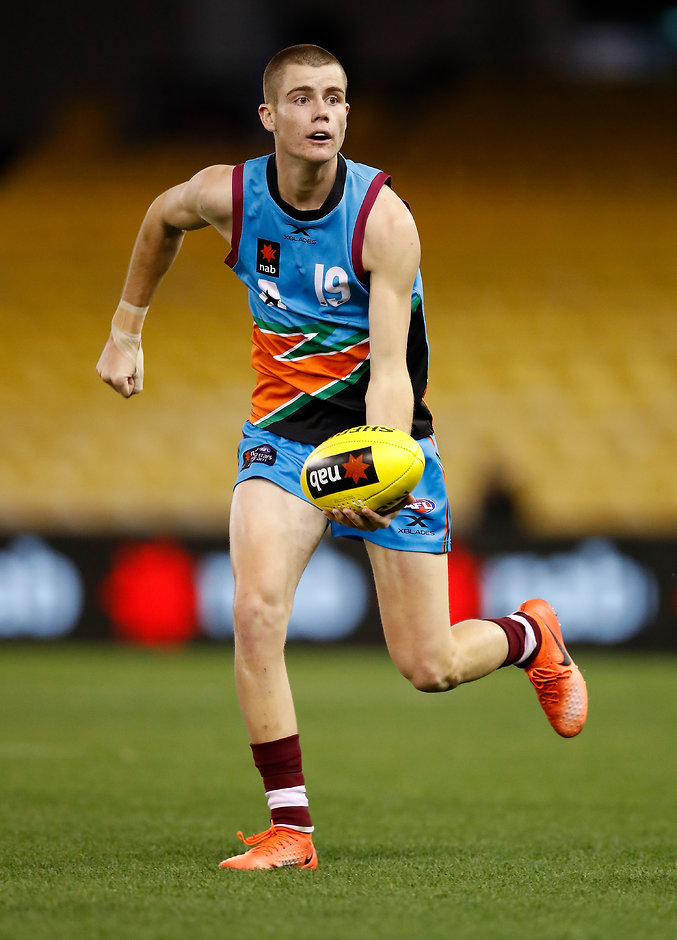 DRAFT prospect Bailey Scott will meet with Geelong, North Melbourne and Gold Coast in coming weeks as he gets closer to making a call on his preferred destination.
The midfielder is in a rare position where he can join the Cats and Roos as a father-son pick, given his dad Robert played more than 100 games at both clubs.
But he is also a member of the Suns Academy and is eligible to join Gold Coast under that system given he has lived in its Queensland zone for more than five years.
He will meet each club before next month's NAB AFL Draft Combine with a decision likely to be made shortly after the catch-ups.
The clubs also need to establish their priorities and where they see Scott fitting, with the hard-running wingman seen as a possible second-round pick.
WHO'S LEAVING YOUR CLUB? All the latest retirements and delistings
Scott has until closer to November's NAB AFL Draft to lodge his preferred home, but under the revised father-son and Academy bidding system which came in 2015, he will also be able to enter other preferences.
It means should a bid come on Scott from a rival club and his first preferred club does not want to match it, the next club on his preferences will be able to jump in and match the bid.
Scott has enjoyed a consistent season and was named an under-18 All Australian after a strong championships while captaining the Allies when he averaged 24 disposals a game.
The 186cm 18-year-old can also push forward and has shown he has a top-end endurance base.
INDICATIVE DRAFT ORDER Your club's picks
Fellow NAB AFL Academy graduate Nick Blakey faced a similar choice to Scott earlier this season when he had the option of joining Brisbane or North Melbourne as a father-son, or Sydney as an Academy member.
In what was not a surprise to recruiters, Blakey, who could attract a top-10 bid, chose the Swans and informed the clubs of his decision in April.
However, there has not been as clear a frontrunner for Scott as his call draws nearer.
Scott has been a member of North Melbourne's father-son program for some time, where Robert played 113 games including the 1996 premiership.
Robert started his career at Geelong, playing 132 games for the club between 1986-94.
Bailey trained with the Cats and Roos during the off-season to get a feel for both clubs and has also come through the Suns Academy and worked closely with its coaching and conditioning staff in recent years.