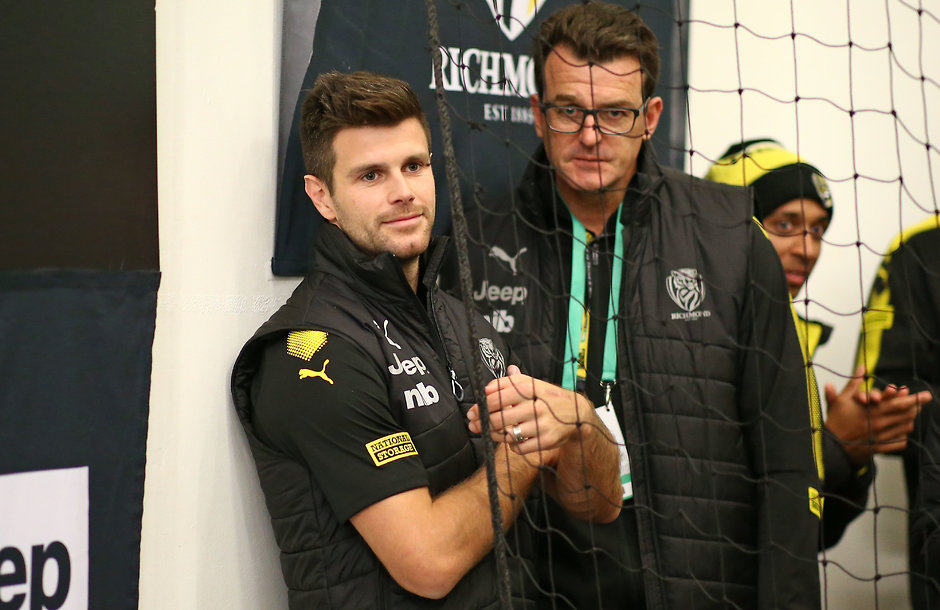 SECURING a second training ground is part of Richmond's plans to expand the club's facilities to help house the Tigers' five football teams and growing administration.
The Tigers have already outgrown the revamped facility they moved into in 2012 and are lobbying for state and federal funding to expand again.
CEO Brendon Gale said on Tuesday there was also a need for an additional training venue, given their growing repertoire of teams.
MAKE ME A TIGER Free agent Lynch picks Richmond
"In 2020, we'll have four football teams – five if you include our wheelchair team – using Punt Road," Gale said at the club's best and fairest.
"It's going to be incredible pressure on it … I think we need to [think of a secondary venue].
"We need to develop Punt Road to make sure we can accommodate the needs of elite football, men's and women's.
"We may need to look at other complementary training venues to take the pressure off Punt Road."
The Tigers became the first AFL club this July to record 100,000 members, off the back of their 2017 premiership triumph.
Gale confirmed they were also looking to grow their Punt Road home.
"We've got a number of plans we're working through, we're talking to the government," he said.
"We need to grow – we simply can't accommodate that growth in our current set up.
"I'm confident we'll be able to develop a great training and administration facility for our players and staff and coaches but we'll still only have one ground."
Meanwhile, the pain of the Tigers' lost preliminary final to Collingwood last month hasn't abated for coach Damien Hardwick, who again lamented the "un-Richmond like performance".
MISSED OPPORTUNITY Richmond's season review
"The pain of the defeat is still very raw," Hardwick said in his speech at the function at Crown Palladium.
"Waves of emotion go over me from day to day.
"It was incredibly hard to watch the Magpies and Eagles play out for the 2018 premiership last Saturday.
"That however is the tough and uncompromising nature of AFL footy and that's what we're here for.
"What happened unfortunately throughout the previous five months has no bearing on the final game that you play in September.
"There's no doubt it was a missed opportunity for us."
However, Hardwick said he believed the closeness and "connection" of the playing group – and across the club – would drive them back to premiership contender status in 2019.
The Tigers have already confirmed changes are afoot at Punt Road with assistant coach Ben Rutten leaving for Essendon and Adam Kingsley to arrive from St Kilda.
They'll also have Tom Lynch in their forward line after the Gold Coast free agent officially declared his intention to join Richmond earlier on Tuesday.
WHO'S LEAVING YOUR CLUB? All the latest retirements and delistings
Captain Trent Cotchin said being "adaptive to change" would help the Tigers recover from their 2018 heartbreak.
"Last year, Richmond changed the game both off-field and on with our extraordinary connection and manic pressure style of game," Cotchin said.
"But the species evolves and the game changes, and so too must we be adaptive to change.
"This year's finals series taught us that.
"We often say among the playing and coaching group that if we're not growing, we're dying.
"So, moving forward, we must continue to grow.
"I saw a quote recently that read, 'We win or we learn'; I'm throwing out that challenge in 2019, we do both.
"We'll learn from 2018 in the same way we learned from 2016 and whatever happens in 2019, we'll continue to celebrate, to appreciate and to grow."