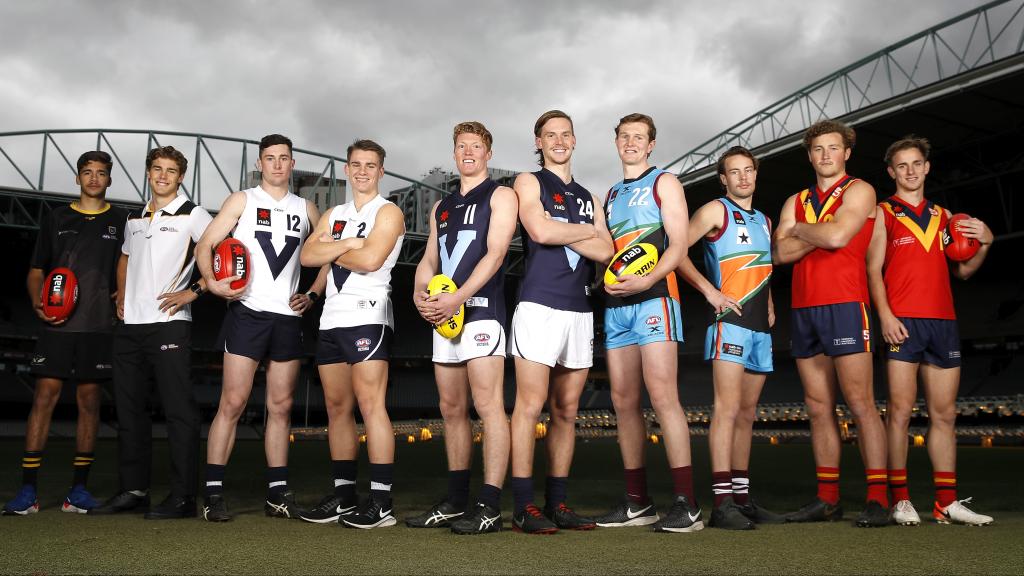 GOLD Coast will have its first No.1 selection since 2010 if its form line doesn't improve by the end of the year.
The Suns dropped to the bottom of the ladder after round 15 and will be favourites to finish there, given their fadeaway in form after a bright start to the year.
GIVE US THE No.1 PICK Suns demanding AFL help
Despite their lowly finishes on the ladder throughout their history, the Suns have not held a No.1 choice since their inception, when they selected current co-captain David Swallow.
No.1 pick David Swallow the day after the 2010 NAB AFL Draft. Picture: AFL Photos

It is one of their two first-round picks, with the Suns also holding Brisbane's first pick at this year's NAB AFL Draft (currently pick 15).
The club's chairman, Tony Cochrane, this week told AFL.com.au the club would also lobby the AFL to get special access to the No.1 pick as a priority pick due to their woes, which would see them hold the first and second picks overall if the wish was granted.
ROAD TO THE DRAFT The Cripps-like top-five talent who's headed to GWS
As shown in AFL.com.au's indicative draft order, there are five clubs who hold rivals' selections in the first round, including Adelaide, who have the No.2 pick in the draft after their trade with Carlton during last year's draft.
Hawthorn looks headed for its earliest draft pick since 2006, with the Hawks currently holding pick No.6 with seven rounds of the home and away season remaining.
Indicative draft order after round 16
ROUND ONE

GCFC

1. Gold Coast

ADEL

2. Adelaide (tied to Carlton)

MELB

3. Melbourne

STK

4. St Kilda

SYD

5. Sydney

HAW

6. Hawthorn

WB

7. Western Bulldogs

FRE

8. Fremantle

NMFC

9. North Melbourne

GWS

10. Greater Western Sydney (tied to Essendon)

CARL

11. Carlton (tied to Adelaide)

PORT

12. Port Adelaide

RICH

13. Richmond

GWS

14. Greater Western Sydney

GCFC

15. Gold Coast (tied to Brisbane)

BL

16. Brisbane (tied to Collingwood)

WCE

17. West Coast

GEEL

18. Geelong
ROUND TWO

BL

19. Brisbane (tied to Gold Coast)

ADEL

20. Adelaide (tied to Carlton)

MELB

21. Melbourne

SYD

22. Sydney (tied to St Kilda)

WCE

23. West Coast (tied to Sydney)

HAW

24. Hawthorn

WB

25. Western Bulldogs

FRE

26. Fremantle

NMFC

27. North Melbourne

ESS

28. Essendon

ADEL

29. Adelaide

PORT

30. Port Adelaide

RICH

31. Richmond

ESS

32. Essendon (tied to Greater Western Sydney)

BL

33. Brisbane

COLL

34. Collingwood

WCE

35. West Coast

GEEL

36. Geelong
ROUND THREE

RICH

37. Richmond (tied to Gold Coast)

CARL

38. Carlton

MELB

39. Melbourne

WB

40. Western Bulldogs (tied to St Kilda)

SYD

41. Sydney

WB

42. Western Bulldogs (tied to Hawthorn)

WB

43. Western Bulldogs

BL

44. Brisbane (tied to Fremantle)

NMFC

45. North Melbourne

ESS

46. Essendon

CARL

47. Carlton (tied to Adelaide)

HAW

48. Hawthorn (tied to Port Adelaide)

GCFC

49. Gold Coast (tied to Richmond)

GWS

50. Greater Western Sydney

BL

51. Brisbane

COLL

52. Collingwood

SYD

53. Sydney (tied to West Coast)

GEEL

54. Geelong
ROUND FOUR

STK

55. St Kilda (tied to Gold Coast)

SYD

56. Sydney (tied to Carlton)

MELB

57. Melbourne

WCE

58. West Coast (tied to St Kilda)

SYD

59. Sydney

COLL

60. Collingwood (tied to Hawthorn)

PORT

61. Port Adelaide (tied to Western Bulldogs)

ESS

62. Essendon (tied to Fremantle)

PORT

63. Port Adelaide (tied to North Melbourne)

ESS

64. Essendon

PORT

65. Port Adelaide (tied to Adelaide)

PORT

66. Port Adelaide

RICH

67. Richmond

CARL

68. Carlton (tied to Greater Western Sydney)

NMFC

69. North Melbourne (tied to Brisbane)

COLL

70. Collingwood

STK

71. St Kilda (tied to West Coast)

RICH

72. Richmond (tied to Geelong)
ROUND FIVE

GCFC

73. Gold Coast

GWS

74. Greater Western Sydney (tied to Carlton)

MELB

75. Melbourne

STK

76. St Kilda

SYD

77. Sydney

HAW

78. Hawthorn

WB

79. Western Bulldogs

FRE

80. Fremantle

NMFC

81. North Melbourne

ESS

82. Essendon

CARL

83. Carlton (tied to Adelaide)

PORT

84. Port Adelaide

RICH

85. Richmond

GWS

86. Greater Western Sydney

BL

87. Brisbane

HAW

88. Hawthorn (tied to Collingwood)

GCFC

89. Gold Coast (tied to West Coast)

GEEL

90. Geelong