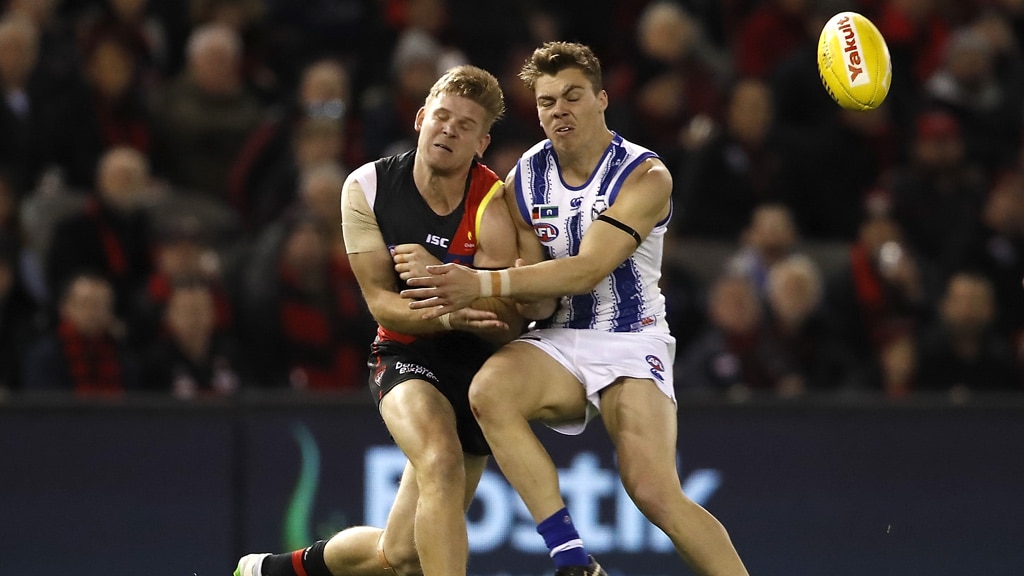 DARCY Moore, Gary Ablett, Stephen Coniglio, Toby McLean, Nic Naitanui and more ... some big names have been added to the injury list ahead of round 18.
Who will be right and who is struggling? We find out when your wounded stars will be back.
Player

Injury

Estimated Return

Tom Doedee
Knee
Season
Cam Ellis-Yolmen
Shin
1-2 weeks
Tom Lynch
Calf
1 week
Shane McAdam
Hamstring
1 week
Ned McHenry
Back
Test
Myles Poholke
Calf
2 weeks
Patrick Wilson
Concussion
Test
Updated: Tuesday, July 16
Early prognosis
The Crows are aiming for Lynch to return from a calf injury in next week's round 19 encounter with Carlton at the MCG. The link-up forward hasn't played since injuring the intramuscular tendon in his left calf in the warm-up before the round 12 game with Greater Western Sydney in early June. Lynch travelled to the Gold Coast with the team last week, completing the main training session and running 12km on the weekend. Ellis-Yolmen could also return against the Blues as he recovers from a low-level stress reaction to his right fibula sustained in round 15. However, both might need a game in the reserves before being considered for the senior side. Wilson suffered a head knock in the first quarter of the Crows' SANFL game against Port Adelaide last weekend and will need to pass concussion tests this week, while McHenry is aiming to return from a lower back injury. McAdam had hamstring soreness after a training session last week and won't play this weekend. - Lee Gaskin
Player

Injury

Estimated Return

Tom Cutler
Foot
Test
Mitch Hinge
Hamstring
4-5 weeks
Eric Hipwood
Knee
Test
Hugh McCluggage
Hamstring
Test
Updated: Tuesday, July 16
Early prognosis
McCluggage and Hipwood were both with the rehab group at Tuesday's training session and will need to pass fitness tests to play North Melbourne on Saturday night. Cutler is expected to return through the NEAFL. - Michael Whiting
Player

Injury

Estimated Return

David Cuningham
Knee
1 week
Charlie Curnow
Knee
1-2 weeks
Sam Docherty
Knee
Indefinite
Hugh Goddard
Fractured cheekbone
1-2 weeks
Caleb Marchbank
Neck
Season
Mitch McGovern
Soreness
TBC
Liam Stocker
Foot
Test
Jacob Weitering
Broken nose
Test
Tom Williamson
Back
Indefinite
Updated: Tuesday, July 16
Early prognosis
The Blues will give McGovern as long as he needs to get himself into shape after he was managed last week. Don't expect him back against the Suns. Weitering and Stocker should feature at some level this week, though Cuningham is another week away due to a lingering knee issue. - Riley Beveridge
Player

Injury

Estimated Return

James Aish
Shoulder
TBC
Dayne Beams
Hip/mental health
Indefinite
Lynden Dunn
Knee
Season
Jeremy Howe
Calf
Test
Will Kelly
Leg
1-2 weeks
Tom Langdon
Knee
Indefinite
Max Lynch
Shoulder
Test
Jack Madgen
Ankle
Test
Darcy Moore
Hamstring
TBC
Nathan Murphy
Back
Indefinite
Sam Murray
Provisional ASADA suspension
TBC
Scott Pendlebury
Finger
Test
Ben Reid
Calf
TBC
Jaidyn Stephenson
Suspended
6 weeks
Anton Tohill
Hip
Test
Travis Varcoe
Finger
Test
Daniel Wells
Knee
7 weeks
Updated: Tuesday, July 16
Early prognosis
Pendlebury is hopeful but probably unlikely to lead the Magpies against Greater Western Sydney at Giants Stadium on Saturday, just seven days after surgery. Moore will miss an undetermined number of games with a "minor" hamstring injury, and Aish is sore, but Howe only needs to get through training to be passed fit. Varcoe, Lynch, Madgen and Tohill will undergo fitness tests but Reid is still some time away. Langdon is making inroads, Murphy's recovery from ankle and now back issues has also been slow, and Kelly is also being managed conservatively. Stephenson will be available at finals time while Wells will race the clock to return before season's end. But the campaign seems over for veterans Dunn and Beams, with the latter now taking indefinite leave to deal with his mental issues. - Ben Collins
Player

Injury

Estimated Return

Patrick Ambrose
Quad
Test
Tom Bellchambers
Calf
3-4 weeks
Joe Daniher
Groin
Season
Sam Draper
Knee
Season
Dyson Heppell
Foot
Test
Michael Hurley
Shoulder
6-8 weeks
Irving Mosquito
Hamstring
1-2 weeks
Kobe Mutch
Knee
TBC
Devon Smith
Knee
Season
James Stewart
Groin
TBC
Updated: Monday, July 15
Early prognosis
Losing Hurley, potentially for the rest of the season, is a massive blow for the Bombers. They will be hoping Ambrose is available for the clash after recovering well from a quad strain he suffered in the warm-up before the Bombers beat GWS three weeks ago. Heppell is the watch this week as he recovers from a foot injury that has ruled him out of the last two games. The skipper will need to get through training to be available for Friday night's clash with Adelaide. - Callum Twomey
Player

Injury

Estimated Return

Brennan Cox
Hip
2 weeks
Stefan Giro
Knee
Season
Jesse Hogan
Foot
TBA
Scott Jones
Calf
2 weeks
Shane Kersten
Foot
TBC
Lloyd Meek
Foot
Season
Alex Pearce
Ankle
Season
Aaron Sandilands
Calf
Available
Matt Taberner
Foot
Season
Updated: Tuesday, July 16
Early prognosis
Hogan won't return from a month lay-off against Sydney on Saturday night after pulling up sore from training. Veteran ruckman Sandilands was managed from the trip to Launceston following his first game in a year but hopes to return against the Swans. - Travis King
Player

Injury

Estimated Return

Gary Ablett
Hip
Test
Nakia Cockatoo
Knee
2 weeks
Jordan Cunico
Ankle
2-3 weeks
Jake Kolodjashnij
Concussion
Test
Sam Menegola
Knee
Test
Scott Selwood
Ribs
Test
Updated: Tuesday, July 16
Early prognosis
Ablett will look to increase his movement during Thursday's main session, with an eight-day break to assist his chances. Selwood's scans showed no fracture after rib damage with his availability to be assessed after main training. Menegola will return on restricted minutes via the VFL. Kolodjashnij will need to be ticked off after missing last week. - Mitch Cleary
Player

Injury

Estimated Return

Callum Ah Chee
Ankle
5 weeks
Ben Ainsworth
Foot
1 week
Jack Bowes
Quad
1 week
Sam Collins
Hip
Season
Brayden Crossley
Personal leave
TBC
Nick Holman
Back
Indefinite
Jack Martin
Finger
TBC
Jordan Murdoch
Quad
1 week
Wil Powell
Knee
TBC
Izak Rankine
Hip
TBC
Josh Schoenfeld
Knee
Test
Rory Thompson
Knee
Season
Harrison Wigg
Knee
Season
Aaron Young
Knee
TBC
Updated: Tuesday, July 16
Early prognosis
Murdoch was a late withdrawal from the NEAFL last weekend and will now miss another match with a quad problem. Rankine's hip must be a concern. Originally the Suns said it was "minor" after niggling it in his only NEAFL match three weeks ago and now he's listed as a TBC. - Michael Whiting
Player

Injury

Estimated Return

Stephen Coniglio
Knee
8 weeks
Aidan Corr
Calf
2-3 weeks
Isaac Cumming
Hamstring
4 weeks
Matt de Boer
Shoulder
5-7 weeks
Matt Flynn
Knee
Shoulder
Lachlan Keeffe
Broken hand
Test
Josh Kelly
Calf
3 weeks
Zac Langdon
Ankle
8 weeks
Xavier O'Halloran
Knee
4 weeks
Jonathon Patton
Knee
TBC
Tommy Sheridan
Calf
TBC
Callan Ward
Knee
Season
Updated: Tuesday, July 16
Early prognosis
Shane Mumford is available to face Collingwood in Saturday's crucial clash at Giants Stadium after missing the past two games. Coniglio had successful surgery on Tuesday morning and will likely only play again this year if his rehabilitation goes perfectly, and the Giants can play multiple finals. Langdon had surgery on a syndesmosis issue late last week and is in the same boat as Coniglio, while in further bad news, Flynn tore his ACL in the NEAFL last week. - Adam Curley
Player

Injury

Estimated Return

Jon Ceglar
Managed
Available
Jack Gunston
Leg/soreness
Available
Harry Jones
Knee
Season
Tom Mitchell
Broken leg
Indefinite
Tim Mohr
Dislocated knee/ACL
Season
Dylan Moore
Groin
2 weeks
Ryan Schoenmakers
Calf
2 weeks
Jack Scrimshaw
Knee
2 weeks
Updated: Tuesday, July 16
Early prognosis
Gunston is set to return after a week off to rest the niggles he's dealt with for some time, while Ceglar also sat out of the VFL at the weekend. The news isn't so good for promising Hawks midfielder Jones, who's won 25 possessions or more three times in the past month in the VFL. He sustained a PCL injury – the same setback that sidelined Grant Birchall for so long – playing for Box Hill and will miss the rest of the season. Scrimshaw, who last played in round 10, and Jones are at least another fortnight away. There was no update on Harry Morrison or Jackson Ross. Chad Wingard (hamstring) and Changkuoth Jiath (broken jaw) resumed in the AFL and VFL last week, respectively. - Marc McGowan
Player

Injury

Estimated Return

Jeff Garlett
Shoulder
Season
Marty Hore
Collarbone
2-3 weeks
Kade Kolodjashnij
Head
TBC
Tom McDonald
Knee
Season
Jake Melksham
Foot
3-4 weeks
Aaron Nietschke
Knee
Season
Joel Smith
Groin
Season
Tim Smith
Calf
Test
Tom Sparrow
Knee
3-4 weeks
Billy Stretch
Foot
3-4 weeks
Aaron vandenBerg
Ankle
TBC
Guy Walker
Shoulder
Indefinite
Sam Weideman
Calf
Test
Updated: Tuesday, July 16
Early prognosis
Both Smith and Weideman need to get through tests in order to complete their recoveries from calf injuries. Hore has successfully had surgery on his collarbone and has returned to running, but remains several weeks away. Melksham is set to make his long-awaited return to training next week; if he is fit to play in three weeks as listed by the club, it will mark 13 weeks since fracturing his foot. He was originally calculated to miss four to six weeks. – Sarah Black
Player

Injury

Estimated Return

Taylor Garner
Club suspension
Round 19
Aaron Hall
Personal leave
Indefinite
Kyron Hayden
Achilles
Season
Shaun Higgins
AC joint
Test
Ben Jacobs
Head/neck
Indefinite
Nick Larkey
Heart palpitations
Test
Luke McDonald
Fractured fibula
Season
Tom McKenzie
Back
TBC
Tom Murphy
Ankle
1 week
Bailey Scott
Foot
Indefinite
Dom Tyson
Calf
TBC
Ed Vickers-Willis
Knee
Season
Will Walker
Knee
TBC
Mason Wood
Quad
Test
Updated: Tuesday, July 16
Early prognosis
McDonald's season is over after sustaining a fracture near his right ankle. Higgins is pushing to return after almost six weeks out and a call will be made later in the week on his readiness. Wood was a late withdrawal in round 17 and is expected to be fit, while club medicos believe Larkey's ongoing heart-related issue is only minor. - Marc McGowan
Player

Injury

Estimated Return

Ryan Burton
Hamstring
Indefinite
Tobin Cox
Kidney
Indefinite
Brad Ebert
Knee
Indefinite
Billy Frampton
Suspension
2 weeks
Riley Grundy
Finger
Test
Dan Houston
Illness
Test
Trent McKenzie
Back
Test
Jake Patmore
Knee
Season
Jack Trengove
Leg
1-2 weeks
Jack Watts
Leg
Indefinite
Ollie Wines
Thumb
Test
Updated: Tuesday, July 16
Early prognosis
Ebert sustained a torn posterior cruciate ligament in his knee in the Power's loss to Brisbane. The Power haven't released a timeline for his return, but he's likely to miss several weeks. It's a similar scenario for Burton after the defender injured his right hamstring. He's expected to miss at least a month. Co-captain Wines fractured his left thumb in the opening quarter of the Power's loss to Brisbane. He played out the game, but is in doubt to face Richmond at the MCG on Saturday. Houston is expected to recover from illness in time to take on the Tigers after he was a late scratching from the side that lost to the Lions. Frampton accepted a two-game suspension for a crude hit on Adelaide midfielder Patrick Wilson that left him concussed in last weekend's SANFL game in Port Pirie. McKenzie suffered back spasms in the same game, and will be assessed this week. - Lee Gaskin
Player

Injury

Estimated Return

Noah Balta
Quad
Test
Liam Baker
Hip
Test
Jack Higgins
Brain bleed
TBC
Callum Moore
Ankle
3-4 weeks
Toby Nankervis
Adductor
Test
Marlion Pickett
Finger
1-2 weeks
Alex Rance
Knee
Season
Jack Ross
Ankle
3-4 weeks
Fraser Turner
Leg
3-4 weeks
Mav Weller
Ribs
Test
Updated: Wednesday, July 17
Early prognosis
Higgins may miss the rest of the season after being diagnosed with bleeding on the brain. First-choice ruck Nankervis is a definite chance to take on Port Adelaide this weekend. Balta, Baker and Weller are also tests, but less likely to play than Nankervis. – Sarah Black.
Player

Injury

Estimated Return

Logan Austin
Shoulder
Indefinite
Josh Battle
Knee
1-2 weeks
Jack Bytel
Back
Season
Jarryn Geary
Leg
4-6 weeks
Dan Hannebery
Hamstring
Indefinite
Dean Kent
Quad
Season
Max King
Ankle
Season
Billy Longer
Concussion
Indefinite
Paddy McCartin
Concussion
Season
Ed Phillips
Hamstring
Test
Lewis Pierce
Concussion
Indefinite
Dylan Roberton
Heart
Season
Jack Steven
Mental health
Indefinite
Jimmy Webster
Back
1-2 weeks
Updated: Tuesday

, July 16
Early prognosis
The Saints say Hannebery will receive 'ongoing assessment' as he struggles to overcome a hamstring issue. Webster has been plagued by a back issue in recent weeks while Phillips will be eyeing off a VFL return against Footscray on Sunday. - Dinny Navaratnam
Player

Injury

Estimated Return

Darcy Cameron
Quad
3-4 weeks
Harry Cunningham
Groin
2-3 weeks
Lance Franklin
Hamstring
2-3 weeks
Matthew Ling
Achilles
3-4 weeks
Jack Maibaum
Knee
Season
Jarrad McVeigh
Calf
4 weeks
Sam Naismith
Knee
3-4 weeks
Callum Sinclair
Shoulder
3-4 weeks
Nick Smith
Hamstring
Season
Durak Tucker
Knee
TBC
Updated: Tuesday, July 16
Early prognosis
Cunningham pulled up sore after the loss to Carlton and will miss at least a couple of games. McVeigh strained his calf in his return to the field from a hamstring injury last week in a big blow for the veteran, while Cameron re-injured his quad at training last week. Franklin remains at least three weeks away, while Sinclair is progressing slowly from his dislocated shoulder. Naismith is on track to play in round 19 at NEAFL level. - Adam Curley
Player

Injury

Estimated Return

Brendon Ah Chee
Calf
1 week
Patrick Bines
Hernia
2 weeks
Jamie Cripps
Adductor
3-4 weeks
Liam Duggan
Ankle
3-4 weeks
Harry Edwards
Foot
2 weeks
Luke Foley
Calf
1 week
Mark Hutchings
Hamstring
2 weeks
Nic Naitanui
Ankle
Indefinite
Josh Smith
Hamstring
TBC
Nathan Vardy
Ankle/Knee
1-2 weeks
Daniel Venables
Concussion
Season
Updated: Tuesday, July 16
Early prognosis
As if the one-point loss to Collingwood wasn't tough enough to take, Naitanui's syndesmosis injury and Cripps' month-long groin issue has rubbed salt into the wounds. Injuries to key personnel are starting to pile up at the wrong time, with concerns over veteran spearhead Josh Kennedy's battle-scarred body as well, while young forward Venables has been ruled out for the year after copping a bad concussion in round nine. - Travis King
Player

Injury

Estimated Return

Marcus Bontempelli
Ankle
Test
Caleb Daniel
Hamstring
Test
Ryan Gardner
Knee
6-7 weeks
Fergus Greene
Shoulder
Season
Tom Liberatore
Knee
Test
Toby McLean
Hamstring
2-3 weeks
Mitch Wallis
Ankle
Indefinite
Lukas Webb
Ankle
2-3 weeks
Lewis Young
Back
Test
Updated: Tuesday, July 16
Early prognosis
Bontempelli is in doubt for this week after injuring one of the ligaments in his ankle, and McLean is going to miss a few weeks after hurting his hamstring. Liberatore and Daniel will be touch and go this weekend, but it's worse news for Wallis, who will require ankle surgery. - Josh Schonafinger
*Placed on the club's long-term injury list