INTERNATIONAL rookie hopeful Alex Aurrichio doesn't do anything half-hearted.
That much is clear just by watching the hulking 198cm, 109kg New York native train.
It's a cool and wet Melbourne morning, but Aurrichio is bathed in sweat as he grinds away on a stationary bike inside the ProSport altitude chamber in Richmond.
For the past 25 minutes, his legs have been pumping up and down like pistons in the reduced oxygen environment.
Pedaling frantically alongside him are Jordan Matera, the son of West Coast champion Peter, and Calder Cannons player Matt Stillman.
Sucking in as much oxygen as he can, the big American implores his two counterparts to finish-off strong.
Their pedals whir madly, but the clock seems to tick slower than ever until - to shouts of relief and high-fives all around - another gruelling half-hour bike session is finally over.
Today was only a "light" workout, starting with a weights circuit and finishing up with four intense six-minute bursts on the bike.
Next Aurrichio will jump into an ice pool and suck down a protein shake, before heading off to footy training in the evening.
The next day, he'll be back. This time for an hour-long bike session of lung-busting 40-second bursts at max velocity, interspersed by 20 seconds of rest.
There will be more vein-popping weights to lift and "pre-hab" injury prevention to tick off.
It's a six-day a week routine and Aurrichio loves every minute.
After all, it's why he's here - to give himself the best shot at an international rookie spot in the AFL, a sport he's only known about for less than a year.
"I want to be a professional athlete. So I want to do whatever it takes while I can to make it happen, even if that means coming halfway across the world," Aurrichio tells AFL.com.au.
There are no guarantees, but Aurrichio is an all-in type of guy who doesn't take no for an answer.
He has already tried the traditional route to the AFL by testing at the USAFL Combine in Los Angeles last April, where he impressed scouts with his agility, strength and ball-handling.
But no offers were forthcoming and it seemed to Aurrichio that clubs were only looking for players 205cm and taller – such as 211cm giant Mason Cox, whose raw talent appealed to a number of clubs, including eventual suitors Collingwood.
"Out of the combine, out of 20 guys, I was the third-shortest," says Aurrichio, a former soccer goalkeeper and baseballer at Columbia University.
"In my opinion, some of these guys couldn't walk and chew gum. I was pushing a lot of them out of the way.
"The combine thing too, it's tough. Because it's not like footy where there's so much hitting.
"Who's the guy who's going to get punched in the mouth and get back up and go again?
"You can't measure those intangibles in a combine."
Matt Stillman, Alex Aurrichio (middle) and Jordan Matera training hard. Picture: AFL Media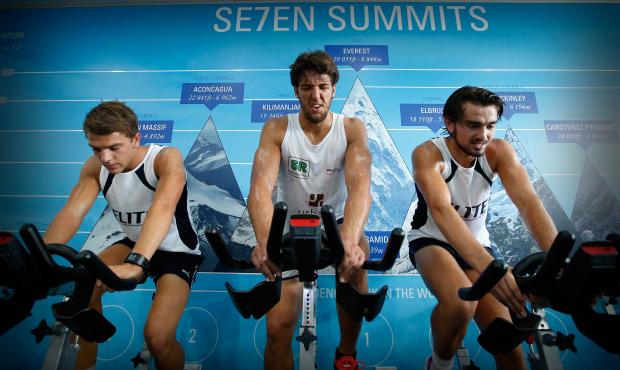 Despite his initial setback, Aurrichio wasn't deterred.
Intrigued by his first taste of the sport, he returned to New York, researched the USAFL and found the local Magpies team.
He went along to training, learnt to kick and handball by watching his teammates and played in the ruck as the Pies won the national championship.
Encouraged by the Magpies he cut together a highlights video, posted it on Youtube (
you can watch it here
) and 10 days later he was on an expenses-paid flight to Melbourne.
That was in November and although the 24-year-old is yet to be offered a chance by an AFL club, his belief hasn't been shaken.
He's trained with VFL clubs Collingwood, Sandringham and Coburg and has grown in confidence to a point where doesn't feel out of place.
"Pretty much the only thing I'm lacking is I don't know what to do," he says.
"When we go into drills I will just stand-off and observe for a couple of minutes.
"But once I hop in I feel like 'this isn't that hard'. I feel like I can pick it up pretty easy. I just need a bit of time and more repetition."
Aurrichio is developing into a centre half-back, a position where he can watch the play unfold ahead of him and use his bulk to outmuscle opponents.
"He'd be fine going to an AFL environment with his strength," says Damien Villarosa, Aurrichio's trainer at ProSport.
"His conditioning is probably the area that he needs most (work).
"His 2km time is at a good standard for AFL level. He's been able to trim that down to closer to seven minutes, which is quite good for someone his size.
"There would be a lot of ruckmen at AFL level at the moment who wouldn't be running the same time as him – but he's not going to play as a ruck."
Aurrichio (right) relaxing in an ice bath after an intense gym session. Picture: AFL Media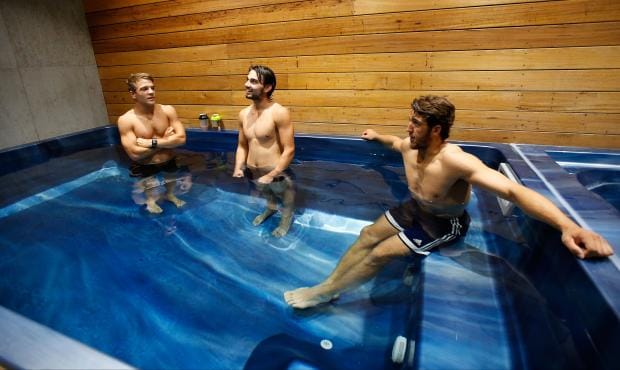 Villarosa is not only overseeing Aurrichio's altitude training, which imitates lower oxygen levels found at 4000m above sea level, but also Sandringham Dragons small forward/midfielder Matera and Cannons utility Stillman.
The teenagers have combined their studies with their elite sports training in a new program designed to prepare them for a big year of TAC Cup football and their off-field careers if an AFL opportunity doesn't eventuate.
The trio feed off each other, with Aurrichio's professionalism rubbing off on his younger counterparts.
"But then likewise he sees how hard the boys work from a conditioning perspective – some of the boys are pretty elite with their aerobic conditioning," says Villarosa, who also trains Vic Metro's under-18 championships squad.
Stillman, who is eyeing off a spot in the Metro team this season, hasn't run into anyone quite like Aurrichio before.
"He's a different character, but he's a great personality," he says.
"He loves training and he's been working hard to get to where he wants to be.
"He keeps telling me how much he's training all the time and how hard he works. In here when we do altitude sessions he's always sweating like hell."
Aurrichio discovered ProSport through its founder Tim Hazell, who played five games for Hawthorn in 2001 and is now managing the American in his role at Velocity Sports.
Aurrichio has tried to surround himself with all types of football people since he arrived in Melbourne.
And he soon struck gold when he was introduced to Essendon legend Terry Daniher by his housemate and ex-New York Magpies player, Joel Daniher.
"I actually had Christmas dinner at Terry Daniher's place; I've worked out with him about five times now," Aurrichio says.
"So he's been putting me through my paces, kicking my butt, but it's been great. He's a real hard-nosed dude, but in a good way.
"He demands excellence. He just says never stop running. It's all active, always talking and keep your hands going.
"To learn off a guy of that stature, you just take everything in."
He will do whatever it takes to reach his dream of playing AFL. Picture: AFL Media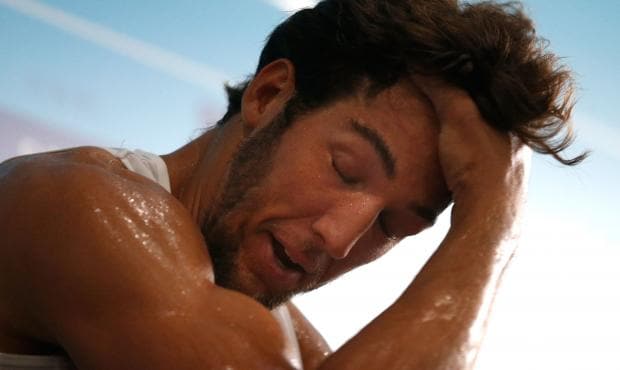 As well as Daniher's football exploits, Aurrichio quickly learnt why the Bombers' 1984-85 premiership captain is also famed for his larrikin sense of humour.
"Christmas dinner was just a real riot. It was non-stop laughter … so I kind of fit right in cracking jokes and telling stories," he says.
"It's funny, because at one point Terry said 'here, I've got you a gift'.
"I turned around and it's the Daniher's book about the four boys (Terry, Anthony, Neale and Chris). So I've picked that up and I'm getting all the stories."
Aurrichio is finding the more he learns about the game, the more he wants to play matches.
But first he needs to decide which team to sign on with.
He's most likely to choose Coburg, but there's a catch.
If Aurrichio plays one match in the VFL, he will no longer be classified as an international player.
That means he could no longer be recruited as a category B rookie and he would have to fight for a spot on an AFL club's main list the same as every other footballer in the country.
It's a difficult situation, especially since some AFL clubs have told him they can't make a commitment without seeing him play.
"I was holding out for a rookie spot, but if they gotta see me play then they gotta see me play," Aurrichio says.
"It's going to be more challenging, but nothing worth fighting for is easy."
Aurrichio will probably have to blow his savings fund to stay in Melbourne, but throwing in the towel is not in his nature.
And he has a burning desire to prove the naysayers wrong.
"Everyone's against me right now. No one thinks I can do it and that's what's driving me – the doubters," Aurrichio says.
"It's not going to happen overnight, but I believe in myself."