After a dream first season against all expectations, things have got tougher for Justin Leppitsch second time around. Once again he's been smashed by injuries, with key pillars Pearce Hanley, Tom Rockliff and Daniel Merrett missing large chunks of action, and the club having just 27 players to choose from at one stage. Injuries aside, the Lions have struggled though. Leppitsch has seen only glimpses of his preferred game style, and despite his outward patience, has clearly been frustrated at times. He still has one of the youngest lists in the AFL on his hands and has had success with moving Marco Paparone to defence, Lewy Taylor to a wing, and leaving Dan McStay as a key forward. Leppitsch is contracted for another full season and is likely to be extended, but with players returning from injury in the final 10 weeks, he'd like a few wins to take any hint of pressure away.
Contracted until: End of 2016
Pressure rating: 5/10
- Michael Whiting
In four games, interim coach John Barker has done no harm to his chances of being given the job full time when the Blues finally decide on Mick Malthouse's successor. Barker has stripped back the game-plan and called for more effort and intensity – and the players have responded positively. The Blues have tinkered with the defensive mindset they had under Malthouse and are moving the ball much quicker by hand or foot, giving their forwards a much better chance of scoring. In line with the Blues' well-publicised policy of rebuilding their list Barker has given more responsibility and game-time to youngsters such as Patrick Cripps and Nick Graham, who have stepped up to play key roles. Playing skipper Marc Murphy where he is best suited, as a permanent midfielder, has been another astute move. The players seem to be revelling in the free-flowing attractive style and the fans are enjoying it as well.
Contracted until: End of 2015.
Pressure rating 6/10
- Howard Kotton
The Blues have performed with plenty of spirit since John Barker took over as coach. Picture: AFL Media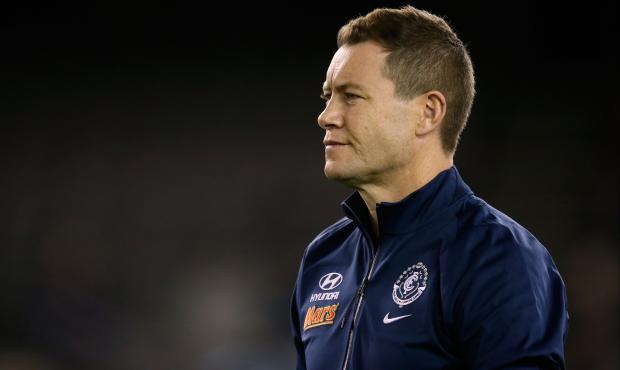 Externally, there was immense pressure on Nathan Buckley to return Collingwood to the finals this season, which seemed unreasonable given most experts expected the regenerating Pies to again miss the top eight. So to have hovered around the top four for much of the season to date is an exceptional effort. Critics point to a soft draw, but the Pies have beaten Essendon and North Melbourne – both finalists last year – and finals aspirant Greater Western Sydney, and might have toppled top side Fremantle last week had they displayed more composure.We'll know more in three weeks when the Pies have completed a potentially season-defining block of tough games. Buckley has refined the Pies' team defence, which is among the best in the AFL, without sacrificing offensive flair. Under his watch this year, many Pies have improved significantly – Brodie Grundy has become one of the AFL's most combative ruckmen; ex-Lion Jack Crisp has transformed from a flanker/wingman into a run-with player who wins clearances and kicks goals; former rookie Adam Oxley has become a pivotal intercept defender and ball user; and one-time bad boy Marley Williams has developed into a small defender to be reckoned with.
Contracted until: End of 2016
Pressure rating 7/10
- Ben Collins
James Hird's past three years have been unprecedented for a senior coach. In 2013, when the supplements scandal broke, he was under pressure to stand down until the ASADA and AFL investigation was over. He eventually accepted a 12-month ban from coaching, seeing him sit out all of last season and hand over the reigns to Mark Thompson, who steered the team into the finals. This year the pressure has been of a different kind, with the spotlight turning to his coaching and the under-performing Bombers team. Hird still has another year on his contract to run after this season, but is under the most intense glare of any coach in the competition because of dual forces: the on-going nature of the saga due to WADA's appeal, and his side's inability to hit form this season. There is no doubt a link exists between point one and two there, but Hird is front and centre to the criticism.
Contracted until: end of 2016
Pressure rating: 9/10
- Callum Twomey
James Hird has battled many issues on and off the field so far this season. Picture: AFL Media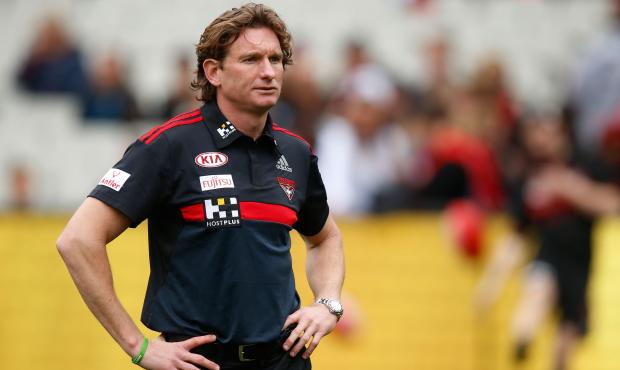 As Ross Lyon has always said, AFL is a business of winning and losing. The Dockers are 11-1 and two games clear on top of the ladder, so you cannot fault Lyon so far. If you were giving him a pressure rating based on job vulnerability, it would be 1/10. But unfortunately for Lyon, he is marked on different scale. His home and away record is impeccable but even in his own eyes it does not mean much. He is chasing the ultimate prize and rightly or wrongly that is how he is measured. Lyon spent all pre-season drilling ball movement and also worked hard on developing a three-talls forward structure to lighten the load on Matthew Pavlich and give the Dockers more scoring power. It worked well for eight rounds but has tailed off in the past month. He knows his side can compete when not at its best but his great challenge now is to recapture that form at the right time of the year.
Contracted until: End of 2017
Pressure rating 7/10
- Alex Malcolm
After breaking through for a premiership in his first season as coach in 2011, Chris Scott has found coaching life more challenging in recent years. The Cats are yet to miss the finals under Scott's watch but could face that prospect later this season if results don't fall their way. Geelong's list is in a state of transition, with the gradual decline of the club's premiership stars and the inconsistency of the Cats' young crop contributing to mixed results so far in 2015. Injuries to key personnel, including Mitch Duncan, Jimmy Bartel and Rhys Stanley, has also added to the setbacks Geelong has faced this season. Stanley's season-ending foot injury will force Scott and his coaching staff to reconfigure the club's ruck stocks in the second half of this season. While performing strongly in 2015 remains high on the agenda, Scott has repeatedly stated the club's desire to prepare the side's young nucleus for a premiership tilt in the coming years.
Contracted until: End of 2016
Pressure rating: 4/10
- Ben Guthrie
He came to the club expecting to apply the finishing touches to a finals-bound team, but Rodney Eade has walked into a hornet's nest. Injuries have decimated the Suns since Jaeger O'Meara severed his patella tendon in a NEAFL practice match, and it's gone downhill from there. Eade has been without his four best midfielders (O'Meara, Ablett, Swallow and Prestia) for much of the season, depleting the Suns of their ball-winning ability, run and class. Equally as troubling has been the off-field dramas. Eade has tried to enforce a harder line of discipline for off-field professionalism that is still sinking in – and now there's the Karmichael Hunt fallout, which didn't happen on his watch. Through it all, the veteran coach has been pragmatic, never lost his cool and kept the bigger picture in focus. Once he has a full team at his disposal it will be easier to judge Eade's impact, but the development of youngsters Kade Kolodashnij, Henry Schade, Touk Miller and Adam Saad has been promising. It's been a horrific start, but Eade can only reasonably be judged in 2016 and 2017.
Contracted until: End of 2017
Pressure rating 3/10
- Michael Whiting
The GWS game-plan is perfect for its list - high pressure and hard running suits the young Giants and when they're all working together, their best is electric. Coach Leon Cameron's use of Stephen Coniglio in a run-with role has been a masterstroke, with the West Australian's big engine and discipline allowing him to do some big jobs this season. Using three tall forwards has also worked for GWS, with Jeremy Cameron, Cam McCarthy and James Stewart/Adam Tomlinson giving them strong and mobile targets. With no standout back-up to star ruckman Shane Mumford, his season-ending ankle injury means the Giants have a huge problem to solve in the second half of the year. The club has exceeded expectations so far, but their injury worries might be too much to overcome. However, if Cameron can guide them to a maiden finals appearance, he might just be the coach of the year.
Contracted until: End of 2016
Pressure rating: 3/10
- Adam Curley
It's been a headline-grabbing year for the Hawks and Alastair Clarkson. The coach's off-field lowlight was an altercation with a fan outside the team hotel following a loss to the Power in Adelaide on Anzac Day. On match days, he's had his work cut out trying to keep a rollercoaster year on track. History says winning a premiership three-peat doesn't come easy, and the Hawks lacked their usual ruthlessness and efficiency in patches – proving costly in narrow defeats during their shock 4-4 start. Round five was the turning point, even if a string of wins didn't immediately flow. Luke Hodge and Jordan Lewis' crude strikes against North Melbourne heralded the return of the 'unsociable' Hawks, according to some media, and Clarkson has encouraged his charges to play 'close to the line'. Some unsavoury incidents – including Josh Gibson and Ben Stratton's striking offences against Adelaide, plus Sam Mitchell's 'jab gesture' at the weekend – have coincided with four straight wins and an ominous climb back into the top four. Moving Jarryd Roughead up the ground has also paid dividends for Clarkson, with his attack becoming even less predictable and harder to stop.
Contracted until: End of 2016
Pressure rating: 4/10. If you can call it 'pressure' trying to win a three-peat with the chance to become Hawthorn's most successful coach.
- Travis King
Assessing the performance of Paul Roos must be made in the context of his main objective which is to hand over a strong list, culture and team in 2017 to his successor Simon Goodwin. On that basis Roos is performing well. The side is more competitive, the players are being developed steadily and performing well when stepping up to the seniors and the team is functioning as a unit more often than not. There have been lapses – such as the last minute of the St Kilda game or the second half against the Magpies – but these can merely be filed into the valuable lessons category, particularly on the back of the win against Geelong. Roos is unlikely to mention the past again as the team has steadily built respect and is now a formidable opponent capable of kicking a winning score.
Contracted until: End of 2016
Pressure rating: 3/10
- Peter Ryan
Simon Goodwin will take over from Demons coach Paul Roos in 2017. Picture: AFL Media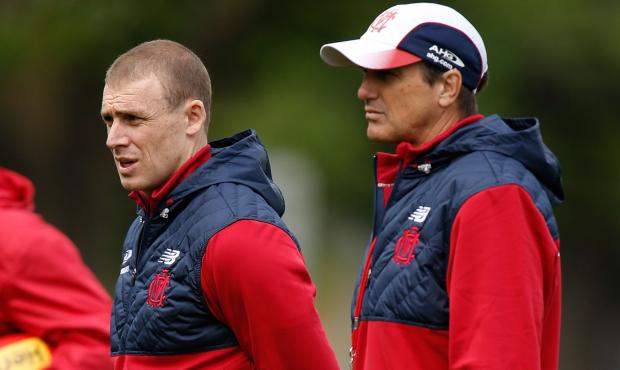 Brad Scott's sixth season at Arden Street has been a testing one. He underwent back surgery after North's round nine loss to Collingwood and won't return to the coach's box until next Saturday night's clash with Geelong. But Scott will be more concerned by his team's spluttering 6-6 start and its regression in a couple of key areas. Where North had a strong record against the top teams in 2014, it remains without a big-name scalp this year and was flogged by Hawthorn and Fremantle. The miserly defensive edge that Scott and his coaching staff introduced in 2014 has also gone missing. The Roos conceded 78.7 points a game in last year's home and away season (fifth in the AFL), but this year that figure has blown out to 92.6 points (13th) as the Roos have struggled to slow opponents' ball movement and scoring from stoppages. Scott will be heartened, however, that his team remains remarkably efficient once inside its forward 50, scoring 49.2 per cent of the time (third in the AFL). While pre-season predictions of a North top-four finish appear off the mark, the Roos remain well placed to reach their second consecutive finals series given their relatively easy run to September, the recent return of Nick Dal Santo and the expected return of Daniel Wells before the end of the season.
Contracted until: End of 2016
Pressure rating: 8/10
- Nick Bowen
It's been a season of failed expectation for the Power to date, after last year's heroic three-point loss to Hawthorn in the preliminary final. If the club has worked out exactly what's gone wrong in the first half of the year it hasn't admitted so publically, although cries of 'complacency' have emerged from within the playing group. But regardless of Port's poor form coach Ken Hinkley's position as coach is under no threat – particularly given he only extended his contract this year. He's done wonders for the Power since his arrival ahead of the 2013 season and few could argue the impact of untimely injuries to vital players combined with the tightening up of the competition. Even if the 2015 season finishes as a bust, Hinkley would be trusted to teach the playing group valuable lessons and then turn it around in 2016.
Contracted until: End of 2018
Pressure rating 4/10
- Harry Thring
The season hasn't unfolded how many thought it would for Ken Hinkley. Picture: AFL Media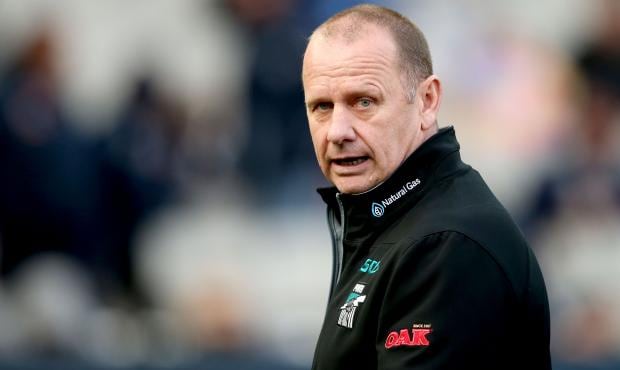 After six rounds and a 2-4 record, Damien Hardwick was under pressure. CEO Brendon Gale was forced to defend him publicly and there were doubts crucial defender Alex Rance would re-sign with the club. It is a testament to both Hardwick's nerve and the club's leadership that he has turned Richmond around and got them on track for a third consecutive finals appearance. His crucial move was to cease the Tigers' rapid, attacking style of play and revert to a more patient, controlled style where possession was valued and hitting up shorter targets was the norm. It has delivered five wins in six matches. Sometimes ridiculed for saying the Tigers could beat anyone on their day, Hardwick has been proven right with important wins against Fremantle and the Sydney Swans on the road. He remains under pressure because the Tigers have shown they can dramatically drop off, and a finals win this year is expected.
Contracted until: End of 2016
Pressure rating 7/10
- Nathan Schmook
In his second season, it's fair to say Alan Richardson and the team have surpassed the season expectations of most St Kilda supporters. Given it's early in his tenure as a coach picked to lead a rebuild, wins and losses weren't going to be the factor that summed up Richardson's performance this year. But, it certainly doesn't hurt that the Saints have won four games and lost three by less than nine points. Most encouragingly, they've played with intensity and applied pressure for most part, have improved their determination to hang on in tight games and fight back from deficits, and they've found alternate avenues to goal with Josh Bruce leading the goal-kicking and Jack Sinclair and Jack Lonie showing good signs. And, Richardson has been instrumental in allowing fans an inside look into their journey with initiatives including the release of coach's box audio from their thrilling round 11 win over Melbourne.
Contracted until: End of 2016
Pressure rating: 3/10
- Jennifer Phelan
John Longmire has used Kurt Tippett as the side's second ruckman this season, giving his team more flexibility. Sam Reid as a defender has also helped the Swans, especially with his work as the third man up at stoppages. Lewis Jetta's move into the backline fizzled out before it really began and accordingly, the Swans have turned it over too many times coming out of their back 50 this season. If he can find form, Jetta's foot skills could give them a boost in that department. Longmire's coaching of dual Brownlow medallist Adam Goodes has been first class - he made the champ earn his spot, and both player and coach have benefited. If the Swans can tidy up their turnovers in the back half and stay healthy, Longmire should get another crack at the last game of the year. If they fall short, expect the blowtorch to be turned up a notch or two on the Swans and their big names – and by extension, their coach.
Contracted until: end of 2017
Pressure rating 7/10
- Adam Curley
Adam Simpson is making a case for coach-of-the-year honours at the moment. The improvements in the Eagles' play since he took over following a disastrous 2013 season have been brilliant. In 2013 they were 11th in attack, 14thin defence and 17th in disposal efficiency. After 12 rounds this year they are top three in all categories. The defensive structures they have been able to implement without key defenders Eric Mackenzie and Mitch Brown have been lauded by opposition coaches. But the improvement in their ball movement has given their potent forward line opportunities to kick big scores. Simpson's teaching abilities have been pivotal to the club's success. They have drilled the fundamentals in two pre-seasons and he has empowered the playing group. He has also been able to play youngsters like Dom Sheed, Liam Duggan and Jackson Nelson regularly without compromising the team at all.
Contracted until: End of 2016.
Pressure rating 2/10
- Alex Malcolm
Luke Beveridge has been nothing short of a revelation in his first year in charge of the rejuvenated Bulldogs. He inherited the League's third youngest list that had just lost over 800 games of experience when Ryan Griffen, Adam Cooney and Shaun Higgins, amongst others, departed Whitten Oval for one reason or another. The 44-year-old has transformed what many thought was a bottom four side into an outfit that's playing with newfound passion and every chance to contest finals with it's enviable draw. Under his predecessor, Brendan McCartney, the Bulldogs played an unsightly, contested brand of footy, but in 2015 Beveridge has implemented an attacking flair while still retaining a strong defensive mindset. The Dogs' 'fast footy' has entertained while also claiming some of the competition's biggest scalps. Beveridge's arrival has coincided with several players having career-best seasons including Easton Wood, Liam Picken and Luke Dahlhaus. Matthew Boyd's move to halfback and Jordan Roughead's return to the ruck have also been pivotal. Ayce Cordy's failure to make the first ruckman's role his own has been the only real glitch for the rookie coach.

Contracted until: End of 2017
Pressure rating: 2/10
– Ryan Davidson

Luke Beveridge couldn't have hoped for a better start to his career as Dogs coach. Picture: AFL Media