ONE CAN only wonder what went through Giants ruckman Shane Mumford's mind when he faced up to Western Bulldogs' vice-captain Jordan Roughead at the opening centre bounce on Saturday.

With talk all week focusing on the return of another gorilla in Will Minson, poor old Mumford must have got the shock of his life when instead a beanstalk in the form of Roughead confronted him across the centre circle.

Wrong-footed, Mumford never found his balance and he lowered his colours to the duo.

While it was Minson that grabbed headlines once again, Roughead's performance excited most.
Roughead's efforts were critical to the ruck duo's ability to unwrap 'The Big Mummy' Shane Mumford and gave the Bulldogs midfield ascendancy over the talented mob from Greater Western Sydney.
More Numbers Game with Peter Ryan
The 24-year-old vice-captain had been tracking OK in defence but, with Stewart Crameri and Jake Stringer missing from the Bulldogs forwardline, he assumed his preferred ruck-forward role.
Roughead took the first centre bounce, leaping high and giving Mumford something to think about before the Giants ruckman had a chance to even turn attention to Minson.
Roughead finished with 24 hit-outs, including 11 to advantage and eight sharked by the opposition. That means he got his hands to the ball first an extraordinary 79 per cent of the time in an era when many hit-outs are neutral.
Talk about giving confidence to the Bulldogs midfielders to be proactive rather than reactive as they racked up 63 inside-50s to 41.
By comparison Mumford had 46 hit-outs, of which 11 were to advantage and seven sharked by Bulldogs players, a percentage of 39 per cent while just four of Minson's 17 hit-outs were to advantage.
Minson has shown what he has got over 183 games but Roughead's potential remains relatively untapped.
Roughead also played the important third man up role inside the Bulldogs' forward 50, worrying Mumford who had to contend with wrestling Minson and waiting for Roughead to come over the top.
Roughead won four hit-outs as third man up but it wasn't just his hit-outs that made an impact. He disrupted the Giants.
In one of the few forward-50 stoppages Roughead didn't leap in as third man up in the third quarter, Mumford gave away a head high free to Minson in the first quarter.
Minson kicked the goal.
So conscious were the Giants about Roughead being third man up, Joel Patfull gave away a free kick trying to impede Roughead at a stoppage inside the Bulldogs' forward 50 during the third quarter.
Although Roughead missed the goal, the Giants' reaction to what had been happening was enough to suggest the battle was won.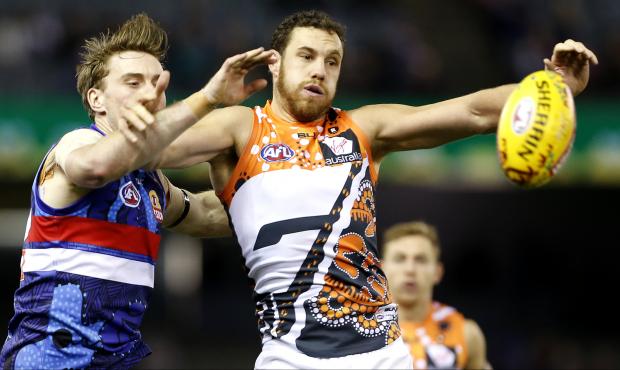 Jordan Roughead battles Shane Mumford in the ruck on Saturday. Picture: AFL Media.
Perhaps statistics worried the Giants when they ran to those defensive 50 stoppages.
The Bulldogs lead the competition for launching scores from inside the forward 50, either intercepting the opposition through forward pressure or creating stoppages (the Bulldogs are second in the competition when it comes to forward 50 tackles).
Roughead ranks No.1 at the Bulldogs for launching scores this season and when he starts a chain it ends in a Bulldogs score 24.6 per cent of the time, the 14th-best of the top 150 chain-launch players in 2015.
Importantly on Saturday Roughead and Minson pushed back hard too, filling holes when needed in their defensive 50 and taking an intercept mark each.
This caused the Giants to share the ball around rather than go long and deep into their forward line.
They also restricted Mumford to just five metres gained (he often records fewer than 100 metres gained to be fair) and importantly kept him occupied throughout.
Senior coach Luke Beveridge can take the credit for Saturday's plan, while the two players deserve all the praise for executing it so well.
The complemented each other well, Roughead's athleticism combining with Minson's strength to stitch Mumford up.
"Mumford has been a real powerhouse and a real tractor around the footy and he imposes himself physically," Beveridge said post-game.
"I felt our rucks were able to do their best to negate that and provide us with some first use at times.
"He was crucial in there, Will, and so was Roughy."
Beveridge has shown he is not afraid to innovate and challenge rucking convention.
Ayce Cordy has been working as a ruckman/defender lending support in the back half and contributing through a set of circumstances that proved very different in each of his games. He has been better than he has given credit for but Minson's inclusion was timely.

Importantly Beveridge's ability to reshuffle on Saturday was dependent on expressing confidence in youngsters such as Joel Hamling (first game) and Fletcher Roberts (12th game) to play their role.

That he was prepared to hand defensive responsibility to those two and use Roughead as a ruck/forward says something about his coaching philosophy.
That his players were able to accept their respective roles and perform them to a tee says something too.
The Bulldogs are playing team football. It's not perfect yet but it's a good start.
And the young vice-captain Roughead is showing the way.
Stats supplied by Champion Data