SOUTH Australian Will Day knew last week's draft landscape well, and which club he wanted to pick him.
Hawthorn – where Day's grandfather Robert played in the 1971 flag – had pick 13, Port Adelaide followed closely behind with a pair of selections in the teens, and Gold Coast was keen, too.
However, the Hawks were up to their usual tricks in the lead-up, deliberately ignoring Day at the NAB AFL Draft Combine and touching base only three times throughout the season.
G'day Will, it's Clarko!

The moment our Pick 13 spoke to his new boss for the first time. pic.twitter.com/kDuK4jgzVO

— Hawthorn FC (@HawthornFC) December 1, 2019
Their interest had waned, as far as the 18-year-old could tell.

So it was a surprise, a pleasant one, when Hawthorn read Day's name out on Wednesday night.
"I really only spoke to them at the start of the year, then they sort of cut the dialogue for a few months," Day said at his new Waverley Park home on Monday.
"Having grandpa playing there and then also coming to Victoria and being in the home of football was the preference."
DRAFT TRACKER Every pick, every player
Both Day and father-son selection Finn Maginness will start their AFL journeys with a rich family history in brown and gold.
Maginness' father Scott played in the Hawks' 1988 and 1989 premierships and made 131 senior appearances overall, while his grandfather Norm wore the colours 64 times in the 1950s.
Father-son selection Finn Maginness.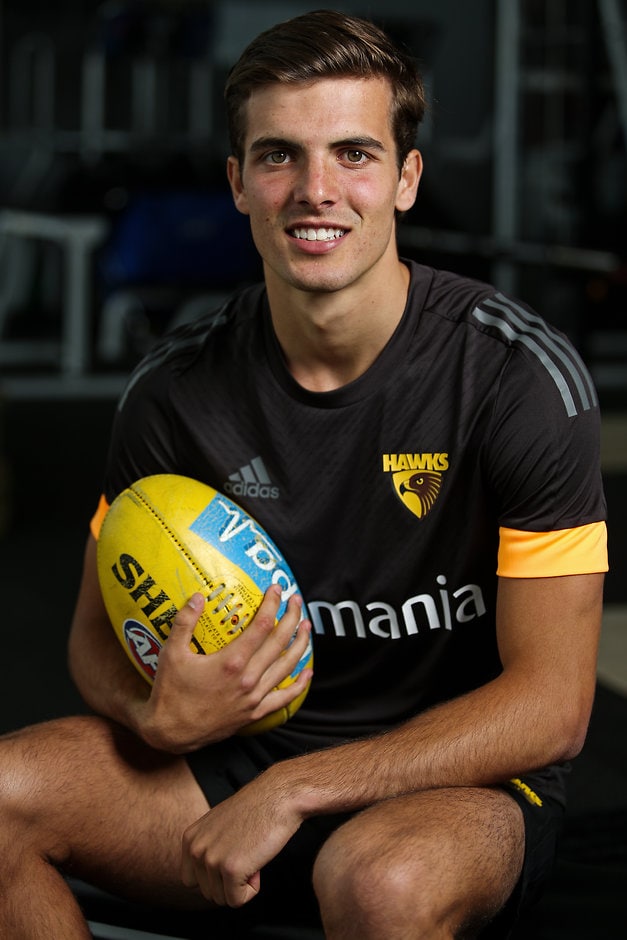 It's little wonder Day's grandfather was "lost for words" in response to his drafting to Hawthorn, or that Maginness' grandad was in tears.
Hawks national recruiting manager Mark McKenzie eased Maginness' nerves ahead of night two of the draft, when he told the gun teenager they would match any bid for him.
North Melbourne eventually did so with pick No.29 – and Hawthorn lived up to its promise.
10 THINGS WE LEARNED Rivals raid Lions, remote WA town a hotspot
"I was confident but still, when they bid on you, you do get a bit nervous," Maginness said.
"I wanted to come to Hawthorn, so I was a bit nervous, and the Hawks actually took a while to match it, so the longer it went, the more nervous I got.
But it was relieving once they finally matched the bid. - Finn Maginness
Maginness has already spent some time at Waverley Park previously but Monday was the first session for Day and fellow draftees Josh Morris, Emerson Jeka and Harry Pepper.
Day, like Morris, has relocated from interstate and is spending this week with Luke Breust before staying briefly with another Virgin Australia AFL All-Australian Hawk in Jack Gunston.
The former baseball state representative will move in with a host family after Christmas but has already received tips from Breust on "sample sizes" and the high standard of professionalism required.
New Hawk Will Day.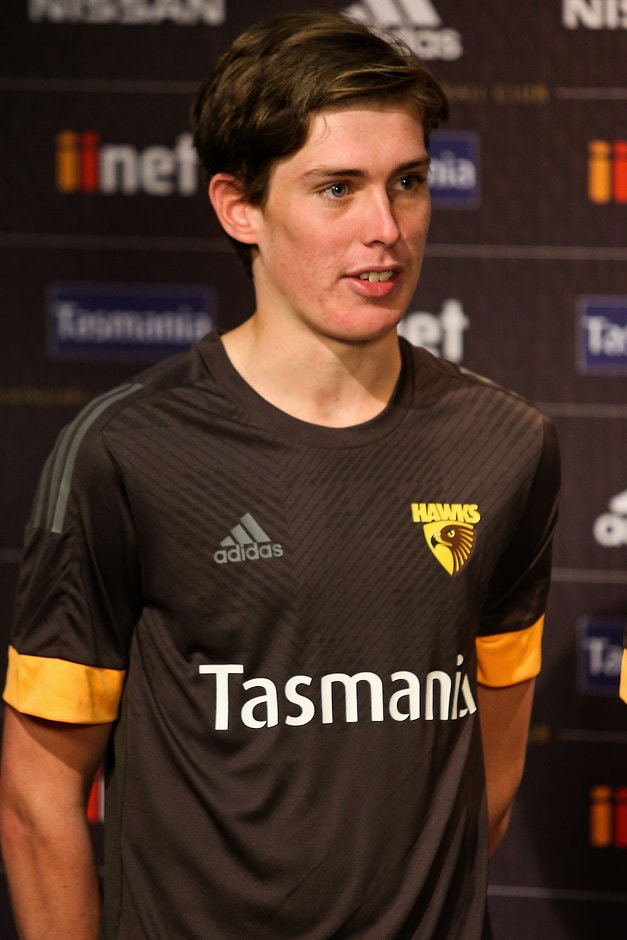 At 187cm, Day is an ideal height for the modern game, especially with his impressive athleticism, but his slight build determined where he played in recent seasons.
He started as an inside midfielder in his junior days, only to be shunted out to a wing and half-back when his peers' bodies developed quicker than his did.
WHO SMASHED IT? Our experts give their draft verdicts
And while Day is willing to play anywhere and to bide his time in the VFL, his dream isn't to one day be Grant Birchall's successor down back.
"I'd love to see myself get back in the midfield," he said.
"I think I've still got the skills to get back in there and do well."
WHAT JOSH MORRIS SAID
On being drafted: "It was a bit of a shock to myself and my family, I think. We didn't really expect much to happen on draft night, but we're just glad it did."
On cutting off his mullet: "I just thought I'd get it cut and look a bit cleaner but it will be back soon, I'm sure."
Josh Morris rocks his fresh cut.