STATISTICAL guru Glenn Luff says he won't be overestimating the importance of data in his new role as North Melbourne's list boss. 
The Kangaroos appointed the former Champion Data veteran as Michael McMahon's replacement a fortnight ago, after Luff joined the club mid-last year as head of analysis.
He was part of North's draft team last week – along with national recruiting manager Mark Finnigan – in bringing in forward-ruck Charlie Comben, goalsneak and midfielder Jack Mahony, and half-back-winger Flynn Perez.
I'm not silly enough to think it's just data ... but it's a piece of the puzzle that I think you need to understand - Glenn Luff
Luff's background is quite different to his counterparts across the AFL but he said he wouldn't now ensure the numbers were the Roos' priority in list management decision-making.
COMEBACK BEGINS Injury-plagued Roo 'in a really good spot'
"It's funny – people think, 'Oh, Moneyball (famous book and movie about data-driven analysis), Luffy's just going to throw data at everyone'," Luff told RSN radio.
DRAFT TRACKER Every pick, every player
"I'm not silly enough to think it's just data. Footy is the hardest game in the world to capture statistically but it's a piece of the puzzle that I think you need to understand.
Find Road to the Draft on Apple Podcasts, Google Podcasts and Spotify.
"(There are) so many variables in AFL footy. The way we work – we have the recruiting team, we do all that, but I'm one piece of the puzzle with that skillset, and we've got different skillsets across the whole recruiting department.
"So I'm one with that background and I'll throw up red flags if I think there are red flags but ultimately it's Mark's decision. He's the recruiting manager and we'll back him all the way."
North Melbourne didn't enter the draft until the second night but made its presence felt, bidding on Hawthorn father-son prospect Finn Maginness and orchestrating a pick swap with Essendon.
After the Hawks matched the Roos' bid on Maginness, Luff and co. traded even further back in the draft – receiving a future second-round pick for their troubles – but did so strategically.
"You need to be really planned in terms of the players, player types, what if he goes, what if he's still there, what are the priorities and hopefully you get enough understanding of what teams are doing either side of you," Luff said.
"At that point, we were pretty confident that the three guys we were happy to get were still going to be there, despite us going from 30 to 35 and still getting a future two for next year, which is really important."
Luff said Rhyce Shaw was a coach who embraced not only data but all ranges of expertise and had involved himself in the draft preparation, including watching vision of prospective draftees.
Rhyce Shaw keeping an eye on pre-season training. Picture: Getty Images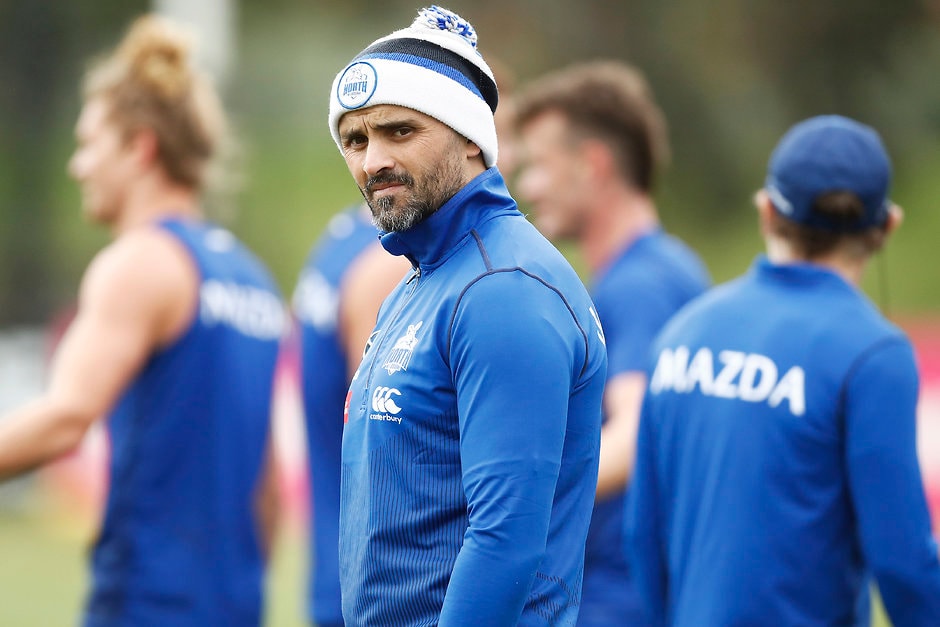 He also echoed Shaw's own comments on being buoyant about what North can achieve in season 2020. 
The Kangaroos do still rely heavily on veterans such as Ben Cunnington, Robbie Tarrant, Shaun Higgins, Todd Goldstein, Ben Brown and Jack Ziebell.
However, they have introduced some promising youth in recent seasons, including NAB Rising Star nominees Tarryn Thomas, Nick Larkey, Cameron Zurhaar and Bailey Scott.
Tarryn Thomas and and Ben Brown enjoying the pre-season. Picture: AFL Photos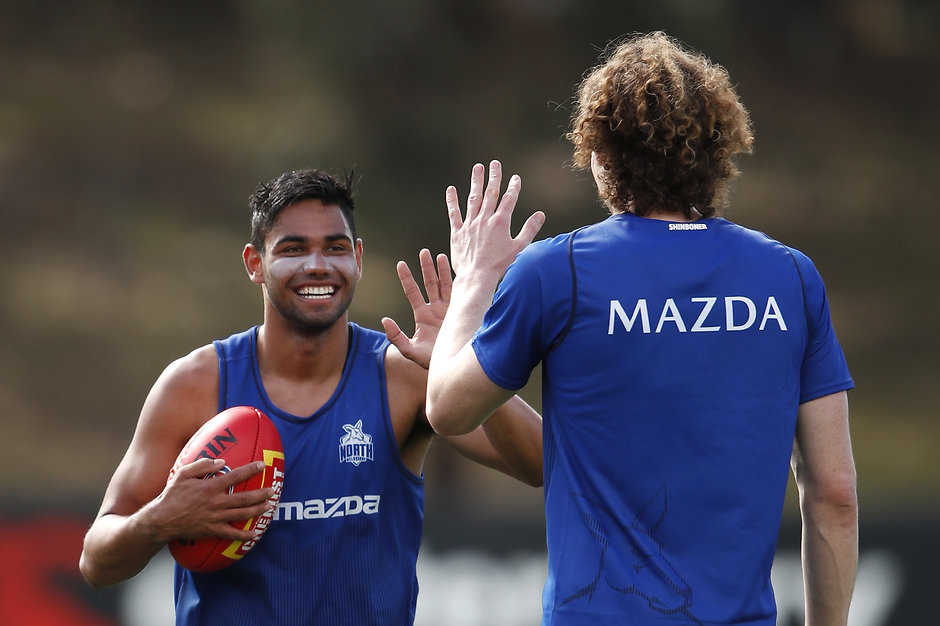 "We've got a group of older guys who aren't going to get any worse – they're at the peak of their powers, really," Luff said.
"There are probably about seven kids in their (first-to-fourth) years who play regular footy, we had four Rising Star nominations, and we're really excited about what we can do this year.
"I think 'Shawry' said it – we're in it to win it. We've retained every player we wanted to retain, and the kids get better and I don't think the older guys drop off, so it's (going to be) a really exciting year."