A WEEK before this year's NAB AFL Draft, a contingent of five Gold Coast officials visited the homes of Matt Rowell and Noah Anderson.
Suns coach Stuart Dew, football manager Jon Haines, recruiting manager Kall Burns, list manager Craig Cameron and assistant coach Andrew Swallow spoke with both boys and their families about what lay ahead for the pair.
DRAFT TRACKER Every pick, every player
It was the 'Pack your bags' chat – finally the official confirmation the Suns were set to use their No.1 and No.2 selections on the pair, whose family homes are only a 10-minute drive apart in Melbourne's leafy inner suburbs.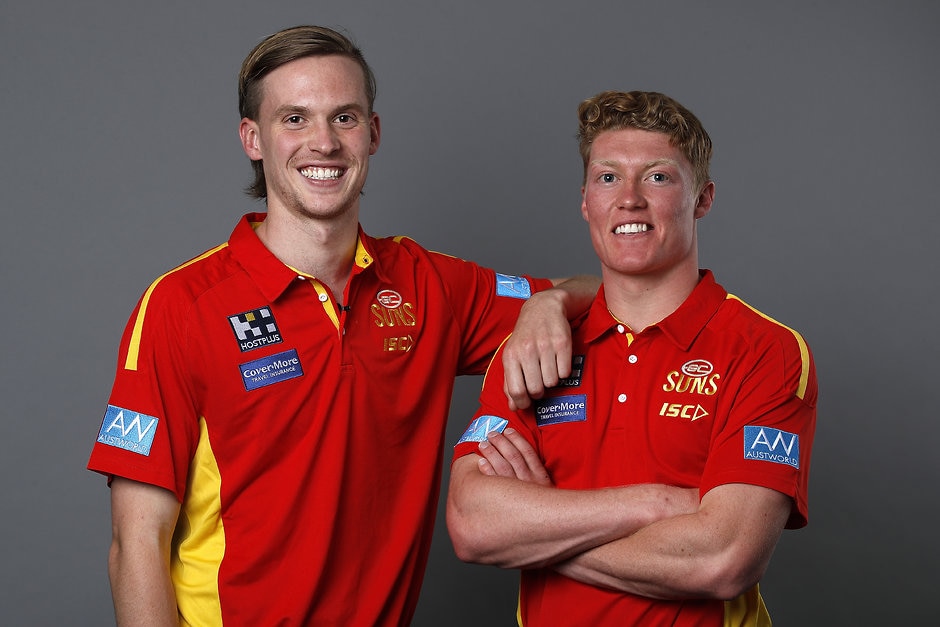 When they were locked in as the Suns' guns at the top of the draft on the opening night of the draft at Marvel Stadium days later there were no surprises. But, in one of the most even drafts in recent years, the straightforward calls ended there.
This is the inside story of the first round of the draft. The twists and turns. The big decisions and major chances. The games and subterfuge. The trades and the non-trades. The sliding doors and the slammed ones. The plan Bs and Cs. And, of course, the what ifs and could-have-beens.
MELBOURNE held what came to be seen as the first 'live' pick of the draft at No.3.
It was after the mid-season under-18 championships that they zeroed in on ruckman Luke Jackson as a contender for the selection, with recruiting manager Jason Taylor travelling to Perth three out of four weeks in the back end of the season to watch Jackson as closely as possible. 
The Dees considered moving back down the board from No.3, but knew that the Giants, Crows and Fremantle were all interested in Jackson.
Hayden Young and Sam Flanders were also discussed, but in the very slight chance Jackson was off the board by their pick, Melbourne would likely have placed a bid on Tom Green, the Greater Western Sydney Academy talent.
The Giants had done so much work to get ahead of the bid for Green. They had packaged up picks 12 and 18 during the Telstra AFL Trade Period to gain pick six, and then sent pick six and a future first-round pick to Adelaide to move up to pick four.
But by draft night, the Giants had decided if Melbourne bid on Green, they would match it. It was unlikely, but a chance, so the Giants worked on ways to match it by moving out pick four in a trade for multiple first-round selections.
The Suns inquired about the move, offering a strong hand of picks as they eyed half-back Young, but the Giants didn't budge.
The Giants' need for a gun ruck made Jackson a priority, but with him gone, the club focused on speed. It's what led them to pick the dashing half-back Lachie Ash at No.4. Young was a consideration, but he didn't have the dazzle they were searching for.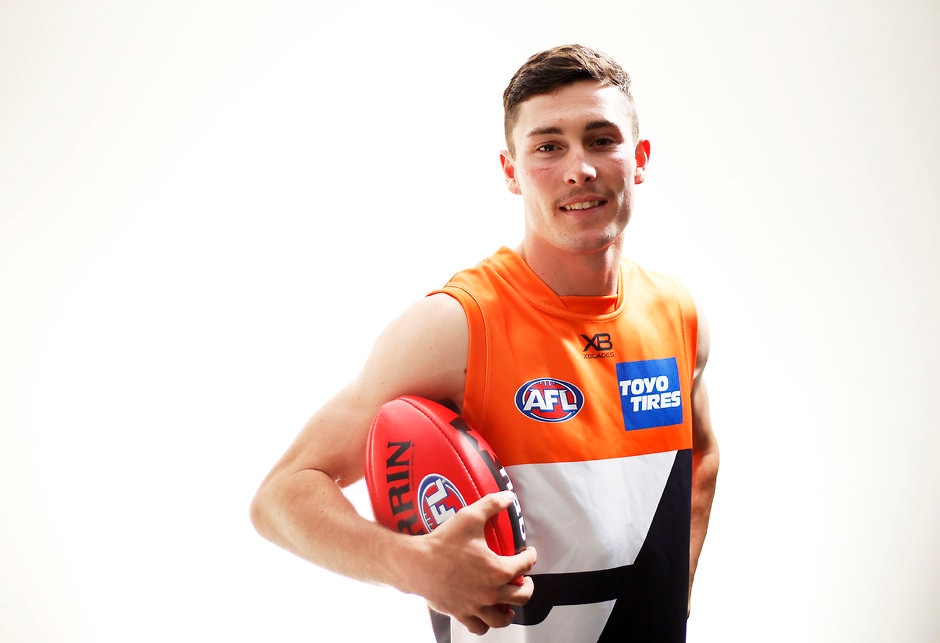 They visited Gippsland pair Caleb Serong and Flanders three days before the draft but neither was really in their plans at No.4 given Jackson or Ash was set to be available. Half-back Will Day was also high on their thoughts near this range.
Ash was front of mind for the Swans, too, who would likely have taken him at No.5 if the Giants didn't swoop first. Sydney turned to addressing its need for midfielders, putting South Australian Dylan Stephens front of mind.
Stephens offered the Swans a better hybrid midfield mix than Flanders, while Young was another considered. If Stephens was off the board, the Swans would likely have placed a bid on Green given their midfield focus.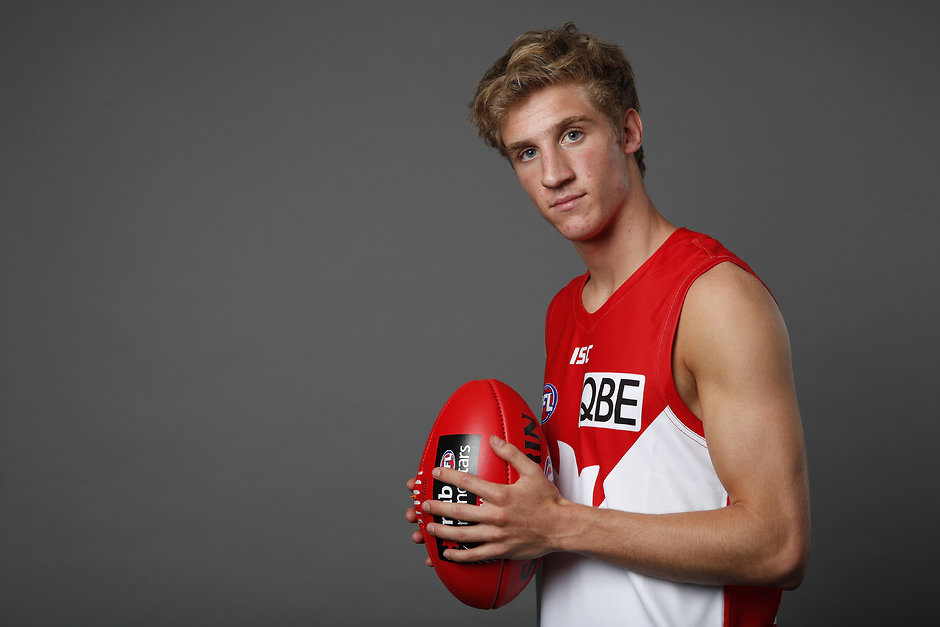 SYDNEY'S choice kick-started a chain of events that was felt deep into the first round.
Adelaide had moved back from No.4 to No.6 in the confidence that one of Stephens or key tall Fischer McAsey would be available.
But they were also discussing another shift back, with a deal in the works with Carlton to swap pick No.6 for the Blues' No.9 and a future second-rounder.
This is where things got interesting. The move would have been dependent on McAsey being available at pick No.9, and getting past Fremantle's picks No.7 and 8.
DRAFT TRACKER Every pick, every player
For the Blues, the trade was so they could move up the order and snap up Young, who they rated at No.2 in this year's pool.
But the Dockers didn't want that to happen, as they knew the Crows weren't going to take Young and it looked likely – if the order stayed unchanged – that he would get through to their first pick.
Fremantle interviewed McAsey in the days leading up to the draft, leading some to believe he was well in their mix for their back-to-back picks. Discussion grew as well that if McAsey was on the board at No.8, the Dockers would look to trade the pick to Geelong, who were interested in packaging their first-round picks together to target McAsey in the top-10.
Adelaide's intel suggested Freo was unlikely to take him, but there was enough risk about the potential of Geelong moving up that the Crows asked for a future first-round pick from the Blues, as well as pick No.9, for the deal to happen. 
The Blues would only offer a future-second round pick. The prospective deal died. The potential for the Dockers to also swap their pick No.8 for the Crows' No.6, as a contingency if a bid came early on Academy prospect Liam Henry, had previously been canvassed. 
After settling on pick No.6, the Crows drafted McAsey, having put plenty of time into the key defender throughout the year.
After the mid-year national carnival, recruiting manager Hamish Ogilvie and backman Andy Otten had taken McAsey, fresh off winning Vic Metro's MVP award, out to a Greek restaurant in Brighton, picking his brain and getting his head around a possible move to South Australia.
The trade scuttled, Fremantle could breathe a sigh of relief. The Dockers could nab Young and Serong with the Vic Country teammates heading west.
Young's kicking and intercept marking off half-back appealed, as did Serong's upside: they loved what he had produced without every really doing a pre-season.
 If Carlton had have jumped up to pick No.6 and taken Young, Fremantle would have paired Serong with Flanders.
The fact the Adelaide-Carlton trade didn't happen had a ripple effect – possibly allowing Port Adelaide to complete the surprise of the night by taking Mitch Georgiades – but we'll get to that. 
DRAFT TRACKER Every pick, every player
THE BLUES had watched the draft unfold at pick No.9 with their collective fingers crossed.
They had seven players on their board and were hoping one of them would get through to their selection, but by the time they were on the clock, all (plus McAsey, who they rated later due to list needs) were taken. Brodie Kemp was next on their list, while Flanders, who was still available, was behind them.
This is when they picked up the phone. They called Port Adelaide and Geelong, seeing what deals could be done. They offered the Cats pick No.9 and 43 for 14 and 17, but were shut down.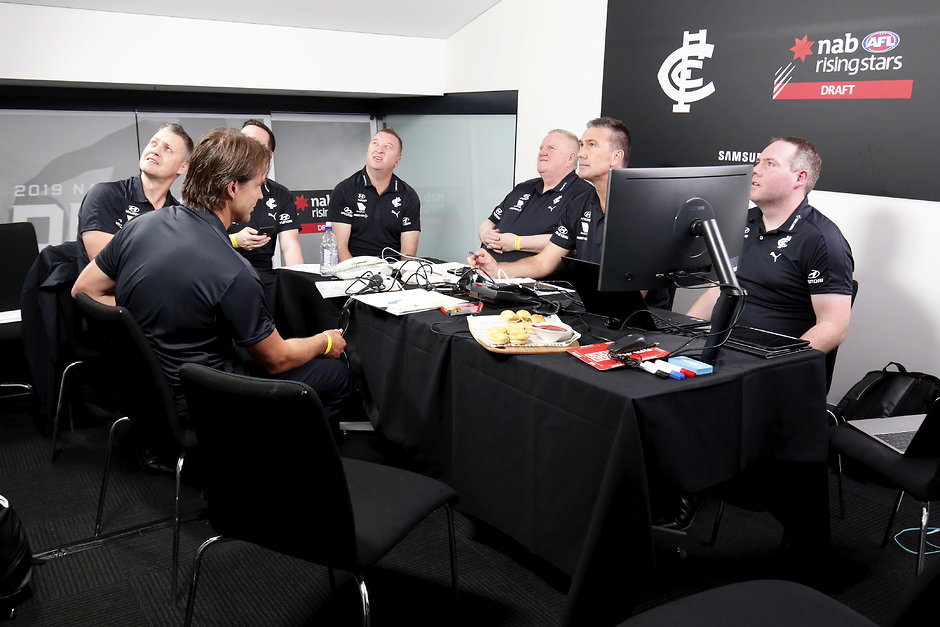 They wanted to see if Port was interested in No.9 in a deal that included 16 and 18, but that also went nowhere. Their last call was to Gold Coast, who had been offering picks 15 and 20 for pick No.9 since October's trade period.
While discussing the deals, the Blues had placed back-to-back bids on Academy players Henry (Fremantle) and Green (GWS), pushing the rest of the first-round picks back two spots. Carlton liked both players, and were particularly excited about what Henry could have added to their forward mix, but both bids were matched.
However, bidding bought the Blues 10 minutes of time to construct their next move.
They completed the deal with the Suns, who zoomed up the board to take Flanders, who they rated inside their top four. The Blues took the risk that Kemp would still be there at pick 17, seeing Geelong at pick 16 as the major threat, but they had also generated another early pick out of the move.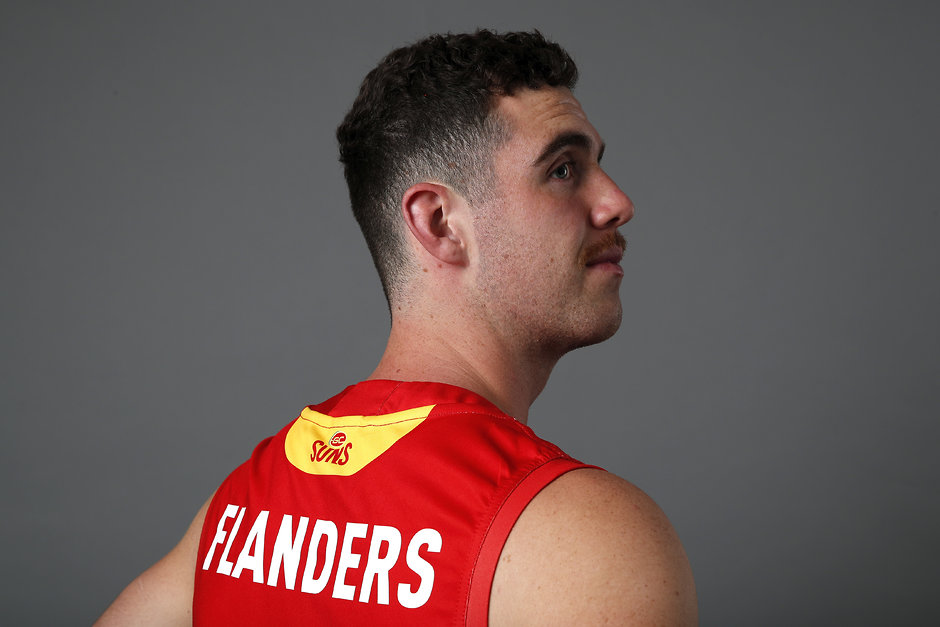 Melbourne was next with pick 12 and were set on a small forward. The call between Kysaiah Pickett and Cody Weightman was tight, but came down to their list needs. Jake Melksham, already at the Dees, plays a little like the marking and flying Weightman. But nobody at Melbourne plays like the crumbing-at-pace Pickett, which saw him get the edge.
The Dees started the draft period with pick No.8, but moved back to No.10 in a deal with Fremantle. Melbourne was willing to move back a couple of more spots, offering pick 10 and 28 to Port Adelaide for 12 and 18, but couldn't go any further back because the Bulldogs were set to grab Pickett. Regardless, Port didn't want to deal.
Hawthorn had the wildcard choice at No.13. They had been linked to Day, but also Kemp and Miles Bergman.
The Hawks' fate depended on what happened before them. If Sydney had have drafted Flanders at pick No.5, and if the Crows then went the other way of their line-ball call between McAsey and Stephens, McAsey would have joined the brown and gold. But they eventually ended up with Day.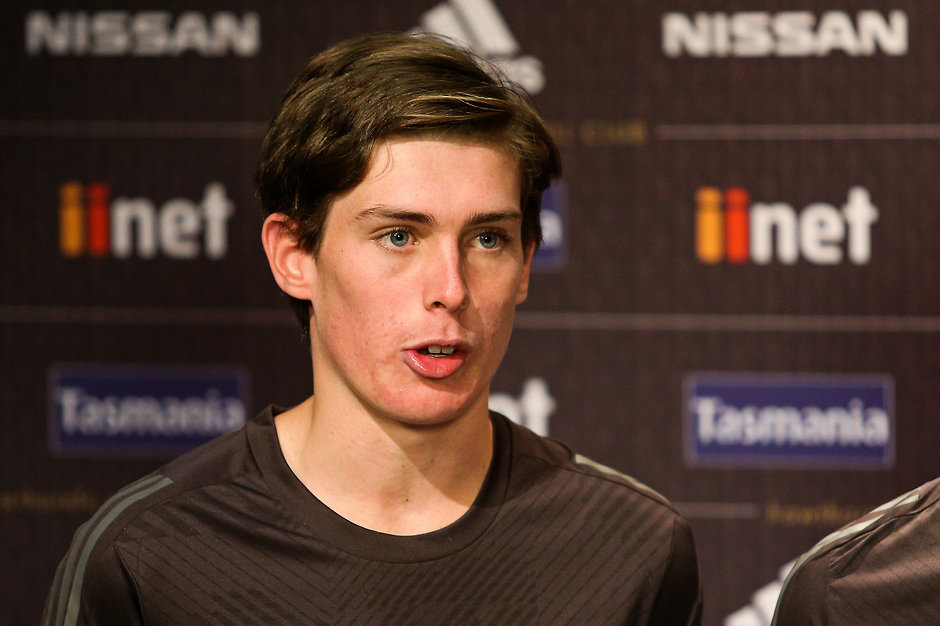 Having held its draft position, Port was set to take whichever was left of Bergman and Day. The club had prioritised forwards, though, which pushed Bergman ahead on their list.
With Pickett and Bergman gone, the Bulldogs weighed up Weightman against Kemp for their choice. The Dogs had spent plenty of time on Pickett throughout the season, leading many to think they would have grabbed him if he was still on the board.
GEELONG now had a decision to make. Clubs were still coming for its pick 16 – Adelaide had offered its two early second-round picks as a swap for that choice and the Cats' fourth pick – while Collingwood and Hawthorn continued to make calls to clubs in the vicinity asking to swap future first-rounders for current ones.
DRAFT TRACKER Every pick, every player
The Cats held firm, but had to be tactical, with Port and Carlton following them before Geelong had its second pick and all three clubs liking the same group.
Carlton had interviewed midfielder Cooper Stephens in the lead-up to the draft, and the Cats were weighing up Stephens and Kemp, while also considering Georgiades and Sam De Koning for their top choice.
There was an uncertainty Stephens was going to get through, so he was picked with Geelong's first selection (No.16 overall) as its future midfield bull.
Carlton's hopes to move back and still get Kemp worked, and then Port took Georgiades at No.18, with the mobile prospect's forward craft pushing him ahead of defender De Koning, who Geelong took next.
Geelong was also interested in Georgiades, and had the Cats taken him with their first pick, Port would have chosen Harrison Jones with its second because of the need for tall forwards.
This shows the impact of a decision at the top of the draft (in this case the failed Adelaide-Carlton deal) and the cascading consequences.   
DRAFT TRACKER Every pick, every player
The mind games would have been far different if Carlton had have traded up to pick No.6 instead of down to later in the first round, with Gold Coast set on taking Jeremy Sharp at their third selection if they had have kept it instead of swapping it with the Blues (a key reason why the following night the Suns traded pick 27 for next year's pick 11 to take Sharp).
Carlton was kept busy, moving up the board from pick No.22 to 20 after Port Adelaide initiated a pick swap to gather more draft points for father-son prospect Jackson Mead. The Blues used it on midfielder Sam Philp, who Sydney and North had interest in in the 20s. 
Thomson Dow was next, as Richmond grabbed the speedy midfielder at No.21 to close out the first round. The Tigers liked his pace and his quick hands reminded them of dual premiership star Shane Edwards, who spent draft night in the Richmond recruiting box after working with their scouting team at different stages during the year.
The Tigers got excited as Kemp started to drift down the order, but Carlton extinguished that hope.
DURING all of the first-round drama, Deven Robertson remained on the draft shelf.
The Larke medallist and gun West Australian midfielder had been considered for the Blues' Philp spot, and at Richmond's choice, while Geelong had also discussed him on the night.   
He was the only player to attend the opening night of the draft and not leave an AFL player, but moves were afoot the next day as clubs vied to get up the order and grab him.
Nearly half of the competition was interested in Port's pick 22 that opened the second round, but Brisbane was keenest to move up a spot from pick No.23 to swoop on the midfielder. In fact, had they not offloaded their first-round pick in a pre-draft deal with Port, the Lions would likely have snapped up Robertson then.
They didn't let their second chance go missing. Brisbane offered a future second-round pick to take Port's pick, and even though Port wasn't going to select Robertson there, the Lions had to make sure their offer beat others', including Adelaide, who were trying to inch up the board.
The Power also couldn't shift too far back as they wanted to be sure they could take Dylan Williams with their third choice – wherever it ended up.
There was also the possibility Brisbane bid on Mead if they stayed at No.23, so Port could eliminate that chance by swapping spots.
Robertson's slide, as is the way of the draft, had implications. It saw Trent Rivers, who was set to be taken by Brisbane if Robertson wasn't available, get through to Melbourne's pick 32.
It was just another example of how, particularly in the modern draft era of live trading and bidding, no draft choice lives in isolation. Last week was evidence of that.