LENNY Hayes found it hard to tell his teammates he would be retiring at the end of this season, but the St Kilda great says he was more upset when former teammate Robert Harvey retired in 2008.
One of the greatest players to have emerged from New South Wales, Hayes announced his impending retirement at a press conference at the Saints' Seaford headquarters on Tuesday.
The 34-year-old said he had been weighing up his future for some time and was content he had made the right call.
"I just feel that I'm on the edge of the cliff in terms of my body and I just feel that the time's right," Hayes said.
"As a player, it's always hard to say those words, but I feel really comfortable with [the decision]."
GALLERY: Lenny Hayes' football life
Hayes said he had some interest in moving into coaching at the end of this season, but would first take a break to spend some time with his family.
Recruited from Pennant Hills in north-west Sydney with pick No.11 in the 1998 national draft, Hayes debuted in round five, 1999, against North Melbourne at the SCG, and has now played 291 games for St Kilda (fifth on the club's all-time games list) and kicked 94 goals.
If he plays all of the Saints' remaining games this season, the star Saint will finish his career with 297 senior appearances.
AFL chief executive Gillon McLachlan said Hayes was "an all-time great of the modern game" whose legacy was built on more than his "extraordinary" list of achievements.
"He, I think, is universally loved by supporters of all 18 clubs and there are very few players who [can say] that," McLachlan.
"So I think he transcends his playing ability in terms of the integrity that he radiates."
"The way that he's gone about his football means that he's revered by all football supporters and he'll be a great loss."
McLachlan's comments would be endorsed by most, if not all, football fans, but Hayes said he had never been comfortable with such adulation.
Six moments that sum up Lenny Hayes' career
The star Saint finished third in the 2009 Brownlow Medal and won three St Kilda best and fairest awards (2003, 2010, 2012).
Only Nick Riewoldt (five), Bill Cubbins and Robert Harvey (both four) have won more St Kilda best and fairests, but it is possible Hayes could draw level with Cubbins and Harvey at the end of this season given he has missed just two matches in 2014 and leads the Saints in average possessions (24.9 a game).
Hayes captained the Saints in 2004 and 2007 (the latter season as a co-captain) and was named in the All Australian team three times (2003, 2005, 2009).
He also won the Norm Smith Medal in the 2010 drawn Grand Final, memorably turning the game in the second half with his clearance work at centre bounces.
Sadly, that game was the closest Hayes came to an AFL premiership, with the midfielder also part of the Saints' 12-point loss to Geelong in the 2009 Grand Final and their 56-point defeat in the 2010 replay.
However, Hayes was a key member of St Kilda's golden 2004-2011 era, when the club made the finals in seven out of eight seasons.
He leaves with the club now struggling on the field, with the Saints bottom of the ladder after 17 rounds with just three wins for the season, but Hayes is confident the Saints have the young leaders to replace him and help lead the club back up the ladder, pointing to David Armitage, Jack Steven, Seb Ross, Luke Dunstan and Maverick Weller in particular.
"We've got some young guys who are ready to take the next step in their footy development. In terms of that aspect, I don't feel like I'm leaving a massive void," Hayes said.
Lenny Hayes' teammates show their support at his announcement on Tuesday. Picture: AFL Media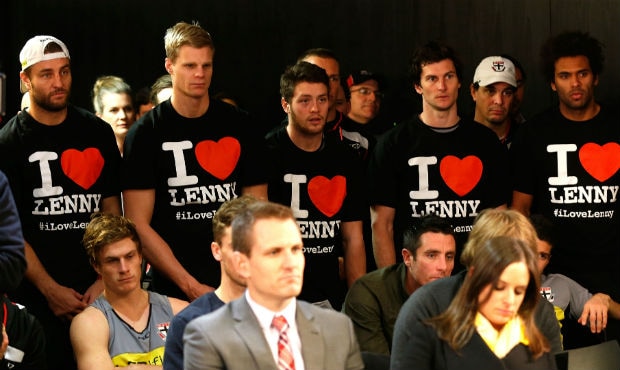 Lenny's tributes