• Ten things we learned from the Grand Final
• How the Hawks won it: Peter Ryan's analysis
• Suckling's journey from tears to cheers
A PLAYER who seemed destined for greatness from the day he was drafted as a No.1 pick, Luke Hodge now holds a special place in the game's history as a dual Norm Smith medallist.
The Hawthorn captain is just the third player in VFL-AFL history to win a second Norm Smith
Medal, joining former Hawk Gary Ayres and Adelaide champion Andrew McLeod on Saturday.
The 30-year-old, who was presented with his medal by North Melbourne champion and 1996 medallist Glenn Archer, won the award in 2008 and again on Saturday in his 250th game.
It was a perfect storm for a player who could not be more universally respected, hanging his new Norm Smith alongside his third premiership medal and hoisting the cup for the second time as captain. All in his 250th match.
The inspirational leader polled 10 votes to win from teammates Jordan Lewis and Sam Mitchell, who each polled nine votes and would have been worthy winners.
Inevitably, though, there is something that separates Hodge from other top players and so it was on Saturday as the boy from Colac etched himself in the game's history.
Hodge set the tone for the Hawks on Saturday with his ferocious attack on the man and ball, his leadership and direction for teammates, and his knack for being in the right spot at the right time.
He finished with 35 possessions and 12 marks, but it was his two goals – kicked back-to-back midway through the second quarter – that broke the Swans' spirit.
The first was a regulation set shot from 15m out but the second showcased his wisdom after 13 seasons, cutting off young Swan Gary Rohan's kick-in and coolly playing on to slot a goal that left the Hawks 47 points clear.
From that point he went where he was needed, spending time midfield, pushing forward when the opportunity presented and drifting back where he could control the game as he has done so often.
Isolated and faced with a one-on-one battle with former teammate Lance Franklin in the third quarter, he broke even, proving he can do pretty much anything on a football field when he needs to.
He gave his former teammate a kiss on the cheek in the third quarter, and coach Alastair Clarkson just wanted to "give him a cuddle" post-match.
"It's a special day for him," Clarkson said of Hodge, who he has coached for the past 10 seasons.
"It's probably just his leadership and the respect in which he's held, not just at our footy club and those within it … he's universally respected right through the competition."


WATCH: 'You're my hero' - young Hawk fan meets Norm Smith Medallist Hodge
In the build-up to Saturday's Grand Final, Hodge spoke about the motivation he gets from losing. Left devastated by the Swans in 2012, he said at the time: "I know the group we've got and we'll be back next year … we'll be back bigger than ever."
On Saturday he reflected on the monumental hurdles he and Clarkson have led the Hawks through in 2014.
"What I've found out from our group this year is when things go against us, people are willing to step up and bond together," Hodge said.
"At the moment it's a lot of joy and a lot of hard work that we've been through."
Sydney Swans coach John Longmire was full of praise for the on-field general his team had no answer for on Saturday.
"He's a champion of that football team and of the AFL," Longmire said.
"I just think he's a real class act on and off the field, the way he handles himself and carries himself.
"He's someone we look up to … and to be able to say what he said after the 2012 Grand Final and then to be able to come out today and deliver what he did is a credit to him and the football club.
"He's a great competitor and I think he's got a lot of class."
Lewis (37 possessions) had more Grand Final touches than any Hawk in the club's history, and finished just two short of Brisbane Lions champion Simon Black's record.
He described Hodge as "the heart and soul of this club".
"Running out the ground and seeing the number 15 in front of you, it's what we play for," Lewis said.
"You know he's going to give everything he's got every single game he plays.
"You know that, especially going into a Grand Final. That's where he plays his best football. He showed that today."
Hodge didn't receive a vote from Norm Smith Medal chairman and Collingwood coach Nathan Buckley, but he was seen as either the best or second best player on the ground by the four other panelists.

He wasn't the most prolific Hawk in the first quarter, racking up six touches, but he was relentless in his attack on the opposition, laying three crunching tackles and setting the standard for the Hawks.
He drifted forward in the second quarter, and if a knockout blow can be delivered before halftime, his back-to-back goals were it.
With one hand on the premiership cup, Hodge spent time behind the ball in the second half and – alongside Shaun Burgoyne – was a general.
It's the role he played so well when he became a Norm Smith medallist in 2008, moving into defence against Geelong to inspire the first of Hawthorn's three flags in seven years.
Clarkson summed up best how he has grown since that day.
"He's a very, very decorated player now … he's got a special place in history".
Luke Hodge celebrates with his Norm Smith and premiership medals. Picture: AFL Media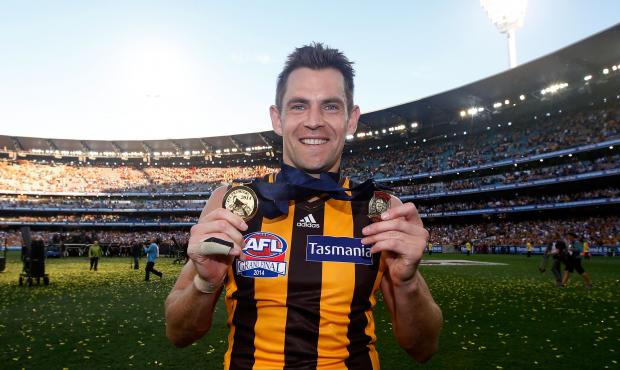 2014 Norm Smith Medal voting:
10 Luke Hodge (3322)
9 Jordan Lewis (3321)
9 Sam Mitchell (32211)
1 Will Langford (1)
1 Josh Gibson (1)
Judges' votes:
N Buckley (ABC Radio): J Lewis, S Mitchell, J Gibson.
C Johnson (NIRS): L Hodge, S Mitchell, W Langford.
C Ling (Channel 7): L Hodge, J Lewis, S Mitchell.
A Hudson (SEN 1116): S Mitchell, L Hodge, J Lewis.
C O'Donoghue (The West Australian): J Lewis, L Hodge, S Mitchell.