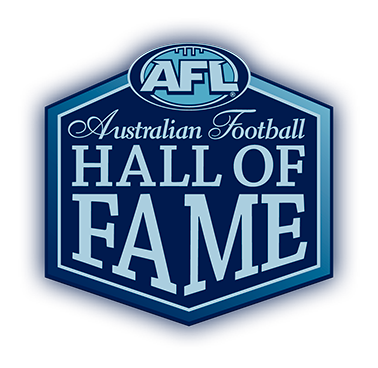 - THE KING OF COURAGE 10 moments that defined Jonathan Brown
- ABSOLUTELY FABULOUS Black joins champion Lions mids in Hall of Fame
- HAWTHORN'S SPIRITUAL FATHER How Kennedy changed the game
- SAINT LENNY Seven games that made the Saints' No.7
TEAMMATES Jonathan Brown and Simon Black have further stamped Brisbane's early-2000's team as one of the most iconic in history by being inducted to the Australian Football Hall of Fame on Tuesday night.
Brown and Black become the fourth and fifth members of the Lions' 2001-2003 three-peat to be recognised after captain Michael Voss, Jason Akermanis and Nigel Lappin.
WE SALUTE YOU Full Hall of Fame coverage here
It comes after coaching icon John Kennedy snr was elevated to legend status and St Kilda midfielder Lenny Hayes was inducted on Monday night.
For Brown and Black, their career highlights centre on the success of an incredible team unit.
Staring down a 4-5 start to 2001, some words from coach Leigh Matthews, an inaugural Hall of Fame Legend in his own right, kickstarted the triple premiership run.
"The main reason I'm going in because of the success of that team," Brown said.
"It's a big honour and hopefully there's more (players) to come.
"I go back to Leigh's words when we were struggling at the start of 2001, 'If we have team success, our individual reputations will be so much greater'. 
"There's not a truer word spoken.
"The one that personifies that statement is when Shaun Hart, probably one of the most selfless players to ever play, goes and wins the Norm Smith Medal (in 2001) which is arguably the greatest individual award."
Black added that it wouldn't have been possible without the team-first mentality.
"Sometimes, the toughest thing to do is actually give yourself a chance at success, and we were fortunately able to do that because everyone did their bit for the team," Black said.
"We were fortunate to have Leigh. He just made everything as simple as he could for us. There was a lot of simplicity when he spoke to us. We just bought in, totally. We always had clarity."
A debutant in a star-studded 2000 line-up, Brown really hit his straps in 2001 as he became the focal point of the Lions' attack serviced by Black, Voss, Akermanis and Lappin – the 'Fab Four'. 
Taking the mark of the year in 2002, Brown formed his presence as one of the most fearless players in the competition that was later confirmed, voted the most courageous player in the competition in 2007, 2008 and 2011.
But as a triple best and fairest, dual All-Australian, Coleman medallist and club captain, Brown's class was equal to his courage.
ALL THE PLAYERS Check out who is in the Hall of Fame
The smooth-moving Black often made rival midfields stop in their tracks as he effortlessly worked his way through traffic before delivering with his exquisite left foot.
As a 22-year-old in 2001, he claimed the first of back-to-back best and fairests and All-Australian gongs in premiership years.
He will forever be regarded as the equal of any midfielder of his generation and added a Brownlow Medal in 2002 and then Norm Smith Medal 12 months later.
JONATHAN BROWN
Played 256 games and scored 594 goals for Brisbane: 2000-2014 
Three-time AFL Premiership player: 2001, 2002, 2003 
Club captain: 2007-08 (joint), 2009-2013 
Club Best & Fairest: 2007, 2008, 2009 
Club leading goalscorer: 2007, 2009, 2010, 2012, 2013 
AFL leading goalscorer: 2007 
All Australian: 2007 (Vice-Captain), 2009 
Represented Victoria in the Hall of Fame Tribute Match: 2008 (Captain) 
Robert Rose Award for Most Courageous Player: 2007, 2008, 2011 
AFLPA Best Captain Award: 2007, 2009 
AFL Mark of the Year: 2002 
Pre-season Premiership: 2013
SIMON BLACK
Played 322 games and scored 171 goals for Brisbane: 1998-2013 
Three-time AFL premiership player: 2001, 2002, 2003 
Club captain: 2007-08 (joint) 
Brownlow medallist: 2002 
Club best and fairest: 2001 (equal), 2002, 2006 
Norm Smith medallist: 2003 
Virgin Australia AFL All Australian: 2001, 2002, 2004 
Telstra Live Pass subscribers can watch the remaining two nights of the event on the AFL Live Official App from 8.30pm AEST on Wednesday, and 7.30pm AEST on Thursday. Fox Footy will also be broadcasting it at the same time.