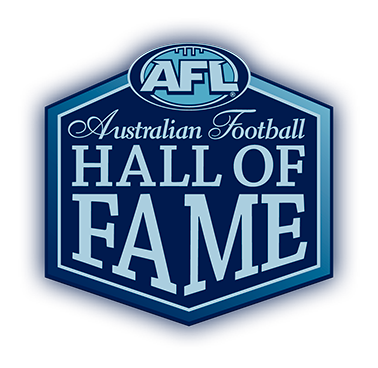 - THE KING OF COURAGE 10 moments that defined Jonathan Brown
- ABSOLUTELY FABULOUS Black joins champion Lions mids in Hall of Fame
- HAWTHORN'S SPIRITUAL FATHER How Kennedy changed the game
- SAINT LENNY Seven games that made the Saints' No.7
DEAN Cox's standing as one of the all-time ruck greats has been solidified with his induction into the Australian Football Hall of Fame. 
The 290-game West Coast champion's extraordinary career was recognised with the honour on Wednesday night, along with champion Port Adelaide and Collingwood defender Greg Phillips.
Phillips was inducted into the SANFL Hall of Fame in 2002, and the eight-time premiership player was named at centre half-back in Port Adelaide's 'Greatest Team' from 1870 to 2000.
WE SALUTE YOU Full Hall of Fame coverage here
The Cox story is an incredible one, given he started on the Eagles' rookie list after accepting an invitation from club recruiter Trevor Woodhouse to audition for a spot.
The 204cm ruckman had never completed a full pre-season until then, having arrived at East Perth in late January that year from Dampier in the Pilbara region, in north-west Western Australia.
West Coast soon realised it had something in Cox, who won the Simpson Medal as the best player afield in East Perth's Grand Final triumph and was promptly promoted to the senior list.
Cox's AFL career launched as Michael Gardiner's understudy but he took off when the latter missed most of the 2004 season because of injury.
He played a key role in the Eagles winning the 2006 premiership, claimed the club's best and fairest in 2008, remains West Coast's games record-holder and earned All-Australian selection six times.
Cox told AFL.com.au that receiving the news from AFL chairman Richard Goyder was "an unbelievable call to get".
FROM DAMPIER TO HALL OF FAME Dean Cox's incredible rise
"I rang (my wife) Kerry and she was obviously proud, and mum and dad got a bit upset on the phone," Cox said.
"I Facetimed them, so it was good just to see their reaction – for everything they had put in and the opportunity they gave me – and it was an emotional call to them."
Phillips made 343 appearances for Port Adelaide between 1976 and 1993, another 84 with Collingwood between 1983 and 1986 and represented South Australia 20 times.
He started his SANFL senior career as a forward who could pinch-hit in the middle but legendary coach John Cahill's decision to switch him into defence paid huge dividends for both team and individual.
EIGHT-FLAG HERO The hunch that turned Greg Phillips into a star
Cahill built his great Magpies teams around Phillips' brilliant contributions down back and the latter won the club's best and fairest in 1988 and was captain from 1991 to 1993.
Phillips' Hall of Fame call-up was the final reward for a wonderful time in the game.
"You don't think about the Hall of Fame, and whether it might come or not, but it has meant a lot to me in the past few weeks and to my family," Phillips said.
"It's recognition of all that they did to help me achieve what I wanted to do and it's recognition of the teams and the players I was able to play with.
"My wife, Julie, has been the key person in my life for 39 years and my three daughters all have their own wonderful families. There's 10 grandchildren now. I've been very lucky."
'PLENTY OF TEARS' Erin reacts to dad's honour
Phillips' daughter is Olympic silver medallist and dual AFLW premiership player and best and fairest Erin.
Lenny Hayes, Simon Black and Jonathan Brown became Hall of Famers the past two nights, while John Kennedy snr was elevated to Legend status for his coaching and playing feats.
DEAN COX
Played 290 games and scored 169 goals for West Coast: 2001-2014
AFL Premiership player: 2006
Club Best & Fairest: 2008
All Australian: 2005, 2006, 2007, 2008, 2011, 2012
Represented the Dream Team in the Hall of Fame Tribute Match: 2008
East Perth Premiership Player: 2000
Simpson Medallist: 2000 
GREG PHILLIPS
Played 343 games and scored 93 goals for Port Adelaide: 1976-1982, 1987-1993
Played 84 games and scored 12 goals for Collingwood: 1983-1986
Eight-time SANFL Premiership player: 1977, 1979, 1980, 1981, 1988, 1989, 1990, 1992
Port Adelaide captain: 1991-1993
Port Adelaide Best & Fairest: 1988
All Australian: 1980
Played 20 State games for SA: 1978 – 1990
Fos Williams Medallist: 1982
Inducted into Port Adelaide's 'Greatest Team' (1870-2000) (centre half-back)
Inducted into the SANFL Hall of Fame in 2002
Telstra Live Pass subscribers can watch the final night of the event on the AFL Live Official App from 7.30pm AEST on Thursday. Fox Footy will also be broadcasting it at the same time.