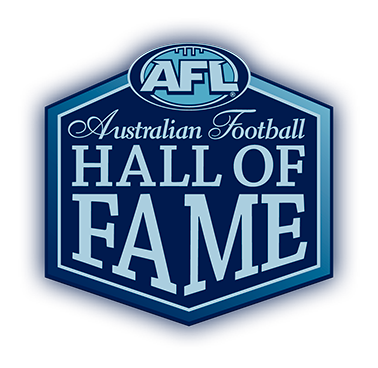 - CENTIMETRE PERFECT Broadcaster Cometti honoured
- FROM HAWTHORN TO PORT Forgotten Magpie enters Hall of Fame
- ALWAYS A MAGPIE The hunch that turned Greg Phillips into a Hall of Famer
- FROM DAMPIER TO HALL OF FAME Dean Cox takes place among greats
- THE KING OF COURAGE 10 moments that defined Jonathan Brown
- ABSOLUTELY FABULOUS Black joins champion Lions mids in Hall of Fame
- HAWTHORN'S SPIRITUAL FATHER How Kennedy changed the game
- SAINT LENNY Seven games that made the Saints' No.7
DENNIS Cometti has on Thursday night been presented with "centimetre perfect" public acknowledgment as one of the AFL's greatest callers, with induction into the Australian Football Hall of Fame.
The Western Australian with the smooth voice said he was overwhelmed to be afforded the honour.
"I didn't think I was eligible when told of it, but I suppose retirement is a loose term in life and the footy business, and I'm happy to admit I'm still having a lot of fun being involved in a small way with the game," Cometti said. 
WE SALUTE YOU Full Hall of Fame coverage here
"It doesn't feel right, though, to be among this group."
Earlier on Thursday evening, the full-back in Port Adelaide's "Greatest Team", John Abley was also named among the 2020 batch of Hall of Famers.
Cometti was a more than handy footballer - kicking 63 goals in the 1968 WAFL season for West Perth under the coaching of Polly Farmer – before focusing on a career in broadcast media, initially as a DJ with a liking for a couple of up-and-coming bands, The Rolling Stones and The Beatles.
Cometti was mainly a cricket commentator when at the ABC between 1972 and 1985, but after he joined Channel Seven from 1986 his profile, already sizeable in WA, became a national, and much-loved one. 
For the next 35 years, Cometti dominated the airwaves with a unique, accurate, highly entertaining style which has reaped dozens of high-end individual awards and an almost impossible, across-the-board, deep love from the viewing and listening public. 
Cometti's love of radio has never diminished and, while he is now "retired", he still calls Perth matches for Triple M, where he gets a "great buzz" in working with his son Mark.
Cometti has coined some of football's most iconic broadcasting phrases, including "centimetre perfect" and "like a cork in the ocean".
Cometti and Abley were the final 2020 inductees into the Hall of Fame.
Abley, a seven-time Port premiership player in the 1950s, played 23 state games for SA and was on three occasions named in All-Australian teams. 
He had already gained status in the SANFL Hall of Fame for his 212 matches between 1950-61.
Port Adelaide great John Cahill, who would break into the 1959 premiership side as a teenager and played alongside Abley in his closing years, said he was a nightmare for forwards.
"He took it as an offence against him if a player got a kick, let alone a goal, and he marshalled that Port Adelaide defence," Cahill said.
"With his speed, he was always able to get a fist on the ball, and he never lost his feet, the basic requirement for any great player.
"If everyone else was on the ground, John would be the player on his feet who would win the ball."

Earlier this week, John Kennedy (as a Legend), Lenny Hayes, Jonathan Brown, Simon Black, Dean Cox and Greg Phillips were named in the 2020 Australian Football Hall of Fame class.
DENNIS COMETTI (MEDIA) 
Played 38 games and scored 70 goals for West Perth: 1967-1971 
Coached 65 games for West Perth: 1982-1984 
Football broadcast history: 
1972 - 1985: ABC Radio 
1986 - 2001: Seven Network 
2002 - 2006: Nine Network 
2007 - 2016: Seven Network 
2008 – 2011: 3AW 
2012 – Present: Triple M 
Appointed as a member of the Order of Australia (AM): 2019 
Alf Potter Award: 2006 
AFMA Television Caller of the Year on 11 Occasions 
Sport Australia Lifetime Achievement Award: 2018 
Sport Australia Hall of Fame: 2019 
Inducted into the MCG Hall of Fame 
Inducted into the AFMA Hall of Fame
JOHN ABLEY
Played 212 games and scored 1 goal for Port Adelaide: 1950-1961 
Seven-time SANFL Premiership player: 1951, 1954, 1955, 1956, 1957, 1958, 1959 
All Australian: 1956, 1958, 1961  
Played 23 State games for SA 
Inducted into Port Adelaide's 'Greatest Team' (1870 – 2000) (Full Back)
Inducted into the SANFL Hall of Fame in 2002