IT WAS hailed as one of the great coups in AFL history.
After months of hush-hush talks, in late May of 2009, one of rugby league's greatest talents, Karmichael Hunt, had a kick-to-kick of a Sherrin with Nathan Buckley, then employed by the AFL, in a Carlton park before a chat over a cup of tea with Andrew Demetriou at his Toorak home.
Weeks later, Hunt accepted the AFL's offer to leave the Brisbane Broncos and take up Australian football with new team Gold Coast.
It was proclaimed as an even greater piece of poaching when the following year Israel Folau said he would be leaving the same NRL club and heading to another new AFL team, Greater Western Sydney.
More from Damian Barrett
Courageous decisions, yes, to leave one sport while at the peak of one's powers to tackle a foreign one. Financially smart ones for the athletes? Definitely yes. But wise ones for the athletes? Definitely not. Wise ones for the AFL? No.
Folau was smartest. He wasted two years in the AFL but instead of toiling in a sport he was never going to go close to mastering, he left after 13 AFL matches.
He managed 39 kicks in those 13 games. Given he was on $1 million of AFL industry money for both the 2011 and 2012 seasons, those kicks came at more than $50,000 a pop. At that rate, he threw in 41 handballs, 18 tackles and 22 marks.
On Saturday night he will be playing for the Waratahs against the Crusaders in the Super Rugby final.
Hunt is in the fifth year of his AFL involvement. He has played one match in 2014 for 44 in total.
His best years as a professional athlete have been lost as he tried, gallantly, to become an AFL player. His management is fielding offers for him to follow Folau out of the AFL, either back to rugby league, or possibly rugby union.
Hunt was 23 when he became a Sun. He was one of rugby league's brightest prospects when he was enticed away, having already played in 10 State of Origin matches, 11 Tests and an NRL premiership.
He will be 28 late this year. He still has time to make a big impact in one of the rugby codes, but the fact will always remain that his best five years as a sportsman were spent on a pursuit that was as much about AFL one-upmanship as it was about providing an elite sporting individual with a unique challenge.
Hunt, like Folau, has drawn an annual wage of about $1 million in his time in the AFL. Well done to him. But Joel Selwood must wonder about a system that allows such reward for such little AFL talent. So too Sam Mitchell, Steve Johnson, Jarryd Roughead, Jimmy Bartel.
This and last year, Gold Coast is believed to be paying Hunt about $300,000, with the remaining annual $700,000 coming via the AFL.
Karmichael Hunt is swamped after kicking the wininng goal against Richmond in 2012. Picture: AFL Media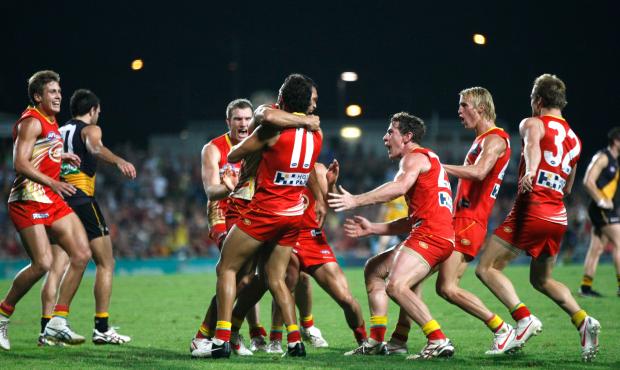 The AFL will always argue that the investments made in Folau and Hunt were crucial to its expansion pursuits in NSW and south-east Queensland, particularly because of the need for an increased profile for the code.
The AFL will also argue the outlay was not only sound in financial reasoning, but that it ultimately returned big dividends.
About two weeks after the public announcement of Hunt's decision to join Gold Coast, the AFL released internal data that argued national media coverage of the issue in the immediate three days after the announcement had a commercial value of $7.5 million.
Using that argument, the AFL got an immediate return on the Hunt-Folau project. Added to those high media moments were mass coverage of Hunt's first game, his first goal, and particularly his after-the-final-siren, game-winning goal in July 2012.
In July 2012 then-GWS coach Kevin Sheedy angrily defended Folau against critics questioning his AFL ability. Folau would not only "definitely" play in 2013, Sheedy said, he "will absolutely brain them next year".
Folau did, indeed, "brain them". Utilising the streamlined body that was created in his two years in the AFL system, Folau scored two tries in his rugby union Australian Test debut last year, and is now considered by many to be Australia's most important rugby union player.
Dave Matthews, former AFL executive and current GWS CEO, drove the AFL raiding of NRL high-end talent and despite their failings, recently said he wouldn't hesitate to do it all again.
"In fact we'd be better doing it now than we were at the time," Matthews said. "We need to get AFL on the menu for talented players in NSW and that's a lateral strategy to do that. The guys have broader roles from a promotional point of view and they can be affordable within the salary cap."
Israel Folau announces he is quitting AFL football. Picture: AFL Media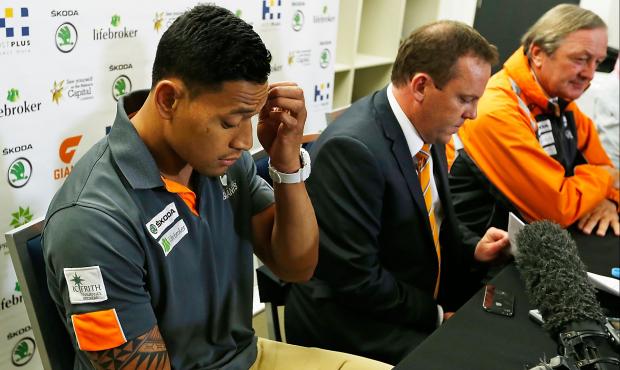 Not sure Eddie McGuire and Andrew Newbold would be endorsing such future use of AFL money.

Matthews provided massive, unconditional money for Hunt and Folau when still part of the AFL administration. In mid-2011, Matthews was spruiking the AFL as a future home for more NRL and Super Rugby stars, telling reporters he had fielded "at least eight genuine enquiries from players out of league and union, off the back (of Hunt and Folau)".

As CEO of GWS from late 2011, it could be argued strongly that Matthews should have ensured a better array of assistant coaches to guide Folau through his formative time in the AFL system, not a raft of inexperienced assistant coaches actually still on the playing list (Luke Power, James McDonald, Dean Brogan) and another assistant coach, Mark Williams, who was preoccupied with taking over from Sheedy.

It was hardly ideal for Folau. Still, Matthews and others at GWS were surprised when he left. Not sure why.

Boffins will always be able to devise a formula that provides a commercial value of AFL stories published in newspapers, online, on TV, on radio and on social media platforms.

But when Hunt, as expected, follows Folau out the AFL door, it is hoped the AFL conducts a rigorous review of past and future raids on elite athletes from the rugby codes.

Maybe pay less attention to the formulas which monetise media coverage, and place more focus on the fact that at least $7 million, and very possibly a million or more in associated resources, has been provided to two men who between them have managed a lacklustre 57 AFL matches.

There was a much grander vision in play when Hunt and Demetriou sipped tea and discussed the future back in 2009.