We can't have a competition without umpires but it's sometimes easy to forget them. AFL Media senior reporter Ashley Browne and photographer Lachlan Cunningham recently spent the best part of a week embedded with the AFL umpires, managers and coaches, gaining insight into their business, including the selection and review process, the demands of juggling family, work and other requirements with their craft, how they prepare for and recover from games, their relationships with players and what goes into one of their most critical tasks: settling on the Brownlow Medal votes. Here is the fourth of a five-part series running through Friday.
Part one: The match committee
Part two: Hitting the track
THE COMBINATION of Matt Stevic, Sam Hay and Jason Armstrong for the round 17 Melbourne-Geelong game is a reasonable snapshot of the AFL umpiring scene in 2014.
Stevic is the most experienced of the trio, but also representative of the new guard. A teacher by training, he still dabbles in educational work but his professional life now revolves around umpiring and he is one who has relished the introduction of a Wednesday afternoon option – for those who can get there – as the main training and coaching session of the week.
Hay moved from Adelaide to Melbourne this year for the training and coaching opportunities afforded by the AFL umpiring department. He has changed jobs as well, ditching accounting for personal training.
Armstrong is still from the old school, juggling umpiring with a demanding job as a project manager in the Melbourne CBD. He is also a husband and father of four. Only in the last month did he reach agreement with his employer to work four days a week. Something had to give.
In the week leading up to the Demons-Cats game, the group spent only a few minutes together at training, comparing notes about what to expect in the game, although they will touch base electronically at various stages to throw around ideas and discuss key themes.
Their individual preparation for what the Demons and Cats might offer will come from a few match replays and some conversations and email exchanges with fellow umpires who have taken charge of recent games involving the two clubs.
They know Melbourne will play a congested, contested brand of footy. There will be plenty of stoppages. The Cats will try to get them on the outside. The styles of football will be contrasting.
"Going into the game, it's not about doing intelligence on every single player but, for example, ruckmen are unique so you want to have an idea about how they play," Stevic explains over a coffee near his home. "I like to watch a quarter or a half of footy from both teams, particularly if I haven't seen them for a while.
"I haven't umpired Melbourne since the first Western Bulldogs game (in round eight). Jeremy Howe now plays across half-back and you have to know things like that," he says.


Matt Stevic completes a recovery session at St Kilda beach
Stevic thinks deeply about the craft of umpiring. Nearing the 250-game milestone, including the 2012 Grand Final, he will be the unofficial leader for the match even though the umpiring department, since the early days of the previous Jeff Gieschen-Rowan Sawers regime, was big on promoting the team concept of umpiring.
He talks at length about issues on and off the ground, including how a moratorium on rule changes might be the trendy point of view. But, he says, when players are consulted about why rules such as contact below the knees are introduced, they generally show strong support for such changes.
As for the contentious holding the ball rule, Stevic understands why it has come into sharper focus. "Every game I umpire and every game I see, you have every player within 40 metres of the ball. Contested possessions stats have gone through the roof, and we've gone from 80 tackles a game to sometimes more than 200.
"We'll get some of them wrong, and whether you go by steps taken or feigned handball attempts, you might only have a second to make a decision. And in that time, whether a player has had prior opportunity can be a very marginal call."
An annual gripe is that part-time umpires lead to more umpiring errors and Sydney Swans coach John Longmire is the latest in a long line of football identities to discuss issues around umpire resourcing and whether umpires should be full-time.
Stevic thinks the system works fine as it is, with the caveat that the new Wednesday afternoon training set-up, and the one-on-one opportunities they have created, could lead to better and more consistent umpiring.
"I could convince you that the time I put in at training, or viewing and preparing for games and speaking with colleagues, that it's already nearly full-time."
"I'm not sure it will translate to better performance on the field. It is a valid discussion, but I think our diverse interests gives us balance and allows us to put in fairly consistent performances," he says.
Armstrong agrees. Rather than stew for a week over a poor performance with the whistle, he can throw himself into his spreadsheets at work. Conversely, umpiring can be a stress release when things at the office get a bit hairy. "One frees your mind from the other," he says.
And then there's the remuneration. The Grand Final umpires make around $150,000 a year, regular senior umpires close to $100,000. In Armstrong's case, his secondary income from umpiring allows his wife to be a stay-at-home mum to their four children.
"We're at a different stage of life than the players," he explains. "We tend to be between 25 and 40 and we have families and careers we have started and want to progress further and that's why some guys drop out of umpiring because their careers become too much of a commitment.
"If you're dropping out of your career to be a full-time umpire and you come out of it at 40, what do you do? I'm 38 – how do I get into an industry when I'm 40? I'd be starting at ground zero once again," he says.
Jason Armstrong prepares for his day job as a project manager in Melbourne.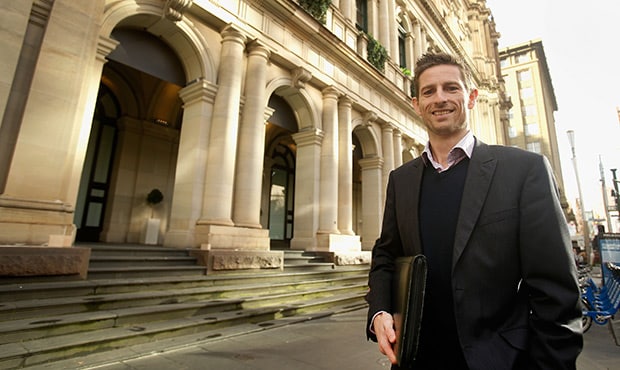 It's an issue that is acknowledged at AFL headquarters, where one of the items for new AFL national umpiring director Wayne Campbell is to create a pathway for aspiring AFL umpires that would leave them more time during the week to devote to it. "We obviously want more time with them, but we're not convinced they need to be full-time," he says.
Stevic, Hay and Armstrong each devote six days a week to their craft and it adds up to about 20 per hours per week in season.
The day before a game tends to be the only day they don't train, either as a group or individually. Until he stopped working on Fridays a few weeks ago, there would be instances when Armstrong would spend time at the office before umpiring a game that night.
Hay is in his sixth season and is regarded as one of the most improved umpires on the list. He has thrived since the move to Victoria. But he is yet to umpire a final, with his early progress hindered by having to train with SANFL umpires in Adelaide and being coached by the AFL team over the phone or via email.
"I'm trying to break into top group and push for finals. I'm tracking really well this year and it's up with my best season so far," he says
Sam Hay puts his preparation into practice in the thick of the contest as the Cats and Demons clash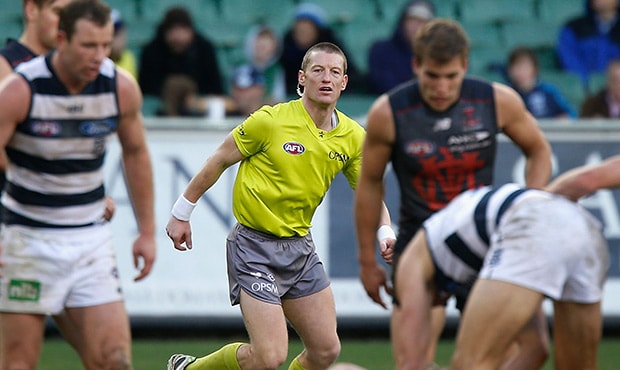 For him, the thrill of umpiring is to have the best seat in the house as elite sportsmen go about their work. And the nature of the job means you can't put down many roots. His fellow umpires joke with him that since moving to Melbourne and living in Coburg, a cosmopolitan suburb in Melbourne's inner north, his greatest achievement has been to develop a love affair with kebabs.
"It has its challenges," he says of the umpiring life. "You can't plan too far ahead for things like social engagements and weddings. You get invited out and you can't really tell people whether you'll be there. It's part of the caper though and I'm pretty used to it by now."
What makes umpiring easier now is the level of acceptance from players and other members of the football community. The zero-tolerance towards umpire abuse has slowly seeped through and all three umpires say the relationships with players have never been better.
"Given how competitive and combative our game is, that's a massive tick," Stevic says. "Unlike soccer, we don't have players running up and interrogating and intimidating the referee, which is a terrible look.
"Players can still talk to us; there is a place for a laugh and some banter, so we have the balance right and that's a credit to the players. Their actions over the last 10 years means we are in a healthy place as a sport."
Photography and video by Lachlan Cunningham; video editing by Eddie Paynter.