• The verdict: How your club fared at the 2014 NAB AFL Draft• Check out your club's draftees at the AFL Draft Hub• Draft wrap: Saint Paddy's day and the Cats go for the X-factor
1. No exposed form, no worries
Sometimes, recruiters don't need to see too much of a player to know they have it. With injuries over the past two seasons, Nakia Cockatoo (foot) and Caleb Marchbank (back/knee) haven't played a significant amount of games. But Cockatoo shot right back into first-round contention with his thrilling curtain-raiser game on Grand Final day, and Marchbank had a promising Under-18 Championships. Although their exposed form is more limited than others, their actual form was enough for Greater Western Sydney and Geelong to use top-10 selections on the pair. Jake Lever played all of last season before his knee injury, so sits in a slightly different bracket, with Adelaide delighted to grab him at pick 14.
2. U18 champions don't translate to early draft picks
South Australia claimed its second successive NAB AFL Under-18 Championships this year, but didn't sweep the top of the draft, with Sam Durdin its only first-round selection. But in total, SA had nine players drafted, which speaks to its even and well-drilled group. The proud football state will be hoping for more top-end picks next year, but the draft showed the championships are more about identifying talent for recruiters and not particularly about which side takes home the trophy. It's worth noting a few South Australians, such as defender Keenan Ramsey, might also find homes at next week's rookie draft.
3. Rucks on the nose
As was expected, it wasn't a great night for the big men. If you don't count Peter Wright as a ruckman (and Wright himself thinks he's more of a forward), then there was only two pure ruckman drafted to a senior list. That was Oakleigh Chargers big man Marc Pittonet,
who was drafted by the Hawks at pick No.50
and Billy Frampton, who joined the Power at pick No.84. It follows a trend, after only two ruckmen were taken last year, and also highlights how clubs are keen to save a spot for rucks as rookies. Tom Read and Rowan Marshall are a shot then.
The top 10 share a laugh in front of the camera. Picture: AFL Media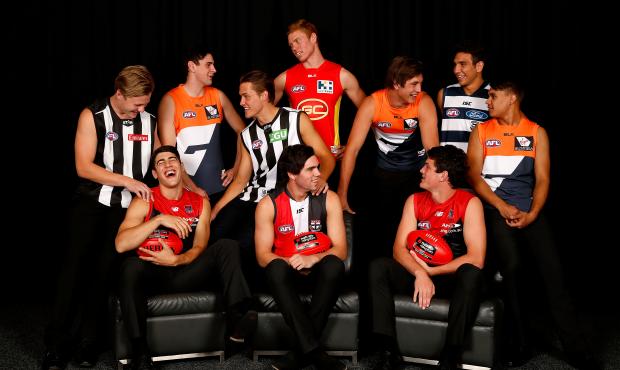 4. Adelaide's decision paid off
The Crows were questioned by some when they traded pick No.10 to Geelong and moved back to selection 14 for an upgraded second round selection. Would it mean the club gave up rights to local key defender Sam Durdin? Instead, recruiting boss Hamish Ogilvie and his team were able to sit back and see what came through, and Durdin was still available at their pick. But they went with Jake Lever, a competitive and aggressive tall defender. It's worth noting the Crows also exchanged their pick 47 for Geelong's 35 in the draft, and they selected Harrison Wigg with that earlier pick. He probably wouldn't have gotten through to 47.
5. Saints can keep a secret
It has been a while since there's been so much mystery around who would get picked at selection No.1, and the Saints did well to build it up. In truth, Christian Petracca and Paddy McCartin were always neck-and-neck for the selection, and Petracca was never the locked-in decision some might have suggested. That McCartin's name was read out by St Kilda should not be interpreted as Petracca 'sliding' out of favour. It was simply a call that made sense for the Saints, and a logical one given their need for a key forward.
6. Drafting for needs
Because of the evenness of this year's pool, many recruiters went into the draft seeing it as a chance to fill holes on their list, particularly early on. The philosophy of drafting the best player doesn't always fit. Clubs sometimes sort their lists according to what their needs are. Greater Western Sydney, for instance, was looking for talls and some brilliance, and addressed those areas with picks No.4 (Pickett), No.6 (Marchbank) and No.7 (Ahern).
Geelong was looking for pace, so went with Cockatoo
.
7. Indigenous crop excites recruiters
The AFL won't have 17 indigenous players join AFL clubs like last year through the national and rookie drafts, but the League will have been delighted by the opening round of Thursday's draft. For the first time since 2005, there was four indigenous players picked in the opening 20 picks of a draft. Jarrod Pickett and Paul Ahern (GWS), Nakia Cockatoo (Geelong) and Jarrod Garlett (Gold Coast) all found homes early. In total there was nine indigenous prospects drafted by clubs.
Jarrod Pickett, Nakia Cockatoo and Paul Ahern all were selected in the top 10. Picture: AFL Media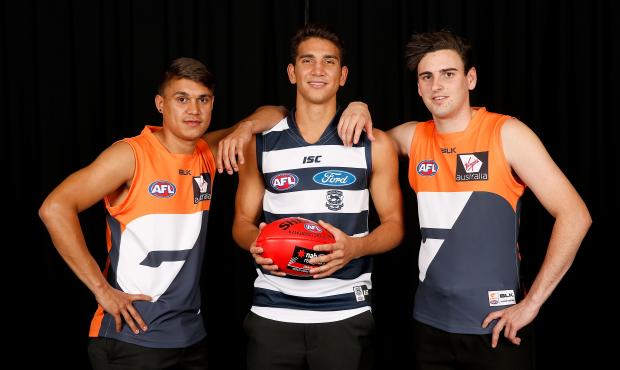 8. The draft isn't for recycled players
Of the players who were drafted, none had already been on AFL lists. It shows clubs see the national draft for the under-18 talent, and reserve spots for recycled players either as rookie selections or in the pre-season draft. The introduction of the delisted free agency process has meant that fewer and fewer delisted players will get a new opportunity on draft night.
9. Sometimes players are too good to pass up
The Gold Coast didn't really need a tall forward or ruckman, but
Peter Wright was too good to not take at pick No.8 for the Suns
. They were tossing up midfielder Liam Duggan, but knew they could get a midfielder or half-forward at pick 15. Would they get a 203cm forward/ruck at that point, though? Probably not. Wright will be given plenty of time to develop his game and body at the Suns, and they won't be expecting he makes a huge impact from the start. But he's a huge talent, and has all the tools to dominate backlines in future years.
10. Sitting at the end of the first round isn't too bad
We're sure Essendon, Adrian Dodoro and his recruiting team don't want to be stuck with end-of-first round compensation picks ever again. But at least the Bombers, this year, knew there would be some talent slip through to them in such an even draft pool where recruiters were so split on who they ranked where. They were quick to grab half-forward Kyle Langford at No.17, while Jayden Laverde will provide great spark and was touted by some clubs as a top-10 talent.