GOALKICKING has never felt so comfortable for Port Adelaide spearhead Jay Schulz.
Schulz leads the race for this season's Coleman Medal with 52 goals – two more than Sydney Swans star Lance Franklin.
His ability to nail a set shot at goal has become the standard by which others are judged in the AFL, and it was on full show in round 18 when he slotted a clutch goal from a tight angle to get the Power across the line against Melbourne.
The 29-year-old said he had reached such comfort over the previous few seasons that he had confidence in his ability to goal from any position as long as he could make the distance.
He said winning the Coleman Medal would prove immensely satisfying, but only if it coincided with a Power premiership.
"I just love kicking goals so if [a Coleman Medal] is the end result that's going to be a great result, but I want a premiership more than anything," Schulz said.
"It's always great to have personal success but I can't have personal success without having team success.
"Over the last two or three years I've gotten to a point where I'm just extremely comfortable with what I'm doing and just extremely confident that when I mark the ball within my range, no matter what angle it's from, I feel like I'm going to be a good chance to kick it.
"I'm paid to kick goals and that's my job at the end of the day, so I have to be able to do that."
As it is for a player's conditioning, Schulz said the bulk of his goal-kicking preparation was done in the pre-season.
Schulz said he took up to four times as many shots at goal throughout the average summer as he did once the premiership campaign began.
"It's probably three times a week we'd be out there kicking goals at least, and whether that's kicking smaller balls at a smaller target in our indoor area, or doing it out on the ground, it's all based around target goal-kicking," he said.
"We do three or four times the amount during the pre-season because we're not playing the games…in-season it's a little bit more [about] recovering, you can't do as many kicks.
"It's a massive focus, especially for our forwards to have their routine down pat and to be doing it [on] automatic pilot when the season starts.
"You can't be going 'oh, I didn't kick well this week, jeez I need to do some extra work'."
The Power will play Collingwood on Sunday, needing a win to potentially fight back into the top four.
Schulz said it was obvious that the club's week off had worked wonders on the playing group, who were again "bouncing off the walls" this week.
But although the Magpies have lost five of their last six games, he warned against any thoughts of an easy victory.
"They're a bloody good side and they've been a good side for a long time," he said.
"You say they're in a bit of a rut, they still played some extremely tough contested footy on the weekend against the Crows."
Jay Schulz has been throwing everything into his football this year. Picture: AFL Media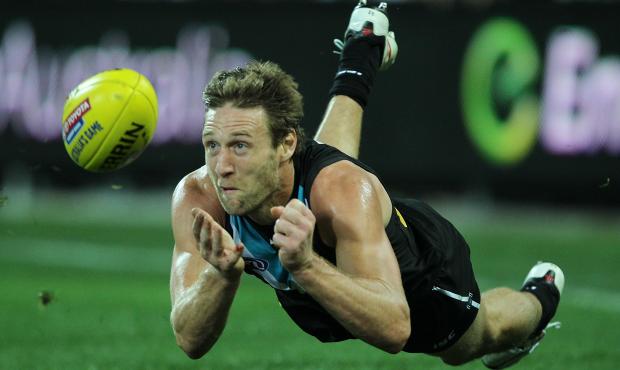 Twitter: @AFL_Harry