THE NUMBERS don't lie – since Port Adelaide's high performance manager Darren Burgess rejoined the club in late 2012 the Power have won 18 of their 26 final quarters.
The season before his arrival the club won just five.
Burgess' return to Alberton from English Premier League giants Liverpool has coincided with one of the greatest turns of fortunes in recent times; in little more than 12 months Port has morphed from a laughing stock into a looming powerhouse.
The fitness guru has been hailed the magician behind the transition – not that he'll hear a bar of it.
Indeed there's a level of 'smoke and mirrors' involved in the Power's transformation into final-quarter specialists; Burgess told AFL.com.au persuading the players of their fitness was crucial.
But he also said the reality of how Port Adelaide has become the fittest team in the AFL was as simple as could imagine.
"You just work the players harder than they think they can and they get through it," Burgess said.
"We've been able to show them that they're capable of doing more work than they would have thought.
"It's often the belief that once you play a game you need five days to recover because it's such a physical game – but we've been able to convince our players that that's not the case.
"You're able to keep developing your fitness throughout the season."
Burgess' background in elite soccer is obvious in his thinking.
While at Liverpool, his players would play three games a week and mandatory time off in between was non-existent.
He's seen some of the world's best athletes pushed harder than their AFL counterparts, with far less support from coaching and research, and remain healthy.
He admitted he's "gung-ho" when it comes to training loads but Burgess is convinced the Power's players are capable of far more than previously thought possible of Australian footballers.
"The debate rages within parts of the sports science community in Australia, sometimes we have a belief that there's only one or two ways you can get a team fit," Burgess said.
"But what happens in the UK and Europe and South America – there aremillions of people playing football – is they just go and play.
"You're playing three games a week and they absolutely get through andthey don't have four or five days off training between games.
"I have those discussions with some fitness staff and coaches and theysay 'Yeah, but there's no contact and there's no tackling in soccer' –that's right, but there's infinitely more accelerations anddecelerations and sprint efforts.
"There's nowhere near the level of monitoring of players, there'snowhere near the number of staff, there's nowhere near the influence ofsports science as there is here in the AFL, yet the players are copingjust fine.
"They're producing each week; there's no more or fewer injuries."
Chad Wingard celebrates a goal during Port's win over Collingwood in last year's finals
.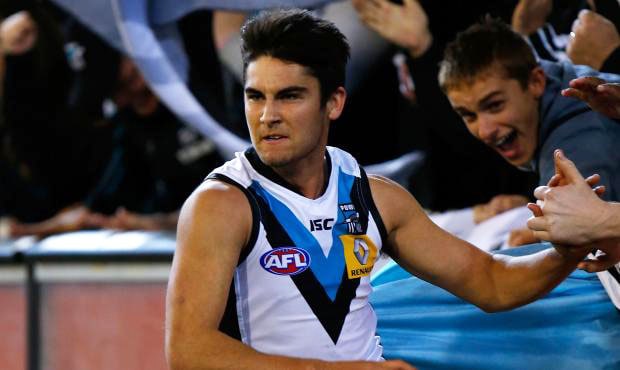 Picture: AFL Media
Validation of Burgess' edgy philosophy came in November, when the Power's players attended a pre-season camp in Dubai.
Several of them described it as the hardest thing they had done and even Burgess didn't think they'd get through the sheer volume of work – session after session for nine days straight.
But, sure enough, they came home unscathed.
Exactly where the 'edge' of a player's fitness lies remains an unknown; Burgess does his best to safely surf its lip.
"We think we're on a three- or four-year plan with this current group and we'll keep pushing," he said.
"How close you can push players to their limits is the art of what we do.
"We don't think we've pushed them too hard yet, but I guess time will tell - we could fade out late in the season."
The numbers don't lie – Port has become one of the strongest finishing teams in the AFL.
Surrounded by what he described as the best fitness team he's ever worked with, Burgess has played a key role in that transformation.
A magician, though? He scoffed at the suggestion and offered a final and fundamentally simple account of the Power's fitness strategy.
"One of the things that overrides it all is that we just try and make the pre-season really, really hard so that the in-season bit of it is easy … that's the governing philosophy," he said.
Twitter: @AFL_Harry