GOLD Coast captain and dual Brownlow medalist Gary Ablett is on track to become just the third player in AFL history to play 400 games.
That's the view of Suns coach Guy McKenna, who said Ablett would continue to improve and add even more value to the side the older he gets.
"He's not yet at the peak of his powers," McKenna told
AFL.com.au
.
"He can't run any faster or kick the ball any further but as the support cast grows around him to become the lead cast, and Gary becomes the support cast, its going to be frightening how he's going to play.
"He'll continue to grow as the group grows around him. He'll only get better because he'll have to do less of the stuff. He's still coachable, his leadership is fantastic and you can't fault him."
Ablett, who turns 30 in May, has played 254 games and the feeling is he has at least two more years in the midfield before moving to the forward line where he could play well into his 30s.
As the Suns move into finals contention and play up to 25 games a year, seven or so seasons will see Ablett nudging the 400-game mark, so far only achieved by Michael Tuck and Kevin Bartlett.
"He'll fly past 300 (games) and he could certainly get up there with the Kevin Bartletts of the world," McKenna said.
With Ablett fresh off winning the Brownlow Medal, McKenna said there was no reason to take him out of the midfield yet.
"Certainly there's the element of longevity but we'll put him up forward when the time is right, when David Swallow, Dion Prestia, Jaeger O'Meara, Jack Martin and Trent McKenzie can be released into the midfield.
"Then through the draft we'll add some more players into that mix so the midfield stocks will be strong and he'll be afforded the luxury of finishing up what the others would have started," he said.
And he forecast that Ablett should be good for about 60 goals a season when he does move forward. "If he's kicking three, then he'll be giving another three away, so he'll be like a six-goal-a-game forward for us.
"That will be good to have but right now, he'll stay in the midfield and he'll earn his keep like he has until now. He's been fantastic."
McKenna also revealed that longevity was the reason behind playing Swallow primarily off half-back last season.
Swallow learned his football across half-back but became a midfielder as an elite junior in Western Australia and in 2010 when he played for Gold Coast in its development year in the VFL. He was the first selection in the NAB AFL Draft later that year.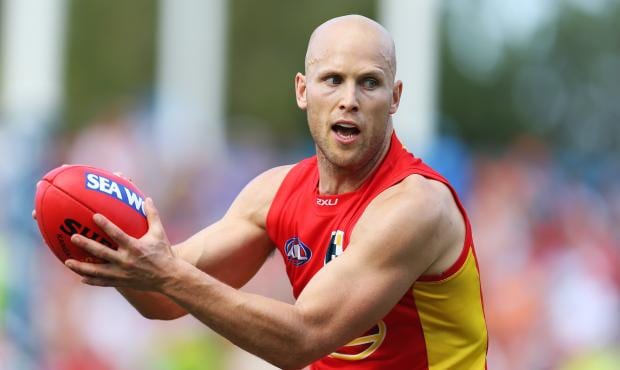 Gary Ablett will become a six-goals-a-game forward, Guy McKenna predicts. Picture: AFL Media
There was a theory that Swallow needed to add a defensive element to his game, but McKenna confirmed that the move to half-back was to do with his welfare and to give him a breather.
"He's such a combative footballer, it's like watching John Worsfold play again," he said.
"I want blokes to have long careers, not short careers, but he was so ballistic, so it was to send him back there to catch his breath and allow his body to develop.

"Clearly, it achieved both those goals," McKenna said, taking note of Swallow's slashing 27-possession display against Richmond in the season opener.

The confidence Swallow gained across half-back last year has been a hallmark of his midfield work so far in 2014 and McKenna said he was now equally productive whether he played as an inside or outside midfielder.